This article first appeared in Personal Wealth, The Edge Malaysia Weekly, on February 4, 2019 - February 10, 2019.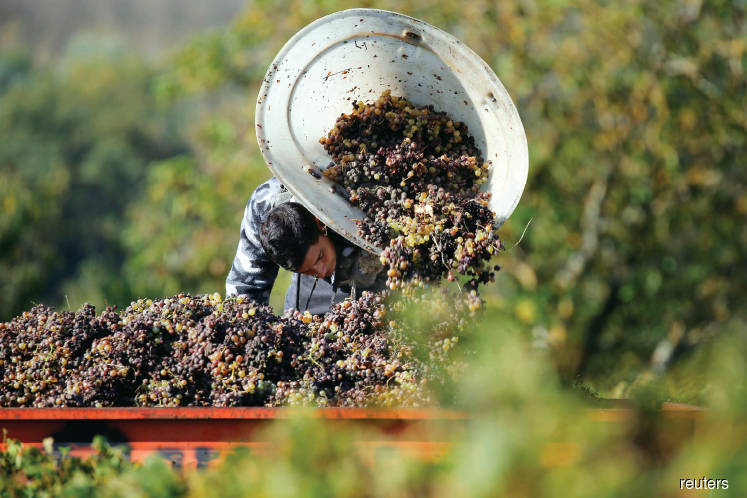 Workers harvest grapes at Chateau du Pavillon in Sainte-Croix-Du-Mont vineyard, France, to produce one of a handful of wines around the world made with fruit affected by 'noble rot', induced by the 'Botrytis' fungus that shrivels the grapes and concentrates their sugar. Photo by Reuters
This could be a vintage year for wine investors who are seeking both growth opportunities and undervalued gems. The global equity markets were rocked by volatility last year and market observers are predicting more of the same this year. This has seen the alternative investment asset gain attention as a potential safe haven.
Philip Staveley, partner at Amphora Portfolio Management, tells Personal Wealth that fine wine benefits from being a physical asset in times of crisis. "Fine wine is both an investable and a consumable asset. As an investment, it does offer safe-haven qualities [as a physical asset] while consumption tapers off during periods of uncertainty."
The performance of the Liv-ex Fine Wine 1000 index easily beats many of the world's equity indices over the short and long term. In fact, the Live-ex Fine Wine 1000 surpasses all major equity indices over 15 years, including the Nasdaq, the S&P 500 and the Dow Jones Industrial Average (see table).
"We believe there is every reason to expect fine wine prices to continue to outperform. If equity markets rebound, it means global economic growth fears have lessened, which will lead to an increase in consumption of fine wine. If they do not, then fine wine indices will benefit from their status as physical assets as their unique investment dynamic comes to the fore," says Staveley.
The marque investment
Wines from the Burgundy region of France are poised to do well this year, according to Staveley. "Over the last 30 months, Burgundies have led the way, rising well over 60% in the last two years alone. That is because they are produced in minute quantities and therefore are in particular demand by collectors, as well as investors and consumers. We expect this level of interest in high marque Burgundy wines to trickle down to some of the tier-two producers."
Sam Mudie, general manager of Cult Wines Ltd's Singapore office, concurs. "The Burgundy market absolutely soared last year. The Liv-ex Burgundy 150 Index was up 35% last year alone," he says.
"Although there are some crazy prices out there, much of the Burgundy region isn't overpriced relative to current demand. We also do not think Burgundies are in danger of a price correction simply because of how niche it has always been. Until as recently as 10 years ago, Burgundy was consumed by an exceedingly specialist market. It was a wine for the connoisseur — for those who really knew wine and understood the specific nuances about the Burgundy region. This is changing, however. Hong Kong, China and Southeast Asia are the fastest growing regions in terms of demand for Burgundy."
The supply of Burgundy is extremely limited, even more so than the likes of Bordeaux wines, a perennial investor staple. Hyper-low production levels protect the price of Burgundy, says Mudie. In fact, the last 10 years have seen record lows from the Burgundy region in general. "Production figures have been at their lowest since the 1950s. So, we are facing unprecedented demand at a time when supply is the lowest it has been in our lifetime," he adds.
"First Growth (the highest quality) Bordeaux estates for example, produce about 20,000 cases a year. Contrast this with even a value Burgundy grand cru — Clos des Lambrays from Domaine des Lambrays — which produces just over 2,000 cases a year.
"Stepping up to a second-tier Burgundy grand cru vineyard such as Echezeaux, Domaine de la Romanée-Conti for instance, produces less than 1,000 cases a year. As for a top-tier wine such as Domaine Leroy's Musigny, it may produce 500 bottles, not cases, a year. It does not not take many wealthy collectors to snap up that kind of limited production in moments."
It is unsurprising then that two of the most expensive bottles of wine ever sold at auction are Burgundies. "Last October, two bottles of 1945 Domaine de la Romanée-Conti sold for US$558,000 and US$496,000 respectively," says Mudie.
The value investment
Meanwhile, Bordeaux wines — a long-time darling of the fine wine investment scene — have lost market share in recent years. Mudie tells Personal Wealth that wines from this region have suffered a series of price corrections between 2011 and 2014, as winemakers added significant premiums to their yearly releases to take advantage of the booming demand coming out of China.
"As an extreme example, five cases from any of the First Growths' 2008 vintage, when released "en primeur", would have cost around £8,600. Just a year later however, five cases of their 2009 vintage at first release would have cost in excess of £40,000; a price increase of over 365%," Mudie explains. From its peak in mid-2011, he says a price correction within the First Growth estates was expected and necessary.
Commonly referred to as "wine futures", en primeur denotes the process of buying wines before they are bottled and released to the open market. Bordeaux wines are unique in that all the en primeur releases tend to be clustered around a particular week in April or May each year. En primeur offers investors the chance to purchase wines at the lowest market-offer price.
According to Cult Wines Ltd's website, prices of en primeur wines can sometimes double in a matter of weeks. Profit margins can be high, with multiple opportunities even before the wine is bottled, for savvy investors to take advantage of price increases and take profit.
This time, however, Bordeaux wines would struggle at the various En Primeur Weeks over the next few years. Collectors and investors were suitably wary of large price increases, says Mudie. There was a silver lining of sorts, however.
"First Growth Bordeaux estates, which are tracked by the Liv ex-Fine Wine 50 Index, lost close to 40% in value between June 2011 and June 2014. The wider Bordeaux market, tracked by the Bordeaux 500, only lost less than 20% over the same period," he says.
"Going broader still, Liv-ex Fine Wine 1000, lost 12.5% in that time. So, the worst price correction in the history of the fine wine market was a 12.5% industry-wide loss over the course of three years."
This means there are choice investment-grade but undervalued Bordeaux wines available on the secondary market right now. "I think the 2014 vintage came at the perfect time. Broader global markets were finally starting to turn positive," says Mudie.
"The 2014 [Bordeaux wine] was a good but underappreciated vintage in itself and a lot of people were still sour on Bordeaux in general, so estates' subsequent price drops made the vintage look cheap. Naturally, this is great for investors and consumers."
That said, he tells investors to be selective. First Growth Bordeaux values on the secondary market have been rising steadily over the last two to three years and are getting close to traditional levels. "In fact, all wine regions that we currently track for investments have been in recovery since mid-2014, Bordeaux included. Wines from this region would be up about 30% to 35% since mid-2014, although First Growth Bordeaux is still lagging a little behind the rest of the region at around 25% to 30%. Those are respectable recovery figures, but they are still below the long-term growth trend. So, there are still undervalued opportunities out there for Bordeaux wines."
Brexit good for wine investors
In addition, investors should take into account currency fluctuations when deciding where to buy fine wines from. "Shortly after the release of the vintage 2015 Bordeaux wine, which took place in the spring of 2016, came the Brexit decision. London is the fine wine hub of the world, so naturally, everything is denominated in pound sterling," says Mudie.
"As a result of Brexit and the devaluing effect it had on the currency, our stock of Bordeaux became the most attractive in the world as it was the cheapest. Sales to Hong Kong alone (which caters for the Chinese market) increased fourfold in the second half of 2016,  taking a lot of stock out of the secondary market and into the cellars of the end-consumers."  
According to Amphora's Staveley, the fine wine secondary market is also denominated in pound sterling. So, anything that weakens the currency tends to be good for fine wine prices, seeing that much of the active buying from abroad is denominated in US dollars and the euro. "British Prime Minister Theresa May is currently struggling to come to a workable agreement on Brexit that it is difficult to see anything beyond a flat or weaker pound sterling for the foreseeable future," he says.
"Commentators and analysts seem to believe that a 'no deal Brexit' could lead to parity between the pound sterling and US dollar. A roughly 25% decline in the value of the pound sterling would make wines very cheap indeed for foreign investors, which would boost the market significantly. You could argue that the best hedge against a 'no deal Brexit' is a portfolio of fine wine."