This article first appeared in The Edge Financial Daily, on March 19, 2019.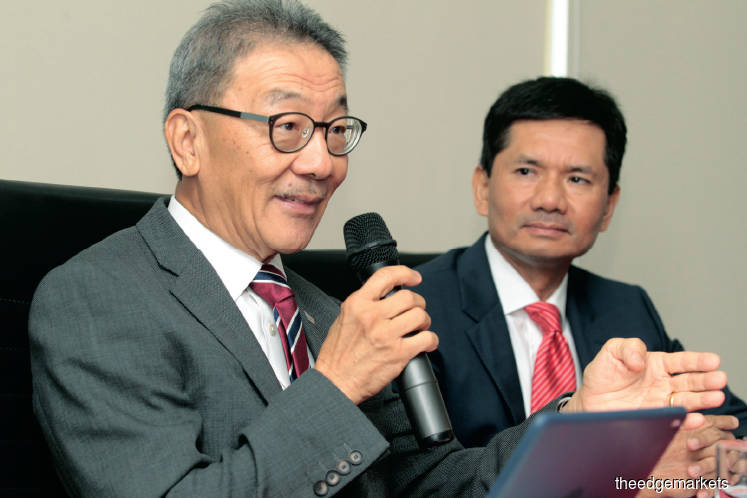 Yam (left) and Zainal at the media briefing on InvestKL's 2018 performance in Kuala Lumpur yesterday. Yam says the agency's flattish performance in attracting FDI was largely due to factors affecting MNCs globally or in their home countries. Photo by Mohd Suhaimi Mohamed Yusuf
KUALA LUMPUR: Global shifts and uncertainties, such as changes in US tax policy and Brexit, were the main considerations of multinational companies (MNCs) when it came to Malaysia last year, according to InvestKL.
This was revealed after the agency reported yesterday that it recorded a total of RM2.3 billion committed investments and 12 MNCs attracted to conduct operations in the greater Klang Valley in 2018, a near identical amount to the RM2.2 billion invested by the same number of MNCs in 2017.
A total of 1,339 new jobs were created in the region last year, lower than the 1,689 jobs created in 2017. InvestKL chairman Datuk Seri Michael Yam said the agency's flattish performance in attracting foreign direct investment (FDI) was largely due to factors affecting MNCs globally or in their home countries, and not so much because of changes brought about by the change in government.
"In fact, for a lot of foreign investors looking at Malaysia, the fact that we are mature enough to change our government after 61 years is already a good indicator ... The government still respects the contracts they have signed, the rule of law and [that] enforcement is important," he told reporters at a media briefing.
The agency, which is under the ministry of international trade and industry, aims to attract 13 MNCs to the city this year, with a focus on the US, China, Europe, the UK, Japan and South Korea as source countries and region.
It is pursuing six sectors, namely smart technologies, consumer technologies, e-commerce, medical devices, industrial automation, as well as energy and renewables.
InvestKL chief executive officer Datuk Zainal Amanshah said the strategic reforms that the government has undertaken concerning transparency, procurement and reduction in corruption have been very well received by investors.
He said such investors are looking at Malaysia's fundamental economic growth, which is still intact, its talent pool and the growth of Asean as a region rather than its day-to-day changes. Nevertheless, Yam said every country struggles with their own domestic headwinds. "Look at the UK — [it is] such a stable economy and mature civilisation, yet Brexit is bringing up so many issues ... all the uncertainties and fears investors have [regarding Malaysia] are the same if they were to go to another country," he said.
More dialogues needed between govt ministries and MNCs
What is needed, according to Zainal, is deeper and more regular dialogues between various government ministries and MNCs.
"The formation of new policies will take time, but through regular dialogues, I believe [MNCs] could get even more clarity, give input and ask questions," he said.
These investors are also interested in assessing industry readiness and whether or not talent is readily available, said Zainal.
Fortunately, various government agencies are already engaged in active dialogues with MNCs and the industries, he said.
"The companies, whether through the chambers [of their respective countries] or themselves, have an extremely active amount of dialogues," Zainal added.
These include a round table, facilitated by InvestKL, among companies, the ministry of finance and the customs director-general, in which investors are able to get more clarity on their concerns, especially those regarding the sales and services tax, he shared with The Edge Financial Daily.
"We found it very effective and we are definitely looking to do more of such round tables," Zainal added.