This article first appeared in Personal Wealth, The Edge Malaysia Weekly, on July 8, 2019 - July 14, 2019.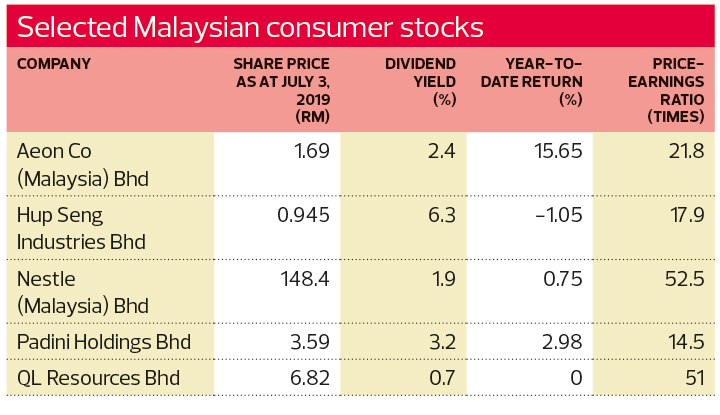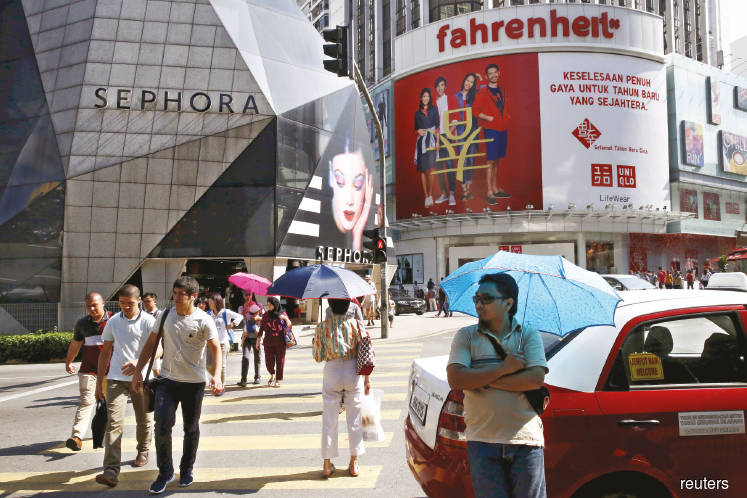 A taxi driver waits for customers in the main shopping district of Kuala Lumpur... Malaysia's GDP growth in the last few years has been primarily powered by private consumption
The outlook for the local consumer sector remains positive, with value emerging in selected small- and mid-cap consumer stocks, say investment experts. This is driven by factors such as the continued strong private consumption growth and a pickup in retail sales.
Lim Tze Cheng, CEO of Inter-Pacific Asset Management Sdn Bhd, believes private consumption will be set for another boost later in the year, as previously stalled GST tax refunds (roughly RM37 billion in total) are gradually returned to businesses. "Although the tax refunds have already started, it will take time for the money to cycle through the economy. Businesses will gradually restart their working capital and hiring activities. I believe we will see a boost in consumption in the third quarter, and it is likely that F&B-related counters will perform."
While big-cap consumer counters have held their values pretty well so far, Lim points out that it was the small- and mid-cap counters that bore the brunt of the market corrections that took place in 2018. "So, I would say there is value emerging in some of the small- and mid-cap counters ahead of the third quarter boost in consumption activity," he adds.
TA Securities analyst Jeff Lye echoes this sentiment. "Generally, I'm going for the small-cap counters; for instance, biscuit manufacturer Hup Seng Industries Bhd. Dividend-seeking investors should have a look at this counter, as it provides a dividend yield of around 6.3% (as at July 3). However, [big-cap] counters like QL Resources Bhd and Nestle (Malaysia) Bhd are overvalued at the moment."
Hup Seng proved to be more resilient than other small- and mid-cap counters during last year's series of corrections. The counter fell from a peak of RM1.13 in mid-May last year before closing out the year at 94.5 sen — a roughly 17% fall. As at July 3, the counter was trading at 95 sen.
Additionally, Lye likes consumer retail counters Aeon Co (M) Bhd and Padini Holdings Bhd, where he also sees good value emerging. These were among the counters that took a hit in 2018 and were trading down at various points throughout last year. "Although both counters have seen earnings recoveries since then, their stock prices have not really picked up.
"Padini recorded a 41.14% drop between its all-time high in August last year (RM6.15) and June 28. In the first quarter of this year, Padini's earnings have actually recovered. The company saw close to double-digit growth in earnings."
Meanwhile, Aeon has shed nearly 33% from its 2018 high of RM2.50. As at July 3, the counter was trading at RM1.70.
Lye attributes the dip in these counters — as well as the broader fall in retail sales — to a change in consumer purchasing habits over the three-month GST tax holiday period. "It is possible that consumer spending will normalise in the second half of this year, and we will see year-on-year (y-o-y) growth in the retail sales," he adds.
He cited an early June report from Retail Group Malaysia (RGM), which raised its 2019 retail growth forecast to 4.9% from an earlier estimate of 4.5%. The upward revision came on the back of the industry's better-than-expected performance in the first quarter of the year, as well as the anticipation of stronger second quarter growth.
According to Affin Hwang Capital's late June consumer sector report, the sector registered a respectable 5% y-o-y core earnings growth in the first quarter of 2019, on the back of strong private consumption growth and retail sales, despite weaker consumer sentiment. The research firm maintains a positive view of the sector for the rest of the year, while favouring companies that are thriving in the F&B space. Nonetheless, the firm maintains a "neutral" call on the sector, largely owing to rich valuations at 30 times forward price-to-earnings ratio.
Value opportunities notwithstanding, Affin Hwang Capital's consumer sector update had QL Resources as its top pick. It is a diversified consumer sector counter, with positive defensive earnings growth prospects. Meanwhile, its foray into the local convenience store subsector with popular Japanese chain Family Mart has been well-received by the market so far.
QL Resources saw its net profit grow 11% to RM43.23 million in the fourth quarter ended March 31, 2019, compared with RM38.85 million a year ago. The growth was supported by its marine product manufacturing and palm oil businesses. Meanwhile, quarterly revenue grew 14.6% to RM898.03 million, up from RM783.87 in the same quarter a year ago.
Malaysia's GDP growth in the last few years has been primarily powered by private consumption, says Edward Lee, Standard Chartered's chief economist for Asean and South Asia. "Sectors that have benefited from robust spending include F&B, clothing and footwear, communication and recreation. In 2018, when household consumption rose 8% y-o-y, consumption in these particular segments accounted for nearly 50% of the increase in spending," he tells Personal Wealth in an email interview.
Drilling down into F&B in particular, Lee found that the segment had grown nearly 9% y-o-y — the fastest in the last few years, he says. He arrived at the conclusion by looking at annual data on spending at restaurants and hotels.
The recent overnight policy rate cut by Bank Negara Malaysia could be a boon for households, says Lee. "The 25bps rate cut will provide mortgaged households with higher disposable income."
This overall spending pattern has been quite untypical as there is usually a positive correlation between economic sentiment and discretionary spending. Even so, Lee points to the nature of the spending, noting that it is on comparatively smaller-ticket items. "Thus, it may have helped with the resilience of the F&B sector. More importantly, while broad sentiment is cautious, the labour market has been healthy, bolstered by a very high participation rate and steady employment growth."
An appetite for private markets
In the private markets, alternative financiers have recently invested in a few local F&B brands, with some founders selling to private equity at significant exit multiples.
RHL Ventures co-managing partner Rachel Lau sees Malaysia's millennial consumers as a key factor behind the resurgence of the F&B sector. "Our house view is that the sector is still very important. In fact, we are tracking a significant trend towards healthy snacks," she says.
"Consumers, especially millennials, want cleaner, lighter and more nutritious options. The rise of social media has really fuelled people's desire to look and feel good. This is where the market is headed and I believe this trend is here to stay. What we are seeing [significant demand for healthy snack foods] is no short-term fad."
COPE Private Equity managing director Datuk Azam Azman says there are a number of well-established local snack brands with a strong international footprint. These companies are well placed to take advantage of Asia's young and increasingly prosperous population.
A few local F&B companies have attracted investments from local and foreign private market players in recent years. PE giant CVC Capital Partners, which is headquartered in Luxembourg, acquired Malaysian snack producer Munchy Food Industries Sdn Bhd in the middle of last year. It paid about US$250 million (RM1.04 billion) for the business, according to a Bloomberg article in June last year.
Personal Wealth has since learnt from a local observer that the exit reportedly yielded a multiple of 30 times earnings before interest, taxes, depreciation and amortisation for the founders. The company makes Munchy's crackers as well as biscuits and wafers under the Lexus, Oat Krunch and Muzic brands and exports to more than 50 countries, according to the article.
Kuala Lumpur-based COPE has picked up two notable F&B brands in recent years. The firm invested in MBG Fruits Sdn Bhd in 2016 and Kinos Food Industries (M) Sdn Bhd last year.
In a recent email interview, Azam says he remains committed to the firm's investment philosophy of focusing on businesses that cater for large consumer needs. He cites its acquisition of Kinos as an example. "It is an iconic 35-year-old company that sells potato chips and snack confectionery to the fast-growing mass markets of Asia. It owns an assortment of household brands such as Nini, Tora, Ding Dang, Hiro and Mizu, which are very popular among children."
Kinos recently expanded into potato chips to capture export markets in developing countries. Azam says his firm will be working with the company's management team to "professionalise" the business — for example, by implementing an employee resource planning system and expenditure analysis protocols, in addition to strengthening its outreach via digital marketing and e-commerce sales channels.
One of RHL Ventures' flagship investments is in the locally founded, e-commerce driven, healthy snack food distributor Signature Market.
Lau, a former national gymnast and recently elected president of the Malaysian Gymnastics Federation, is a passionate advocate of active and healthy living. She wants healthy snacks to be a mainstay of the F&B sector and sees Signature Market as an opportunity to invest in a deeply held principle of hers.
RHL Ventures participated in a Series A investment round in January, alongside the Axiata Digital Innovation Fund. Signature Market, which was established in 2016, has seen its revenue grow at a nearly exponential rate. It was founded as Signature Snack in 2014 before undergoing a rebrand two years later.
According to Lau, Signature Market made RM1 million in its first year of operation and RM6 million in its second year. In 2018, it generated nearly RM15 million in revenue. "This year, our conservative estimate stands at RM26 million," she says.
These figures only apply to the Malaysian market and do not take into account new product launches or new markets, she adds.
Signature Market is on the cusp of entering Thailand. Lau says the company has already agreed terms with a Thai distributor and all that remains is to launch the operation. She expects Signature Market to make the move at some point this year. "Taking into account the business from Thailand, we are expecting to double our revenue for the year," she adds.
Lau is also excited about another investment by RHL Ventures — RAGE Coffee. While it is a younger business than Signature Market, the Malaysian company has found a way to stand out from the crowd, she says.
"RAGE Coffee is based on China's Luckin Coffee model," says Lau. Founded in October 2017, Luckin Coffee has enjoyed a meteoric rise in China. Most of its outlets are small booths that fill online orders for pick-up or delivery.
Lau says, "We see speciality coffee becoming a staple in the millennial lifestyle. The plan for RAGE Coffee is aggressive, whereby we are opening six stores by the end of this year. The company has launched an app that will allow customers to order their drinks ahead of time and pick them up without having to queue or go through long periods of waiting."
RAGE Coffee opened in Bangsar, Kuala Lumpur, in mid-May and within the first two weeks, it was selling 200 cups of coffee a day. Lau expects sales to rise to a long-term stable rate of 500 cups a day.
One thing all the experts agree on is having an exit strategy. Recent market activity and input from COPE's Azam and RHL Ventures' Lau point to a strong preference for trade sales as a means to realise investment returns. "We believe there will always be buyers for quality F&B brands, with the acquisition of Munchy by CVC being a good example," says Azam.
Despite investing in Signature Market in January, Lau is already fielding inquiries of a buyout from major snack food manufacturers. Even so, she is not ready to exit the fledgling business just yet. "I am definitely not prepared to let the company go so soon. I want us to remain committed and continue supporting Signature Market through its growth phase over the next few years," she says.