This article first appeared in Personal Wealth, The Edge Malaysia Weekly, on September 23, 2019 - September 29, 2019.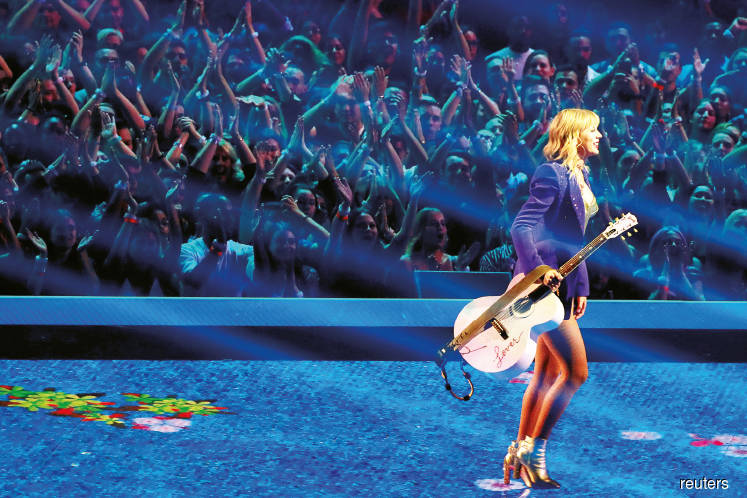 Swift walked away from Spotify in 2014 due to a royalty dispute, but returned about three years later
Media and content streaming services are increasingly being delivered to the retail consumer in the form of easy-to-navigate, minimum-commitment subscriptions. Technology-driven content makers have come around to the fact that consumers want a wealth of options without being tied down to unnecessarily long contracts. However, not all subscription services are created equal, with some mediums more heavily disrupted than others.
According to Jonathan Curtis, vice-president of Franklin Equity Group at Franklin Templeton Investments, these streaming services have unique insights into consumer interests. "They have specific data on what consumers are and are not watching. This is vastly different from old media models, where producers simply could not tell with a high degree of precision whether a particular programme was popular among viewers and how long they were watching it. As a result, the insights they delivered to advertisers were less relevant," he says.
Stockholm-based Spotify Technology SA is one of the more prominent names in the segment. The music-streaming service, which was founded in 2006, is a constituent stock of the Franklin Technology Fund, managed by Curtis.
He tells Personal Wealth that the company monetises in two distinct ways. "Users can subscribe to its premium service, wherein they pay a monthly fee and get a wider range of music, high-quality streams and an ad-free service. However, the free music service is supported by advertising.
"Take Alphabet Inc's Google and Facebook Inc. They are two of the most successful companies in the world and their growth was underpinned by advertising-supported, free-of-charge business models. Similarly, advertisers are attracted to Spotify because the company can help them find users of all ages and demographics. It is a viable business model."
Although a large chunk of Spotify's user base still uses its free advertising-supported service (as at April), more than 100 million users worldwide are now subscribed to its paid Spotify Premium service. The company has grown its paid subscribership by more than 30% year on year. As at early September, Spotify boasted of 232 million users, of which 108 million were Spotify Premium subscribers.
Don't stop the music
Right now, Spotify is a clear leader in the audio and music streaming service. However, the competition is slowly but surely heating up, with global technology players warming to the idea of audio content streaming.
Spotify has heavily invested in original podcast content in recent times. Just this year, the company reportedly paid nearly US$400 million for three separate podcast companies — Gimlet Media, Anchor and Parcast.
This is a big growth area for Spotify, says Curtis. "The goal is to attract listeners to its platform by producing Spotify-exclusive podcast content. If you want to access this content, then you would have to pay for the service."
Netflix Inc, Amazon Inc (Audible) and Google (Google Podcasts) have also been ramping up their presence in the segment, albeit to varying degrees. It is important to note that while Spotify remains a primarily audio-based streaming service, Netflix, Amazon and Google are deep-pocketed multimedia content platforms and producers.
Amazon's Audible is a major audiobook and podcast platform and it recently partnered a company called Skybound, which is behind the cult comic book series The Walking Dead. The comic series has since been made into a long-running, critically acclaimed horror TV series available on US-based network AMC. Netflix, meanwhile, regularly delivers original podcast content to complement its Netflix Originals suite of programming.
Spotify is understandably having to invest heavily to secure its future in the streaming business. This has come at a significant cost. Even so, there are no guarantees that the investments will turn out well.
Curtis points out that Spotify's powerful data insights inform its content creation in a way that never really occurred before in the segment. As such, the margin of error for the creation of new shows is significantly lower than that of legacy media makers.
Curtis likes Spotify's ability to access and distil unique customer insights, as well as its smart investments in the podcast segment. That said, arguably a key reason he invested in the company is a lack of competition from the music publishers themselves.
"Although the music publishers are data-heavy businesses, they do not really know who is listening to their content. Spotify does. As a result, it would be much harder for the music publishers to buy content because they lack the expertise to accurately price it. Spotify, on the other hand, has a very strong sense of the pricing because it has a deep knowledge of its subscribers," says Curtis.
The same cannot be said for Netflix, whose shares are not held by the fund. The company has long been in competition with a slew of other agnostic content streaming services such as Amazon Prime, Hulu and, more recently, Apple Inc.
The iPhone maker is betting big on original content for its Apple TV Plus streaming service. Earlier this month, Apple released the official trailer for See, a fiction epic starring Jason Momoa.
In addition to these services, Netflix has come under intense pressure from programming behemoths WarnerMedia Entertainment and The Walt Disney Company. The former, which owns HBO, recently launched its own streaming service called HBO Max. Disney, meanwhile, has launched its Disney+ streaming service. Both companies have since pulled their original content from Netflix, with a view to monetising it on their own terms and on their own platforms.
More recently, Netflix lost the rights to stream hit sitcoms The Office and Friends.
NBCUniversal announced plans to stream The Office via an as-yet-unnamed NBC-owned streaming service while Friends will be heading to HBO Max next year.
However, the company scored a major win recently when it won the rights to stream one of the most successful sitcoms of all time,
Seinfeld. Long touted as "the show about nothing", it stars comedy legend Jerry Seinfeld alongside Julia Louis-Dreyfus, Jason Alexander and Michael Richards.
Another potential drawback for Spotify is its lack of access to the Chinese market. Curtis downplays the market's significance. "The Chinese market is dominated by Tencent
Music Entertainment and it is entrenched in that space. But even so, there are two billion smartphone users outside China and with that, a lot of growth for Spotify to pursue."
Arguably a major risk for Spotify is in the very music content it streams. Where Netflix has made waves with its original serials and movies, Spotify lacks similar assets to monetise. It now owns a slew of major podcast-based content creators, but it does not own the copyright to the music it streams. This means it pays royalties for the music content. "We are not big fans of this particular aspect of Spotify's model because it is still reliant on music publishers to get content," says Curtis.
The streaming service has been attacked by some of the biggest names in music over royalty disputes. Country and pop star Taylor Swift famously removed her entire catalogue from Spotify in 2014 after calling out the platform for the poor royalties that artists receive per play. Roughly three years later, the artist finally put her music back on Spotify, as well as rival services Google Play and Amazon Music.
Last month, rap and hip-hop legend Eminem, whose real name is Marshall Mathers, filed a suit against the company, claiming US$120 million in unpaid royalties. According to Bloomberg, Mathers' company — Eight Mile Style LLC — claimed that Spotify intentionally ripped off the artist by pretending to have the rights to stream his songs under various generic licences.