This article first appeared in Personal Wealth, The Edge Malaysia Weekly, on March 16, 2020 - March 22, 2020.
Click / Tap image to enlarge

Malaysia's equity crowdfunding (ECF) scene saw three successful exits last year. The investors who sold their shares received returns of 10% to 100%, pointing to the viability of this relatively new asset class.
As local ECF platforms only started operations in 2016, some were curious to know how investors would select the start-ups to invest in and how they would position their portfolios. After all, investing in start-ups is risky as the companies are still in the early stages of growth.
Personal Wealth spoke to three investors involved in two of the three campaigns to gain an insight into their strategies.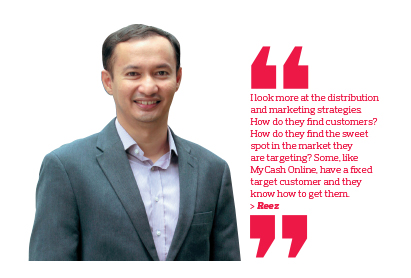 Making a qualitative investment
For Mohd Ridzwan "Reez" Nordin, investing in start-ups via ECF platforms involves a lot of personal judgement. Investors can look at the company's financial statements, but this should not be the only factor. They should also look at other data provided by the start-up and try to meet the issuer if possible, says the former venture partner at Monk's Hill Ventures.
"Some companies do provide financial statements, but I think you need to take these with a pinch of salt because they are still in the early stages. If you can see traction and growth in the company, that is a good sign already," says Reez.
"I look more at the distribution and marketing strategies. How do they find customers? How do they find the sweet spot in the market they are targeting? Some, like MyCash Online, have a fixed target customer and they know how to get them."
Reez is currently country manager at financial technology (fintech) firm Finaxar. He started investing in start-ups via an ECF platform in the US. He invested in MyCash and exited the investment last year.
"I met the founder about four years ago, when I was judging a pitching competition. I found MyCash interesting because it wanted to serve such a niche market in this country. Other companies are trying to do this too, but the founder was an immigrant himself. I felt that he knew the community and problems they faced, so he could come up with a more tailored solution for them," says Reez.
He chose to exit his investment because he had achieved his target return. This is a general rule when it comes to his public and private investments. "In particular, for ECFs or any other private investments, it is not easy to find monetisation or liquidity events," he says.
What to look for?
The high-risk nature of ECF investments means investors should look at the asset class as a diversification tool for their portfolios and only set aside money they are willing to lose, says Reez. Once they have decided on their allocation, they should attend pitching sessions by these start-ups.
"Even if the companies have the numbers, they are very early in their journey. So, the founders may tell a more meaningful story. The numbers are important to ensure that execution is done at some level. But ultimately, [a lot of it rests] on the founders. The company is small, so the people behind it will make or break it. Also, some products may resonate with you, so this requires a judgement call," he says.
Instead of just looking at the profit and loss statements, look for numbers that represent traction, says Reez. "For example, the number of users, downloads or engagements are indicative of how popular the product is and whether it resonates with users. Higher engagement will often correlate positively with the financial results."
He chooses investee companies by researching their products and services and looking at the problems they want to solve. Then, he does a thorough search of the company's website and examines the reviews left by users on the internet. Finally, he meets the issuers and forms a judgement.
"At least, you get to judge them from a qualitative point of view. The last 10% to 15% [of the investment process] is based on your judgement. You have to make a call whether it is interesting to you," says Reez.
One piece of feedback that he has for issuers is to give frequent updates to their investors, who can become their evangelists in the future.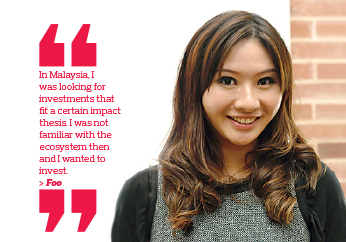 Focusing on the founders
Dr Melissa Foo, vice-president of the Malaysian Business Angel Network (MBAN), tries to invest in start-ups that have an impact thesis. The segments she is attracted to include education, financial inclusion and women founders.
That focus led her to invest in MyCash Online. "MyCash fit the impact thesis. What it is doing for migrant workers is also scalable. Migrant populations are willing to go anywhere, but their access to financial services is limited. I met the founder at a Singapore fintech festival, so I knew him [prior to investing in the company]," says Foo, a dentist turned angel investor.
After getting her Master of Business Administration, she worked for angel investment group New York Angels in the US for several years. During this time, she was also investing in start-ups as an angel investor. Her personal portfolio in the US included start-ups in areas such as health tech, agriculture tech and food tech, among others.
"In Malaysia, I was looking for investments that fit a certain impact thesis. I was not familiar with the ecosystem then and I wanted to invest. As my chances of not making a return was quite high, it had to have a plus side to it. So, even if I did not make a return on this, [I would need to ask myself if] I have positively affected the ecosystem in some way," says Foo.
She chose not to exit MyCash because the company is still growing. "I will stay in and if there is an opportunity to buy more, I will," she says.
Founder versus industry-focused
From her experience as an angel and ECF investor, Foo has learnt an interesting lesson. In her early deals, she selected start-ups based on the industries she thought were going to grow. "For example, one of my investments was in eSports, long before the Malaysian government started promoting it," she says.
She also invested in some start-ups because she liked the founders. One day, she realised that these investments had performed better than those she invested in because of the industry. Consequently, she began to focus more on the founders of the companies when making investments.
"I think the founders need to have a very clear mission and have a wide variety of skill sets. These kinds of founders are good for start-ups because they understand the many different parts of a business," says Foo.
"But if you ask me this question a few years later, maybe it will change. You learn along the way. That is why it is good not to do it alone, but syndicate a deal in a group or invest via ECF platforms, whose operators look through the deals first."
Using ecosystem knowledge in due diligence
Foo often requests information from the founders and sends a standard list of questions. These revolve around their understanding of the market and their unique competitive advantage.
"I also do vendor or client checking on the companies. That is where the ecosystem knowledge comes in because you can ask [your connections] if they know this company and what they think of it. To me, that is quite important," she says.
Like other angel investors, Foo does not rely too much on financial statements as the start-ups are new. "It is just a lot of optimistic projections. That is why I prefer to connect with the founding team directly. I think there needs to be a combination of using online [statements] as your discovery tool and offline as part of the due diligence process. You can contact the founders as they are open to questions during the fundraising stage," she says.
So far, Foo has experienced total write-offs of her investments and small losses here and there. "Overall, my ECF portfolio has increased by about 40% to 50% in value, based on the last round of financing. But there has not been any cash outs yet," she says.
To handle the risks of this asset class, investors must ensure that they have a diversified portfolio. "As with any investments, if you want good returns, it requires a lot of knowledge. That is why I think MBAN and the courses it offers can help with this. Angel investing is still quite new in Malaysia, so you really need to understand what is an expensive company or a good valuation," says Foo.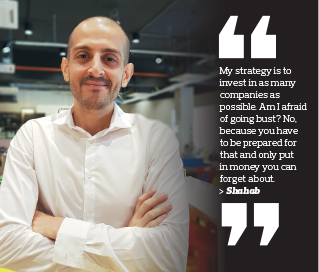 Going for an industry play
Shahab Yarmohammadi is an avid ECF investor, having been involved in 28 deals in Malaysia. His strategy when investing in this asset class is relatively different from the other two investors – he wants to have industry exposure in his portfolio. That is why his investee companies range from a durian plantation and café to companies in the advertising technology space.
"As I do not go in as a majority shareholder, I do not have the time and resources to research the company too deeply. It is more about having exposure to an industry [that I like] and not so much about having financial exposure, given that the number of shares held [by an ECF investor] is so little. For me, it is a learning opportunity. It also gives me exposure if there is a second round of fundraising by the start-up," says the former tech entrepreneur and angel investor.
"My strategy is to invest in as many companies as possible. Am I afraid of going bust? No, because you have to be prepared for that and only put in money you can forget about."
In general, Shahab is attracted to start-ups in the tech or sustainability space, which is reflected in his portfolio. He invested in both MyCash Online and Skolafund, but chose not to exit the former.
"I would invest in MyCash again if it started a new campaign because it is addressing an unserved market. The founder himself comes from Bangladesh, so he knows the market. He has a tech background as well, so he is the perfect person to lead this start-up and it is doing very well," says Shahab.
"As for Skolafund, I think it is the first social enterprise to raise money via ECF. The fact that it is a social enterprise was very interesting to me. It was like an impact investment for me."
Targeting many industries
Having a diversified portfolio provides Shahab with exposure to a variety of industries and start-ups. Not all of these companies are loss-making while some are in more traditional sectors that will not have the exponential growth experienced by tech companies.
"Not all ECF start-ups are loss-making because there are bricks-and-mortar businesses like the durian plantation [and management company Sri Walis Plantation] I invested in. It has land and it owns assets. It is not going to blast off [in terms of growth rates]. This is unlike tech companies, which are usually loss-making as they have high marketing expenses. But imagine if Wobb [an online job search platform Shahab invested in] was acquired by LinkedIn. The upside would be crazy. Sri Walis is not as scalable," he says.
But this means Shahab needs to evaluate the companies differently. "Wobb's financial statements tell me the amount of money it is burning through and that is the runway in front of the company until it has to raise funds again. Sri Walis' financial statements tell me it is making a profit now, but can the company maintain it?" he says.
Shahab has also invested in Blokke Kartel, a café, makerspace and education centre that offers Lego workshops for children at Citta Mall in Petaling Jaya, Selangor. He first heard about the social enterprise through the Malaysian Business Angel Network during a pitching session.
"I was sceptical back then [about its prospects]. But having got to know the founders, [I found that] they are really doing this from their hearts. They are putting their own money in the enterprise. [Although] I was too quick to judge back then, I still put money in because I wanted to have exposure to the concept of a café and playhouse," he says.
According to pitchIN's 2019 report, Blokke had recorded a healthy growth in net profit over the years and a gross margin of 68% last year (unaudited), compared with 58% in 2018. It used the funds raised via the ECF platform to expand its centre and is now looking to open its second outlet.
One of the investments that Shahab missed out on was the third exit last year, that of biogas company Green Lagoon. He was initially interested in it due to the sustainability angle.
"It did not accept me because I think it had so many big-ticket investors. The moment the founder walked in and gave the pitch, you were like, 'It is doing good for the world and for itself. It has a great team.' Some of these investments are like no brainers. Green Lagoon was one of them," he says.
Exits and returns
Shahab has exited four of his 28 investments. One declared bankrupt and is going through the court process to liquidate and distribute its assets. But he did see a return from online marketplace provider TimeV when the founder wanted to pivot the business and offered investors an exit. 
Shahab took a hit financially when one of his investee companies, Revolution Fitness, sold its assets to a larger player at a significant loss. "pitchIN fought for better returns for its ECF shareholders. But it did not have to because this is a high-risk investment. So, I would trust the platform in future deals," he says.
Have these losses bothered him? Not yet. Based on his experience as a tech entrepreneur and angel investor, he understands that many seed investments fail. Nine out of 10 are expected to go bust, he says. That is the expectation in markets such as the US.
ECF investments are for the long term and require at least five years to see results, according to Shahab. "I have lost a significant amount of money, but it is too short a time to judge. I could have exited MyCash, but I chose not to. I can probably give you a better view of how the portfolio is doing five years from now," he says.
He advises investors not to have high expectations when it comes to ECF investments. If they want to protect their portfolio, do as much research as possible, including requesting information from the Companies Commission of Malaysia and talking to the founders.
"ECF is not for everyone. Often, people invest hoping to get a monthly return. It hardly happens with ECF because these are early-stage companies. If you want that, you need to look at peer-to-peer financing or have a combination of both," says Shahab.
"A lot of people do not realise that ECF investments come at a premium [due to the cut taken by the platform operator, which does the screening and curation]. This will be reflected in the balance sheet."