This article first appeared in The Edge Financial Daily, on September 23, 2019.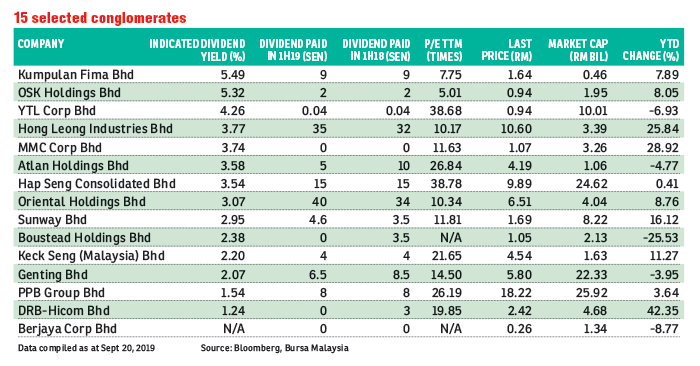 KUALA LUMPUR: Conglomerates are believed to be defensive in nature given their diversified business portfolios on the belief that when one division does not fare well the others will make up for it. Theoretically, conglomerates' earnings should be steady most of the time, although not totally recession-proof.
Nonetheless, it seems that investing interest in conglomerates, which are defined as having more than two or more core businesses, is not that keen in recent years. One reason is that conglomerates are floating profitable subsidiaries to unlock values — a way to create shareholder value.
Former Sime Darby Bhd is an example. One of the oldest conglomerates in Malaysia has broken into three listed entities — Sime Darby Bhd, Sime Darby Plantation Bhd and Sime Darby Property Bhd. UMW Holdings Bhd, which some perceived as a mini Sime Darby, has also exited from the loss-making oil rig business, focusing on auto and heavy industrial equipment.
That said, a random check by The Edge Financial Daily, based on  data from Bloomberg, shows that the (indicated) dividend yields of a few conglomerates, such as Kumpulan Fima Bhd, OSK Holdings Bhd and YTL Corp Bhd, are rather attractive at above 4% (see table).
Oriental Holdings Bhd, on the other hand, has an indicated dividend yield of 3.07%. It has paid a dividend of 40 sen per share in the first half of 2019 (1H19) — the highest dividend quantum paid, versus 34 sen in the same period last year.
"Oriental may be a good choice for some investors who are looking for defensive stocks, although it is not our cup of tea. But for people who are conservative, it definitely is a good alternative," Phillip Capital Management Sdn Bhd chief investment officer Ang Kok Heng told The Edge Financial Daily.
Business-wise, however, Ang said Oriental's earnings growth is not that strong relatively, and it is not dynamic in terms of growing its business. Nonetheless, he pointed out that Oriental Holdings is cash rich; hence it could afford regular dividend payment.
Among the 15 selected conglomerates, Boustead Holdings Bhd, DRB-Hicom Bhd and Berjaya Corp Bhd did not declare any dividend in 1H19. Boustead has an indicated dividend yield of 2.38%, and DRB-Hicom 1.24%.
Despite not having an attractive dividend yield, DRB-Hicom's share price has surged some 42% year-to-date.
"If you want to go for defensive [stocks], conglomerate stocks are one of them," Ang said. He, however, cautioned that not all conglomerates pay good dividends, as some of them are still in expansion mode.
While it would appear that the conglomerate stocks are safer than other types of stocks, due to multiple businesses the conglomerates are in and their businesses would be fairly stable, Ang said earnings growth is not strong and valuations are expensive.
Compared with conglomerates in other countries such as Hong Kong and Singapore, Ang said local conglomerates seem unlikely to have a breakthrough when it comes to expanding into new businesses, adding that the return on deals or businesses appears to be lower than expected.
Thus, Ang noted that for investors to invest in conglomerate stocks, they should assess their respective earnings stability.
While there is talk about interest rate cuts, Fundsupermart research analyst Jerry Lee Chee Yeong said during a low interest environment, the main focus should be on the stock's ability to pay high dividend and have a stable dividend payout, regardless of it being a conglomerate or not.
"All in all, we would encourage investors to focus on not only high dividend yield, but also consistency of the dividend payout ratio," said Lee.
"In my personal opinion, in some cases investors wouldn't prefer conglomerates as most of them would be priced at a discount and in terms of business structure, would be slightly complicated to analyse," said Lee, adding that the earnings visibility for conglomerates is generally not as good as single-sector stocks.
From a fund manager's perspective, Areca Capital Sdn Bhd chief executive officer Danny Wong Teck Meng said it would be more efficient for an investor to create a diversified portfolio by directly diversifying into the segments the investor prefers, rather than choosing conglomerate stocks that may come with undesirable exposure to segments that do not match the investor's risk appetite and to also avoid being locked down by the conglomerates' business structure.
He added that it is also tougher to determine a conglomerate's stock valuation or pricing, especially when it has multiple businesses.
"It is not carved in stone that all conglomerates are well diversified, therefore, the income stream is not predictable and foreseeable," said Wong.