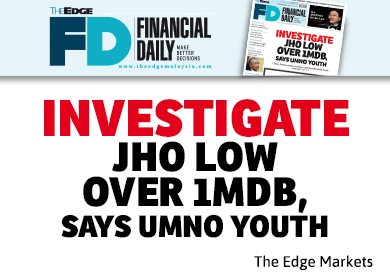 KUALA LUMPUR: Businessman Low Taek Jho (Jho Low) should be investigated and action taken against him if there is proof that he was involved in the misappropriation of 1Malaysia Development Berhad (1MDB) funds, Umno Youth said yesterday.
Referring to the front-page blurb of The Edge Financial Daily yesterday, Umno Youth exco member Ibdillah Ishak said that Low should not have accused Umno of twisting issues concerning the state investment vehicle, and labelled the party leaders as "spin masters".
"The question that arises is who is Jho Low to seemingly blame Umno and label Umno leaders as 'spin masters'?" Ibdillah said in a press statement yesterday.
"Who is this individual to say such things? Is Jho Low really involved and feeling guilty about this huge controversy?"
Ibdillah was commenting on Low's interview with business monthly Euromoney, in which he accused Umno leaders of being spin masters in matters relating to the controversial debt-ridden 1MDB.
Low, who was accused of using his links with Prime Minister Datuk Seri Najib Razak to profit from the fund, had denied the allegation, saying that he had only advised 1MDB on certain matters and had no official role in it.
Low had also said he was under attack because there were attempts to divert attention away from the company's bad performance and decisions which led to some RM42 billion in debts.
"It's so frustrating ... I've never faced this kind of attack from all directions. It's just crazy, and these Umno guys are spin masters, they know all this sort of nonsense," he was quoted as saying.
"All these guys go round and round and round and I say: 'Guys, it's very simple, there's a board, who's the shareholder?'
"Have you ever seen one statement from anyone that talks about the simple governance of a company?
"Are you telling me the prime minister doesn't make his own decisions? That the ministry, the finance minister, who is the prime minister — and there are only two to three people in the finance ministry that sign off on shareholder resolutions under law — that none of them ... that they just signed without evaluating it?"
Excerpts of the interview were featured in Tuesday's edition of The Edge Financial Daily.
Ibdillah said it seemed as though Low was trying to get himself off the hook by defaming Umno leaders through the interview.
"There is no need to defame Umno leaders when you are facing such huge problems. It is as if he wants to get himself off the hook."
He also urged authorities to heed the suggestion by Umno Youth chief Khairy Jamaluddin, who earlier yesterday called for speedy investigations into 1MDB and Low.
Khairy was also responding to Low's interview with Euromoney and had tweeted Umno Youth's full support for Najib while calling for a thorough probe to be immediately initiated into Low's role in 1MDB.
"Pemuda nyatakan sokongan kpd @NajibRazak. Juga minta segerakan siasatan @1MDB. Siasatan penuh terhadap individu ini (Umno Youth expresses support for @NajibRazak. Also requests for speedy investigation @1MDB. Conduct full probe on this individual)," he had posted on Twitter alongside a picture of the report. — The Malaysian Insider
This article first appeared in The Edge Financial Daily, on April 15, 2015.