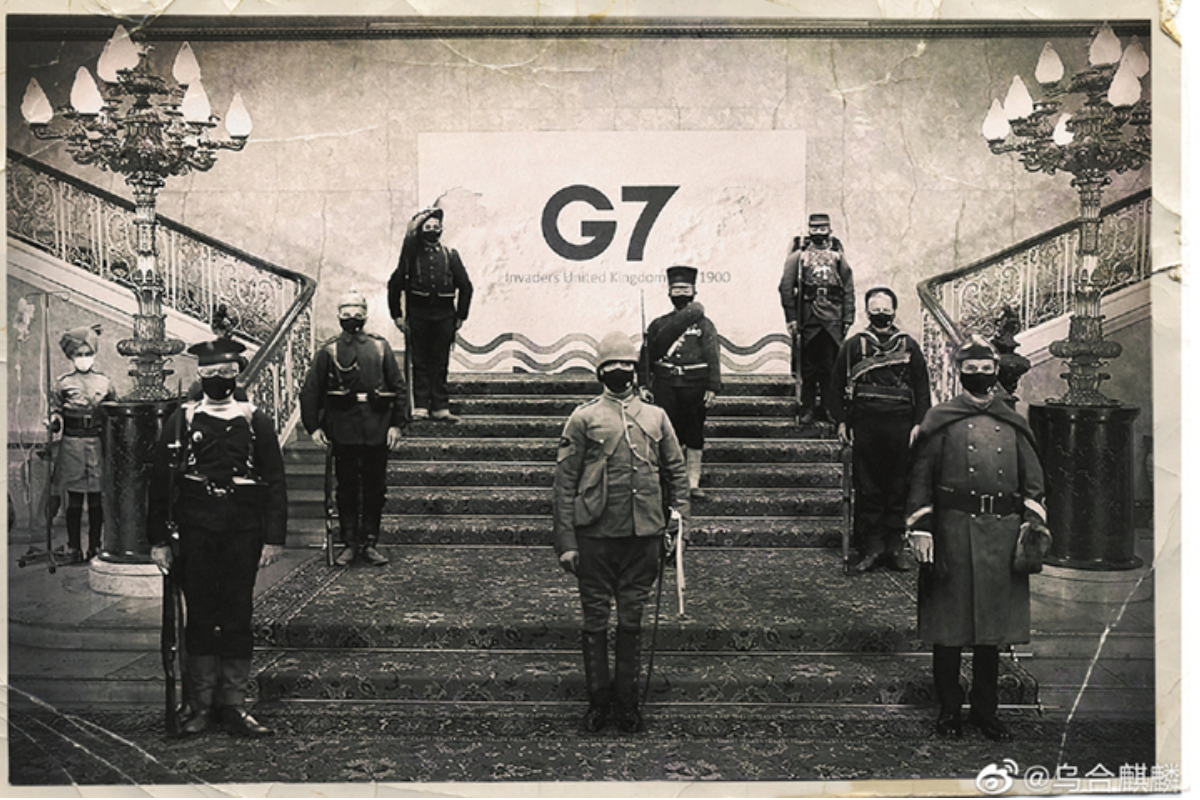 (May 7): "The last time when these guys colluded to [suppress] China was still in 1900; 120 years have passed, they are still dreaming," patriotic Chinese cartoonist Wuheqilin posted on social media, alongside his new satire illustration on Friday, comparing the meddling of the G7 (or Group of Seven)  in China's internal affairs to the notorious invasion of China by the Eight-Nation Alliance troops in 1900, Global Times reported.
The illustration, based on a group photo that the G7 Foreign Ministers and the High Representative of the European Union for foreign affairs took in London on May 4 local time, depicts eight people wearing old-style military uniforms and black face masks standing in the middle, and a man dressed in Indian garb and wearing a white mask in the left corner, who is on a drip, like a patient, it reported.
Chinese readers found that the eight people in the middle of the illustration, standing in the same positions as the eight officials in the May 4 photo, respectively symbolize Britain, the US, Germany, France, Russia, Japan, Italy and Austria-Hungary, which formed the invading troops to China some 120 years ago, Global Times reported.
In his illustration, Wuheqilin candidly changed the words "United Kingdom 2021," shown on the background board in the actual May 4 photo, into "Invaders United Kingdom 1900."
The illustration went viral on Chinese social media on Friday, generatingmore than 306,000 likes and 27,500 retweets within five hours on Twitter-like Weibo since Wuheqilin posted it. Many netizens applauded the satire piece for vividly revealing the ugly faces of some Western forces who have been attempting to bully and contain China over the century, Global Times reported.
"Eight-Nation Alliance troops invaded China and looted and pillaged Beijing in 1900, when China was called 'Sick Man of East Asia;' but now times have changed, and China is no longer what she used to be," a Weibo user commented under the illustration. "Western forces, stop your daydreaming!" another user said.