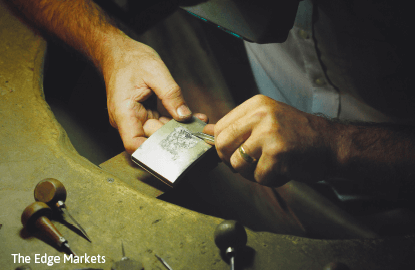 This article first appeared in The Edge Financial Daily, on December 1, 2015.
HAND engraving is a traditional metalwork decorating technique that reflects the rich legacy of the archives that belong to respected silversmith, Comyns. Known for producing ornate household items made from silver, hand engraving is an art that takes Comyns' commitment to design and craftsmanship to the next level. 
With a rich heritage spanning nearly 400 years, Comyns has captured the admiration of many people that have used its silver to mark significant milestones and memories. As pioneer silversmith, Comyns has emerged as one of the most prestigious silver brands in the world. Acquired by Royal Selangor in 1993, Comyns has preserved its traditional English heritage by pledging its commitment to design and craftsmanship.  
Literally going hand-in-hand with silver, hand engraving is a craft that is passed down from master to apprentice. The practice of hand engraving requires the handheld engraver to incise motifs on a sterling silver surface in a series of precise, smooth cuts in different lengths, widths and depth depending on the pattern. Silver in comparison to pewter is a much harder and thicker metal to engrave as it requires more strength and intricacy to make your mark on silver.  
An intricate practice, hand engraving requires a combination of meticulous craftsmanship and artistic creativity. An eye for detail is also another habit that must be honed in order to master this art. With many years of practice, each engraver will develop their own unique and signature engraving style. 
For this Christmas season, Comyns and Royal Selangor are providing customers with complimentary hand engraving service so you can personalise your gifts for your loved ones. 
At Comyns, the elegant and linear designs of accessories like money clips and wrist cuffs are great for engraving a loved one's initials. Classic photo frames, which are a little larger, provide opportunities for more detailed messages — a date of an important event, perhaps. For a new baby who has joined the family, a silver spoon engraved with the date and the baby's name is a lovely keepsake.
Meanwhile, Royal Selangor's creations for the home also lend themselves very beautifully to the engraving service, with much larger spaces for you to get quite creative with your messaging. The contemporary tableware from the Circa collection or candle stands from the Manhattan collection are quite lovely, their beauty contained in its seamless combination of wood and pewter.
---
The hand engraving service is now available at all Comyns and Royal Selangor stores nationwide until Dec 31.