This article first appeared in Personal Wealth, The Edge Malaysia Weekly, on October 9, 2017 - October 15, 2017.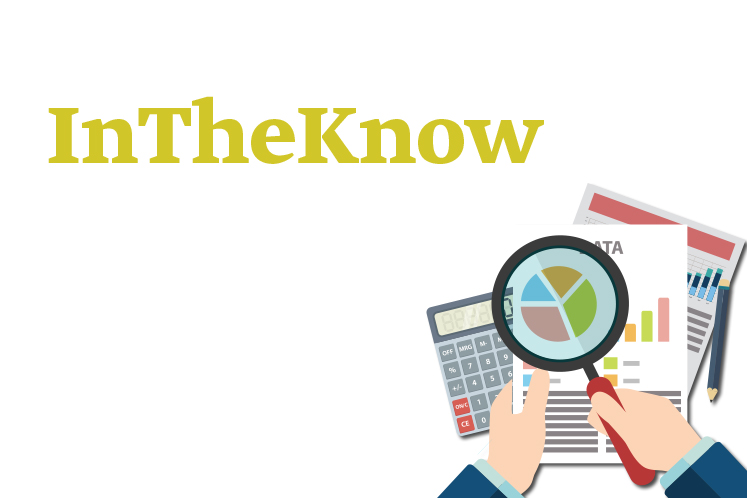 Green bonds raise funds specifically to support climate-related or environmental projects. Green bonds were established in response to investors' demand for responsible investing options, and many issuers use it as a tool to raise awareness about projects that can address environmental challenges.
The definition of what constitutes a green bond depends on the issuer. The World Bank has its own criteria for green projects that has gone through an independent review by the Center for International Climate and Environmental Research at the University of Oslo (CICERO).
Another set of guidelines, called the Green Bond Principles (GBP), was established in 2014 by a group of investment banks. While it does not strictly define what is "green", it recognises several categories of green projects such as renewable energy, energy efficiency, sustainable waste management and clean transportation.
There are also bonds funding projects that promote a low carbon economy but are not labelled as "green" bonds. The Climate Bonds Initiative, an international organisation that focuses on mobilising the green bond market, refers to it as climate-aligned bonds and often couples it together with labelled green bonds.
Green bonds are generally priced similarly to regular bonds, although the World Bank points out that some investors of green bonds have noticed that they are able to sell green bonds at higher prices than regular bonds due to the relative scarcity of green bonds.
Since there is no binding definition as to what constitutes a green bond, investors can rely on information from certain organisations to learn more about the criteria of impactful green bonds. For instance, the Investor Network on Climate Risk in North America has issued a statement to guide issuers and market participants on what they should expect from the green bond market. Non-governmental organisations like CICERO and the Climate Bonds Initiative offer disclosures and commentary about the market as well. Several green bond indices such as Barclays/Morgan Stanley Capital International, Standard & Poor's and Solactive have benchmarks for green bond portfolios, while Moody's offers a Green Bonds Assessment (GBA).
Some green bonds are also shariah-compliant. The first Islamic green bond, better known as sukuk, in the world was offered by Malaysian Tadau Energy in June 2017. The RM250 million sustainable investment sukuk, named Green SRI Sukuk Tadau, will fund a 50mw large-scale solar project in Sabah. Funds raised through green sukuk have to be applied to investment in identifiable assets or ventures, and the proceeds of a sukuk are earmarked for particular environmentally beneficial purposes.
How did green bonds come about?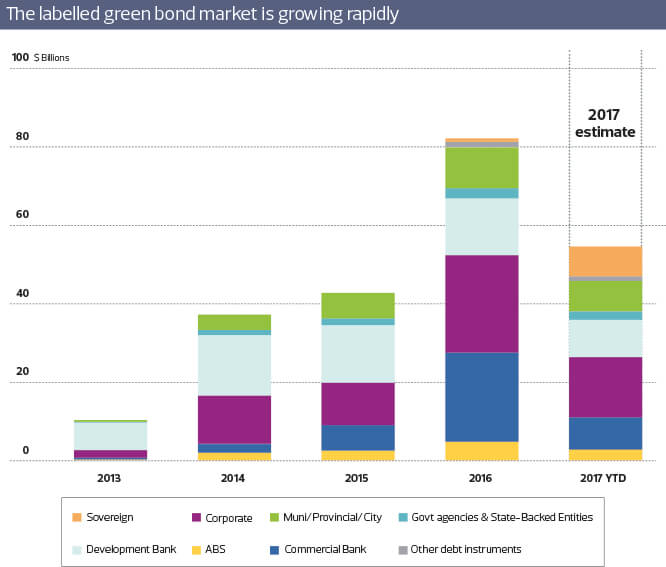 The first green bond was issued in 2007 by the European Investment Bank as a structured bond that focused on renewable energy and energy efficiency. In 2008, the World Bank launched the first labelled green bond focusing on climate change mitigation and adaptation projects.
The first corporate green bonds were issued by EDF Energy, Bank of America and Swedish real estate company Vasakronan in 2013. In the same year, the first municipal green bond was issued by Massachusetts, the US. Abengoa Greenfield, a Spanish renewable energy services company, issued the first high-yield green bonds in 2014.
According to the Climate Bonds Initiative, the climate-aligned bond universe — including green bonds — was at US$895 billion as at June 2017, which is an increase of US$201 billion from 2016. Unlabelled climate-aligned bonds stood at US$674 billion, while green bonds were at US$221 billion.
What are the types of green bonds?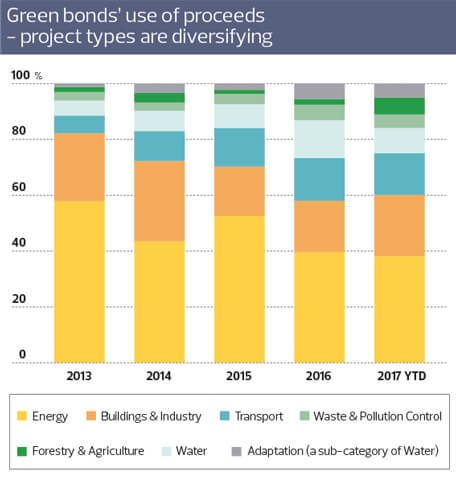 Most of the green bonds issued are green "use of proceeds" or "asset-linked bonds", whereby the proceeds raised by a bond sale are earmarked for green projects and are backed by the issuer's balance sheet. Other types of green bonds are green "user of proceeds" revenue bonds, green project bonds and green securitized bonds.
The bonds issued can support various initiatives. For instance, the US state of Massachusetts issued two green bonds in 2014 to finance projects in clean water, energy efficiency and land remediation. French utility GDF Suez issued a green bond in 2014 to fund renewable projects, while Toyota Financial Services launched a green bond in the same year to fund consumer loans and leases for its electric, hybrid and low-emission vehicles. Netherlands bank ABN AMRO issued a bond in 2015 to support mortgages in energy-efficient homes, loans for home solar panels and sustainable commercial property.
Between 2005 and 2017, the largest green bond issuers were multilateral development banks, followed by the US and China. Looking at both green bonds and climate-aligned bonds, low carbon transport was the largest sector funded by the bonds, followed by clean energy.
How to invest in green bonds
Most green bonds are still taken up by and targeted at institutional investors. For instance, the World Bank's International Finance Corporation (IFC) and European asset management firm Amundi agreed to form a US$2 billion green bond fund targeting emerging markets in April this year. The IFC will invest US$325 million in the Green Cornerstone Bond fund that will buy green bonds issued by banks in the target region, while the rest of the US$2 billion will be raised by Amundi from institutional investors worldwide.
However, retail investors interested in green bonds also have some channels to choose from. Some asset managers have dedicated green bond funds or have set targets for funds under management that should include green bonds. For instance, Japan's Nikko Asset Management set up a World Bank Green Bond Fund for European and Middle Eastern investors in 2010. On the other hand. the VanEck Vectors Green Bond ETF, which was listed on the New York Stock Exchange Arca, tracks the performance of the S&P Green Bond Select Index.