This article first appeared in Personal Wealth, The Edge Malaysia Weekly, on December 10, 2018 - December 16, 2018.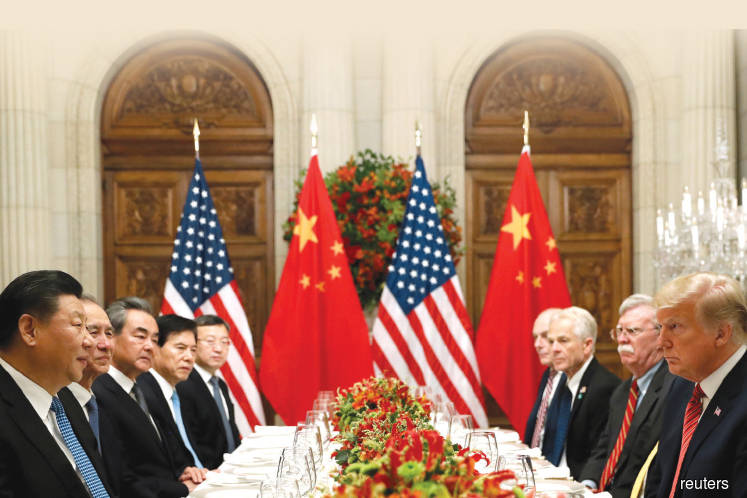 The US and Chinese delegations, led by Trump and President Xi Jinping, at a working dinner after the G20 Leaders' Summit in Buenos Aires, Argentina. Photo by Reuters
What is Trumponomics?
Move over Reaganomics, there is a new term in the US geopolitical lexicon: Trumponomics. It refers to a set of economic policies by current US President Donald Trump.
Trump's shock election victory came on the back of ambitious promises to slash personal and corporate tax, renegotiate a slew of international trade deals and introduce large fiscal stimulus measures focused on infrastructure and defence spending.
The objectives of Trumponomics include increasing the disposable income of local businesses, individuals and families. The early weeks and months of the Trump presidency were characterised by him courting US businesses overseas to return home and repatriate profits.
Finally, a longer-term objective of Trumponomics is to correct what the US president sees as long-standing imbalances in international trade with the country's trading partners.
The tax code according to Trump
At the heart of Trumponomics is the quest to reduce taxes. In December last year, Trump signed into law the Tax Cuts and Jobs Act, slashing individual income tax rates, doubling standard deductions and eliminating personal exemptions. This reduced taxes on all but the lowest individual tax bracket of 10%.
The Act also cut corporate tax rates from 35% to 21%, which came into force this year. While the corporate tax cuts are permanent, the individual tax cuts are set to expire at the end of 2025.
With the more competitive 21% corporate tax rate, companies were encouraged to repatriate their large foreign cash holdings. A Goldman Sachs research note found that as at November last year, US companies had stockpiled as much as US$3.1 trillion offshore.
Barely a month after the passing of the so-called "Trump tax cuts", Apple Inc announced that it would bring back most of its US$252 billion cash that it held abroad. The tech giant took advantage of a provision in the tax cut law, which allows for a one-time repatriation of corporate cash held abroad at a lower tax rate than what would have been payable under the previous tax plan. In doing so, Apple announced that it would make a one-time tax payment of US$38 billion on the repatriated cash.
The Trump job market
As a result of these policies, Apple and a slew of other companies began repatriating cash and investing directly in the US economy. In January, Apple announced plans to build a new campus in the US. It will create 20,000 new jobs, both at the new campus and its existing facilities in the US. In November, Amazon announced that it would split its second headquarters between Northern Virginia and New York's Long Island.
Manufacturing jobs feature heavily in the Trumponomics playbook. Trump had railed against manufacturing job losses in the run-up to the 2016 presidential election. Some of his biggest wins came in the US Rust Belt — states that were once teeming with industry but had been in decline for decades.
According to US government data, for the 12 months ended July, the manufacturing sector added 327,000 jobs, the most of any 12-month period since April 1995.
Let slip the hawks of (trade) war
Probably the most internationally recognisable aspect of Trumponomics is the president's "America First" approach to foreign economic policy. This has seen the Trump administration take a very hawkish stance against countries with which the US has large trade deficits. To this end, China is a frequent target at the president's many nationwide rallies.
In various interviews with international media earlier this year, former White House chief strategist Steve Bannon said Trump's aggressive stance on China is meant to reorient the entire global supply chain. On multiple occasions, both Trump and Bannon have called out the Chinese government's practice of forced technology transfers from foreign companies operating within its borders, which is considered being anti-competitive and anti-free trade.
"This trade war is going to end in victory [for the US], and what you are going to see is a reorientation of the entire global supply chain away from China," Bannon said at CNBC's Delivering Alpha conference in July.
---
Sources: Bloomberg, Forbes, Investopedia, CNBC, US Tax Center @ Internal Revenue Service USA