This article first appeared in City & Country, The Edge Malaysia Weekly, on May 3, 2021 - May 09, 2021.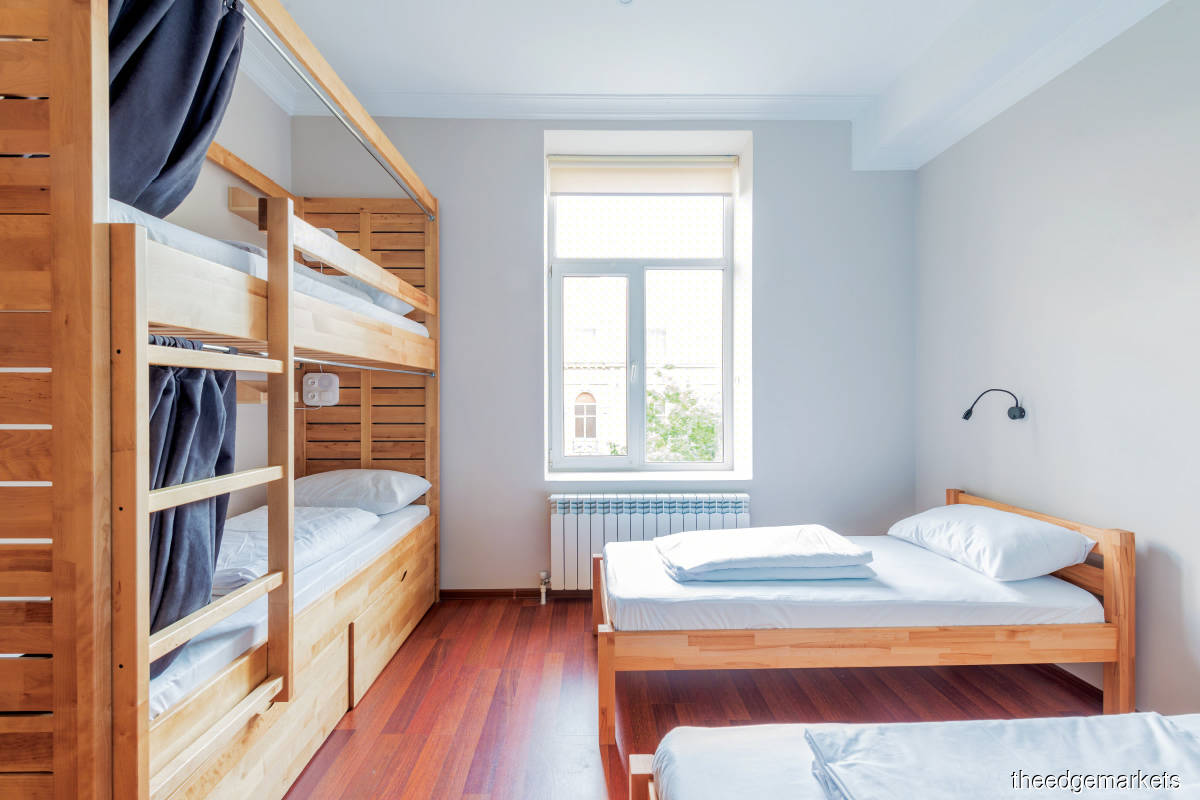 Young people have been going abroad to further their studies for years. In 2017 alone, there were more than five million international students at universities across the globe. A large number of them were from the Far East, according to figures provided by Unesco.
In its Global Living Research 2020 report, real estate service provider Savills plc points out that China is the largest source market in the world for international students while a large proportion are from the Far East. India is slowly catching up as its wealth gradually increases.
"Greater international student mobility has gone hand-in-hand with a growing, global, purpose-built student accommodation (PBSA) market," says Savills.
"International students have contributed significantly to the success of this sector. Being unfamiliar with local housing markets and often possessing greater budgets than domestic students, they have acted as an important and growing demand base."
The number of investments in the sector increased 135% between 2014 and 2019, it adds.
Malaysia, with its growing number of higher education institutions, has attracted its fair share of international students over the years. According to CBRE | WTW, there were an estimated 150,000 international students in the country prior to the Covid-19 pandemic. Meanwhile, those in popular higher education destinations such as Australia, the UK and the US were at least triple that number.
CBRE | WTW group managing director Foo Gee Jen says student accommodation could be an ideal investment as it offers advantages such as demand certainty (if it is in a good location); punctual or even upfront rental payment; lower risk of rent default; and simpler demand criteria compared with renting to families. "These attributes are still relevant and underscore the fundamental prospects of student accommodation investments. PBSA is a feasible option for university operators or real estate investment trusts (REITs) that wish to capitalise on steady rental income."
There are student housing REITs in mature markets. These include American Campus Communities in the US; Unite Group plc, Empiric Student Property plc and GCP Student Living plc in the UK; and Alignvest Student Housing REIT in Canada.
"Insufficient student accommodation provided by universities is a common issue in many countries, including Malaysia," says Foo. "In most cases, international students are guaranteed on-campus accommodation for their first year of studies only. As a result, the undersupply spurs property demand in the surrounding neighbourhoods as students turn to the private rental market."
He notes that countries such as Australia and the UK are more advanced as they have PBSA and private student accommodation managers and operators. Thus, student-related services and sectors in these countries would be more exposed to the repercussions of the pandemic as international student arrivals decline or they are sent back home.
Knight Frank Malaysia executive director of capital markets James Buckley says the closure of the Australian border in March 2020 has led to a drop in PBSA occupancy levels to an average of 50% to 70% in the first and second semester. "Unlike Australia and the UK, Malaysia does not really have many institutional quality off-campus PBSA," he points out.
While the international student accommodation market in Malaysia may not be as pronounced, the pandemic has hurt its rental performance.
"Some universities were seen providing refunds amid virtual learning, and partly as an effort to reduce on-campus crowds. Likewise, investment returns for private properties in surrounding neighbourhoods were impacted, and there was shrinking demand from both local and international students," says Foo.
A global problem
"Malaysian families retain a strong affinity with overseas education. The UK remains the top destination for children studying overseas … London offers a long list of attractive property investment characteristics, which go hand-in-hand with being the overseas education choice of Malaysia-based families," says Knight Frank Malaysia associate director of international project marketing Dominic Heaton-Watson.
"The Knight Frank residential forecast for 2021-2025 is +25% for Prime Central London and +23% for Prime Outer London, meaning clients from Malaysia tend to look at property and education in tandem. Australia (Perth and Melbourne) and the US (New York) also appear to be highly regarded and popular destinations that are considered by Malaysians when investing in property for their children to use while studying overseas."
Over the past few months, Knight Frank in the UK and The Universities and Colleges Admissions Service (UCAS) have been compiling the views of more than 70,000 students in an attempt to better understand their preferences and concerns when it comes to their housing requirements.
"Operators of PBSA appear to have dealt better with the challenges of the pandemic than landlords in the wider private rental market. Some 69% of students living in PBSA said they were pleased with their operator's approach compared with 25% of those living in house-shares rented from private landlords," says Heaton-Watson.
He adds that almost 40% of final-year students intend to live in the city in which they studied after graduation while 46%, or 235,000, plan to move directly into rented property after graduation — highlighting the scale of current and long-term opportunities for both investors and build-to-rent developers.
Savills reports that a survey by Universities UK revealed that 97% of the universities in the country planned to provide some in-person teaching in 2020/21. "Universities will, however, have to adapt to the new reality, which means a greater online presence than before. A survey by QS in September 2020 found that 51% of respondents stated their course was being taught entirely online," it adds.
"Students may not feel the need to move into student residences if most or all of their courses are online. Those within commuting distances may decide that travelling once or twice a week is now the more logical solution, especially as the experience in student residences will be different."
Knight Frank notes that while the pandemic has created much uncertainty for this year's academic cycle in the UK — including around bookings, occupancy levels and whether international students will be able to travel to the UK — UCAS data shows that a record 516,650 students have been accepted at UK universities, with international student enrolment hitting its highest ever level.
A sensible strategy
Although vaccination programmes are being rolled out around the world, uncertainty remains. At this juncture, rental rebate is a sensible strategy for owners to retain tenants, especially if the property is irregularly occupied, says Foo. "Owners should be more flexible in the contractual terms as well, and they could consider refurbishing their properties to appeal to the market."
The pandemic has pushed public health and safety to the top of the priority list, which will see students and their parents check out a living space more closely.
"Learning from the issue with factory workers' dormitories during the pandemic, capacity control within a property is an effective assurance. Any renovation should be done in accordance with the local authority's guidelines and approval," says Foo.
"In addition, owners may want to upgrade their properties by incorporating value-added features such as high-speed internet, proper study space and supportive equipment in line with remote learning. Alternatively, owners could consider having agreements with the university to fill the supply gap, the model of engagement and obligations of which are variable."
He expects to see more PBSA developments targeting investors who are keen to own full-fledged student accommodation. "These include micro housing or the co-living concept with features suited to student needs, such as functional kitchen/pantry, adequate living room size, community engagement, flexible tenancies and the aforementioned value-added features. The essential idea is to have an optimised and self-sufficient space that offers both exclusive living and an inclusive community at the same time," he says.
Foo cautions that wear and tear will be an inherent challenge in student accommodation, which is likely to be more vigorous. This means owners/managers would need to step up their maintenance and repair efforts to preserve the value of their assets.
He says some of the prerequisites for being a successful international education destination are the concentration of educational institutions offering top-quality programmes; English as the medium of instruction; availability of and access to advanced job opportunities for international graduates; friendly work permit and visa policies; and quality and reasonable cost of living.
"Taking the above into account, areas in the Klang Valley will continue to be preferred. They include Shah Alam, Subang Jaya, Bandar Sunway, Setapak, Cheras, Cyberjaya, Bangi and Sungai Long," says Foo.
"Other non-urban but adequately developed university towns such as Kampar, Nilai and Semenyih are worthy prospects for the student accommodation market as well."
Heaton-Watson observes, "Wellness-themed developments are increasingly seen as a healthy environment in which to live, work, study, and play. Students are seeking greater flexibility in their property use, layout and connectivity, while Malaysia-based investors are increasingly looking at properties in prime central locations that are within walking distance of universities."
Life after Covid-19
Foo notes that Malaysia's higher education institutions are ranked by a regional standard and offer plenty of options in terms of private universities and colleges. He believes the pandemic may have encouraged Malaysian parents to let their children further their studies locally, which would generate demand for domestic student accommodation.
"Malaysia aims to attract 250,000 international students by 2025. It is also noteworthy that other policies associated with access to economic opportunities, employment of foreign workforce post-graduation and immigration/residency requirements must be accommodative as well," says Foo.
He believes the quality of student accomodation in Malaysia has improved over the years, in view of the fact that student accommodation is becoming an increasingly mainstream investment option, given its reliability in terms of income generation.
"This is because education is an essential and routine activity. Therefore, the performance of student accommodation is less exposed to recession impacts such as unemployment, falling consumption or house price depreciation," says Foo.
"Demand, rental yield and new acquisition and investment for student accommodation will still fluctuate during the pandemic. Nonetheless, it may still be the better-performing asset class and could regain traction sooner than most of the other property sectors when normalcy is restored."
On the subject of returning to normalcy, the question of when countries will reopen their borders remains. According to Heaton-Watson, The Telegraph recently published an article on what it sees as two emerging approaches to the Covid-19 endgame. "The new 'conflict' is between countries pushing for eradication and those arguing that the greater public good is to end coercive restrictions and open up the economy as soon as we reach tolerable levels of immunity," he says.
The article refers to two camps — "eliminators" in East Asia, Australia and New Zealand and "suppressors" in the Americas and Europe — arguing about which will embrace freedom sooner. The challenge highlighted is: How quickly will the countries that adopt eradication, such as Singapore, open up to travellers?
"Whichever course is chosen to battle Covid-19, there will be pros and cons for the economies and property markets, including the PBSA and private rental sector," says Heaton-Watson.
Foo expects participation and interest in attaining education to grow over time in an emerging economy such as Malaysia. "Parallel to that, domestic tertiary education activity and student-related services, including student mobility and stronger investment interest in student accommodation, will be the organic drivers for this market in the years to come after the dust of Covid-19 has finally settled," he says. 
Student preferences and concerns
In the UK, Knight Frank and The Universities and Colleges Admissions Service (UCAS) conducted a survey on student preferences and their concerns about student housing. More than 70,000 existing and new students across the country participated. Here are the key findings.
PBSA operators taking on the Covid-19 challenge
Issues related to well-being have been driven to the top of the priority list in the way purpose-built student accommodation (PBSA) operators engage with students — not least because of the pressures frontline staff have faced in supporting students who were shielding friends and family members or those who were feeling isolated.
This has brought into stark contrast the differences in quality and experience between professionally managed purpose-built accommodation and what is available to students in the broader private rented sector. Encouragingly, the survey suggests that PBSA operators have dealt better with the challenges posed by the pandemic than landlords in the wider rental market.
Some 69% of students living in PBSA, either operated privately or by universities, were pleased with their provider's approach and handling of the pandemic. By comparison, just 25% of students living in rented houses said the same.
Affordability is key
The pressures of meeting living costs are at the forefront of any discussion on student housing. Students living in private PBSA pay £7,200 per annum on average for their accommodation. This compares with an average of £6,650 for university-operated accommodation and £5,900 for students in privately rented house shares.
Regardless of the type of accommodation, most students (84%) indicated that their accommodation costs were either affordable or just about affordable. The majority of first-year students (75%) said they paid their rent directly from their own bank account, rising to 82% for second-year students. The rest said their rent was paid by someone else, usually their parents. Only 32% of respondents indicated that their maintenance loan covered all of their costs. Nearly half (46%) of the students said they needed to work part-time to afford the cost of their accommodation.
Quality = value
The survey findings suggest a preference for high-quality accommodation that provides clear and obvious value-added elements. For the right amenities, students are prepared to pay a premium. Respondents said they would be prepared to pay extra for 24-hour security, a larger bedroom, a bigger or comfier bed and on-site facilities such as a gym. Stronger WiFi remained the most important service that students living in private purpose-built accommodation would pay a premium for. The opposite is true for amenities such as on-site swimming pools, cinemas and games rooms.
Graduating to build-to-rent
Some 39% of final-year students said they intended to live in the city in which they studied after graduation. The survey findings suggest that nearly half (46%), or 235,000 final-year students, plan to move directly into a rented property after graduating from university. As a result, those delivering homes built specifically for the private rental market, be they co-living or build-to-rent properties, will need to ensure the convenience and quality of the housing they provide.