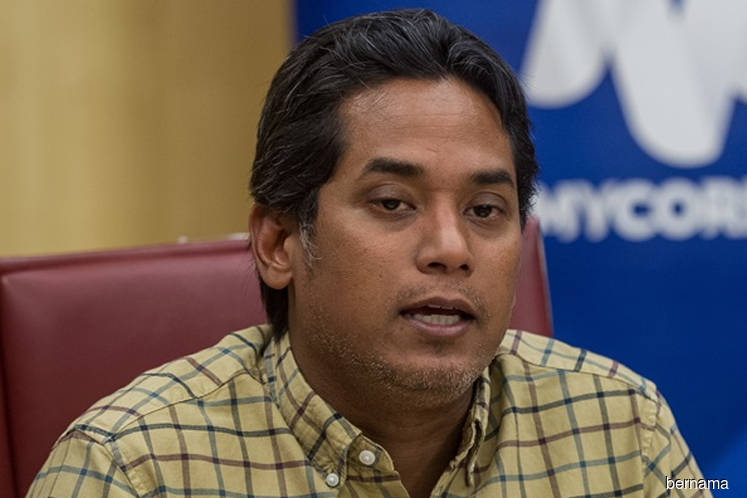 KUALA LUMPUR (Aug 9): An internal investigation by the Ministry of Finance (MoF) into the RM18 billion input tax credit allegedly misappropriated from the goods and services tax (GST) trust fund is insufficient to determine its cause, says opposition lawmaker Khairy Jamaluddin.
This has prompted him to lodge a police report today, the Member of Parliament (MP) for Rembau added.
On Tuesday, Finance Minister Lim Guan Eng had revealed that refunds for the input tax credit under the GST system to businesses were delayed as the money had been "robbed" and spent first by the previous Barisan Nasional (BN) government.
Yesterday, Lim revealed that the reason for the delay was that about RM18 billion or 93% of the RM19.4 billion input tax credit under the GST system since 2015 have gone missing.
"The word 'robbery' is a big accusation and when the accusation was made, we (BN) made a decision to lodge a police report at the Sentul police station today (so that they can conduct) investigation into the allegations — whether they are true or not," Khairy told reporters at the Parliament's lobby today.
"We agree that the internal investigation is to be made by the MoF, but it is insufficient as the allegation of robbery is considered a crime.
"I will also lodge a report with the Malaysian Anti-Corruption Commission (MACC) tomorrow (Aug 10) because this robbery (allegation) could imply corruption elements were made by the previous government," he added.
Khairy said the police report was made to ensure further action is taken by the Royal Malaysia Police to investigate all individuals including the former finance minister, top officials at MoF and its agencies.
Khairy also claimed that Lim had failed to give a detailed breakdown of the RM18 billion GST input tax credit that have not been refunded to businesses due to technical problems such as not following the system's guidelines, a dispute on customs, further auditing and disputed claims in terms of its validity.
"When asked twice, he (Lim) couldn't give an answer and details of the breakdown, but he made a serious allegation without the right details," he said.
Khairy added that if indeed there were misappropriation of the GST refunds by the previous administration, the person who had directed the move "must be brought to justice".
"If this thing did not happen and there is a reasonable answer that is acceptable, then this truth should be told to the rakyat because we BN cannot accept and to be told that we had stolen the RM18 billion from taxpayers," he added.
In a separate press conference today, Lim announced that an open public inquiry, to be headed by an independent established personality, will be conducted after an internal inquiry headed by the current Treasury secretary-general Datuk Seri Ismail Bakar is completed.