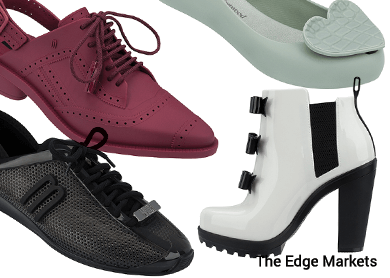 Drawing inspiration from the stars, Brazilian shoe retailer Melissa has taken a stellar approach in its fall/winter 2015 collection. An indirect nod to Star Wars' cult-status, its soon-to-be-launched Star Walker collection is a cohesive alignment of styles that are nevertheless distinct in their artistic expressions.
The original plastic shoe manufacturer (using the patented Melflex material) is also well known for its collaborative approach. Partnering once again with designers Karl Lagerfeld, Jason Wu, London-based crystal specialist J Maskrey and Vivienne Westwood, along with the return of Brazilian designer Alexandre Herchovitch, Star Walker 2015 boldly indulges in cosmic fantasy.
At the forefront are Lagerfeld's peep-toe slip-ons in deep red, metallic and sleek black. Playing up the edgy colours in contrast with feminine ribbons as a main theme, the German designer's bold aesthetic also extends to a chic ankle-boot design in both black and white. 
From the Westwood range, the focal point is on simplistic but bold embellishments, with oversized "hearts" and the designer's now signature "wing" on heeled pumps.
The colour palette overall uses plenty of pastel pink, along with wine red, black, and soft metallic grey. There are also snatches of neon pink, military green and navy blue.
While the collection's appeal doesn't stray far from previous collaborations, there are some fresh styles. Most outstanding is Herchcovitch's romantic range with an avant-garde touch. Applying his well-known skill in giving classic looks a contemporary update, the result is a work of art. The platform-heeled flower boot is the highlight of the range — in edgy black, forest green and translucent beige — although not for your typical everyday wear.
More comfortable and trendier is the backless strapped flats in navy, wine and chalk white, a thoroughly chic design that is expected to sell quickly.
The "centrepiece" of the Star Walker collection has a definite "geek" overture to it. Melissa's luxe-sneakers Love System series gets a makeover inspired by George Lucas' saga. The new look has a neoprene finish for added comfort and comes in white, black and bright pink.
Melissa also updates its Swarovski crystal embellished designs, once again working with J Maskey. The most expensive shoes in the collection are from this range and goes over RM1,000. On top of that, the colourful kids range also sees some new looks, from ballet shoes, ribbons and hearts, the range also includes duck, cat and puppy designs, with buckle-shoe styles, kid boots and loafers.
As for a collectible item, Melissa's new Cinderella Collection will bring to life the classic fairy tale with two new styles. Best described as sparkly and enchanting, the Ultragirl and Lady Dragon designs both feature a crystal-laden butterfly at the tip.
---
Melissa's fall/winter 2015 Star Walker and Cinderella Collections will be in available in Malaysian stores from next month onwards. Outlets are in Pavilion Kuala Lumpur, 1Utama and The Gardens Mall.
This article first appeared in The Edge Financial Daily, on June 23, 2015.