This article first appeared in Personal Wealth, The Edge Malaysia Weekly, on February 17, 2020 - February 23, 2020.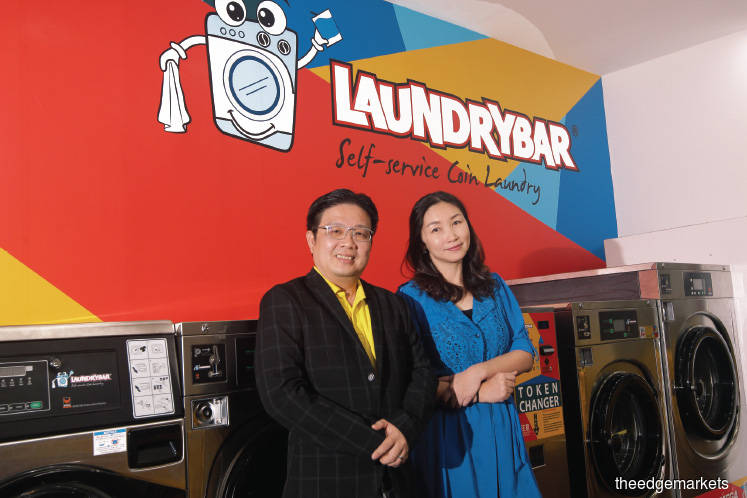 City Coin Laundry Sdn Bhd, the largest launderette operator in Malaysia, has been in expansion mode since last year. It has a market share of 25%, but that is not good enough for founder and CEO Paul Ang. To achieve its objectives, the company launched the LaundryBar Investment Scheme in November to raise funds from the general public.
"We want to dominate the local market just as MR. DIY dominates the household electrical and hardware retail market. The business we are operating is a profitable one and there is a lot of room for improvement," says Ang.
City Coin Laundry is the operator of the LaundryBar brand. Its expansion plans stem from Ang's confidence that there are a lot of opportunities for growth in the industry.
He points out that only 8% of the population currently uses launderettes, based on a rough estimate using data provided the Companies Commission of Malaysia. "I believe the industry can grow 2% annually in the next few years. The demand will increase as existing cities become more mature and new cities come up."
While the launderette industry has matured, the market has not reached the point of saturation, says Ang. It is still on a growth path and profits will continue to pour in if business operators do things the right way, which is to establish mega launderettes that are spacious and comfortable for customers to wash their clothes.
"They want a bigger space and better experience. They want more machines, convenience and value for money. Launderettes that cannot provide these will find it harder to survive," he says.
Last year, Ang launched a mega outlet in Damansara Damai in Selangor. There were another 16 launderettes in the area at the time. Six months later, four of them folded and more are headed in that direction, he says.
From February to December last year, this mega outlet had a profit margin of 42% and a positive cash flow of more than RM200,000, according to Ang. This means the operator of that particular outlet could recoup its initial investment in less than four years.
"We have been renting corner and joint lots in various locations since 2018. Of these, 49 outlets are already up and running," he says.
City Coin Technology Bhd, a subsidiary of City Coin Laundry, is the operator of 60 megastores. It has launched a mobile application called LaundryBar Pay to allow customers to pay for their laundry services as well as receive discounts.
City Coin Laundry is mainly involved in franchising the business and generates income from the fees imposed on franchisees. The company has come a long way since the first LaundryBar outlet was launched in Desa Aman Puri, Kepong, in 2013.
There are a total of 564 LaundryBar outlets in the country. Some are run franchisees while others, such as the mega outlets, are directly owned City Coin Technology.
These outlets are located across Malaysia but are mainly concentrated in the Klang Valley and Johor. The number of outlets shows that LaundryBar is staying ahead of its competitors such as Cleanpro Express Sdn Bhd and Bubblelab Laundry Sdn Bhd, which have about 160 outlets each, according to Ang.
The company launched the LaundryBar Investment Scheme as it requires capital for its ambitious plans. "We want to open 180 more mega and semi-mega launderettes across the country in four years," he says.
According to its prospectus, the investment scheme aims to raise RM75 million disbursing 15,000 interest units priced at RM5,000 each. The scheme promises a return of at least 8% annually over nine years. The annualised return will be 6.21%.
"I may sound ambitious, but I am aiming to pay out more than 8% if our business picks up as expected. I am willing to sacrifice some profit to reward investors so they have more confidence in us," says Ang.
Investors who need to cash out before maturity can sell their units to City Coin Technology after three years at a 20% discount to their investment principal. "Investors will still earn a return of 24% in those three years. After deducting the 20%, they will still net a return of 4% if they choose to exit the scheme," he says.
Ang says the company is also looking to establish a trading platform so unitholders can trade their units online.
Why an investment scheme?
The LaundryBar Investment Scheme is classified as an equipment-sharing scheme regulated the Companies Commission of Malaysia. The trustee of the scheme is UBB Amanah Bhd while the auditor is James & Co.
Some investors may ask why Citi Coin Technology is raising funds via an interest scheme structure, instead of other channels such as a bank loan, equity crowdfunding (ECF) or peer-to-peer (P2P) financing. Ang says there is a limit to how much the company can borrow from banks, based on the assets it can pledge as collateral.
Citi Coin Laundry, which has a 90% stake in Citi Coin Technology, already has bank borrowings of about RM20 million. The money was used to purchase laundry equipment, which was then leased to its subsidiary. The earnings generated City Coin Technology will be used to pay off the bank loans taken its parent company.
"The arrangement is such because City Coin Technology could not get a bank loan without a three-year track record. The company was incorporated in 2015, but it only started operating in 2017," says Ang.
City Coin Laundry does not earn any income from leasing equipment to City Coin Technology, he adds. "We are doing this to grow its business. It is like a parent taking loans to help grow the business of his son or daughter."
Ang prefers to raise funds via an interest scheme because of its unrestricted funding limit. The amount it can raise depends on the size of the management company behind the scheme.
comparison, ECF allows issuers to raise RM3 million within 12 months. P2P financing platforms do not have a limit on the amount of funds that can be raised, but the highest amount raised through Funding Societies Malaysia (the largest P2P player in the country) is RM2 million in a single investment note (as at Jan 22), according to its CEO Wong Kah Meng.
The downside of using an interest scheme is that it does not enjoy the kind of publicity seen ECF and P2P financing platform operators. According to Ang, these platforms have nice websites and mobile applications that allow investors to register themselves and invest online, whereas those who wish to participate in an interest scheme would need to show up at the company's office to fill up forms and do a bank transfer later on to subscribe for the investment scheme's units.
Interest schemes have been perceived negatively some investors. In the past, several schemes failed to provide the promised returns while others shuttered their operations after a few years.
Ang acknowledges this sentiment, but he believes he can change public perception with his scheme. "The most important thing we need to do is show a high level of transparency to investors and convince them that we can pay out the promised returns," he says.
"So, we tell them that the most recent audited financial statements of City Coin Technology will be posted online for them to read. They will also get updates on our business expansion and can drive to those newly opened outlets to conduct site visits if they want. It is a straightforward business.
"About 70% of investor money will be used to invest in assets, which are laundry equipment, while the remaining 30% will be used to pay for renovations. If an outlet is relocated, it is this 30% that investors stand to lose."
Ang assures investors that his interests are aligned with theirs. "City Coin Technology is a subsidiary of City Coin Laundry. If the subsidiary goes down, the parent company will suffer the same fate. This is certainly not something I want to see happen," he says.
"Before this, City Coin Technology was an independent company. But I parked it under City Coin Laundry so that my interests are aligned with those of my investors. This will also add more credibility to City Coin Technology and convince the public to invest in us."
Ang points out that investors are protected under the Interest Scheme Act 2016 and can call for an extraordinary general meeting if the company is found to have misused their money. "For instance, investor money raised through the scheme can only be used to purchase laundry equipment and renovate outlets. We cannot channel the funds to the parent company and use it for other purposes. It would be illegal."
What if the scheme is discontinued prematurely or the company behind it goes under? "Under the regulatory framework, the first stop in any distressed situation is the trustee that represents investors. The trustee will make the necessary representations and claims for and on behalf of investors," he says.
"In the worst-case scenario, the trustee can claim against the assets of LaundryBar outlets operated under the scheme. A claim can also be made against the assets of City Coin Technlogy."
He adds that investors can also make claims directly at their own cost.
Ang says City Coin Technology had collected RM125,000 as at Jan 21, even though it can raise up to RM75 million. "Bear in mind that we are not raising the maximum amount of funds for now. Paying investors 8% of RM125,000 is not an issue for us. We will raise more funds from investors when the time is right."
How it all started
Paul Ang, founder and CEO of City Coin Laundry Sdn Bhd, has a tax consulting background. He was previously a consultant at Grant Thornton Malaysia, which provides companies with audit, tax and advisory services. Prior to that, he worked at global professional service provider Ernst & Young.
"I was a corporate person and mainly dealt in figures, data and reporting," says Ang.
The idea of starting a launderette business was sparked on a family trip to Australia many years ago. "The launderettes there were clean, comfortable and professional. Business [at these outlets] was good. I asked myself, 'Why don't I open such a business in Malaysia?'"
The first LaundryBar outlet was opened in 2013. However, the journey was anything but plain sailing, says Ang.
"I took all of my savings, borrowed some money and invested RM300,000 in the business. But I only achieved RM5,000 in sales in the first month.
"I wanted to franchise our brand, but there were no takers. To help me, my wife also borrowed money and actively sought attractive balance transfer plans [offered credit card companies] to help us save money."
But he did not give up. Slowly, the business picked up. "We made RM7,000 in the second month and RM9,000 in the third. Sales gradually grew to RM13,000, RM15,000 and so on," he says.
"It was only after six months that I finally got my first franchisee after presenting him with the data we had collected. Since then, the business has expanded quickly."
After that, Ang set up several companies, including City CC Laundry Solutions Sdn Bhd and City Coin Chem Sdn Bhd. The former is the exclusive distributor of products Alliance Laundry Systems, a US-based commercial laundry product manufacturer, while the latter produces laundry chemicals and cleaning products.
Ang has also expanded overseas and the LaundryBar brand can be found in Brunei, Thailand and Turkey. "Today, we have more than 20 outlets in Thailand, six in Brunei and one in Turkey. And we are still growing," he says.
Feedback from financial planners
Two financial planners say interest schemes provide investors with a steady stream of income, which is an attractive feature for those who do not like market volatility. Also, the Interest Scheme Act 2016 allows the Companies Commission of Malaysia (CCM) to better regulate the industry.
"Interest schemes are regulated CCM and there is proper oversight the trustee and auditor. The company also needs to set up a capital reserve fund to meet investors' redemption requirements. This is something that peer-to-peer (P2P) financing and equity crowdfunding platforms operators do not have," says Bryan Zeng, general manager of FA Advisory, an independent financial advisory firm.
Mohd Sedek Jantan, head of investment and financial planning at Standard FA, says interest schemes are a channel that allows the public to invest in the growth of small and medium enterprises. "The SME sector received a significant allocation from the government under Budget 2020 and that may be a catalyst for these smaller businesses to flourish."
However, investors should take note of some factors, he points out. First, interest income [distributed interest schemes] is taxable, just like investments in P2P financing platforms. "If an investor is in the high tax bracket, with a tax rate of 24%, the effective after-tax return will be 6.08% [instead of 8%]," says Zeng.
Interest schemes also have a longer lock-in period and are less diversified than investing via P2P financing platforms. "Investors are also more likely to take on single-issuer risk as they have to invest a larger amount in an interest scheme. In the case of P2P financing, investors can diversify their investments into various companies and businesses," says Zeng.
Mohd Sedek cautions investors to have a comprehensive understanding of the company behind the interest scheme to spot a diamond in the rough. "Investors should not only look at its investment strategy but also its business model," he says.
A financial planner who wishes to remain anonymous says investors should find out more about related-party transactions. He points out that a company involved in an interest scheme could pay high fees to purchase products or services from other entities owned the same person or group of people.
"Transactions like these are more transparent when it comes to public-listed companies. But these may not be so clear when it comes to privately owned companies," he says.