This article first appeared in The Edge Malaysia Weekly, on June 13, 2022 - June 19, 2022.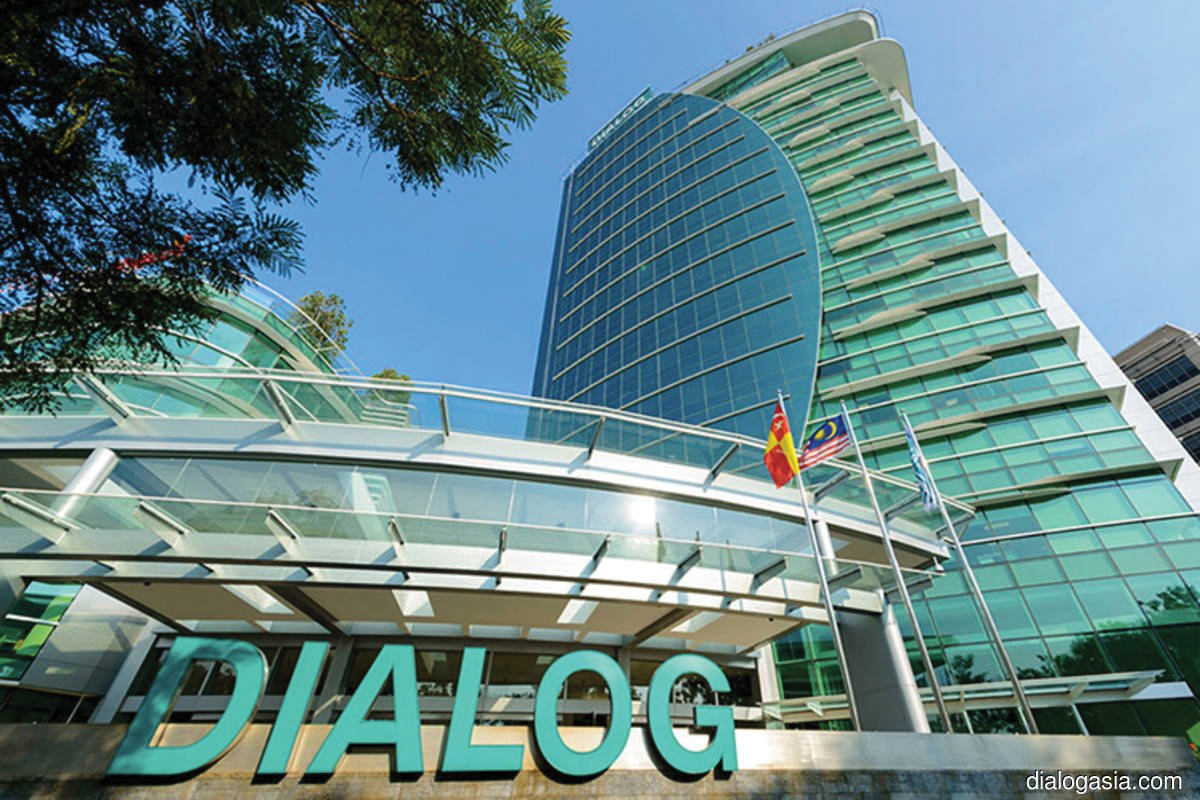 DIALOG Group Bhd and its oil and gas-related peers have been taking divergent paths in terms of share price movements. On June 9, the share price of Dialog touched RM2.23 — its lowest since Nov 9, 2017 — at a time when other O&G-related stocks are heating up amid soaring oil prices.
Shares in the tank terminal operator, on whose stock Bloomberg data shows 15 analysts have a "buy" call — one of the highest among FBM KLCI component stocks — were down 14.89% since the end of last year, compared with a 3.69% decline in the benchmark index in the same period.
Over the years, investors have been looking at Dialog as a growth stock from future capacity in Pengerang, Johor, as well as its stable dividend payouts.
While underlying earnings are still stable, some say the sell-off suggests that they are becoming less patient on Dialog's growth prospects in Pengerang, which impacts the rich valuations that it has enjoyed previously.
There are also expectations of further earnings pressure in the near term due to rising costs, and as traders look to sell their crude and refined stocks before oil prices reverse course into a downtrend from current high price levels, analysts say.
Share price discounts Pengerang Phase 3
In recent reports, analysts have raised their discounts on the yet-to-be-launched Phase 3 of Dialog's Pengerang Deepwater Terminal (PDT3), which has huge potential with 500 acres remaining for future developments.
"The big question is whether the Refinery and Petrochemical Integrated Development (Rapid) dream is still alive, with O&G sector investments yet to recover [to pre-pandemic levels]," a head of research tells The Edge.
One bright spot is that after more than three years of delays, the 300,000 barrel-per-day Pengerang Refining and Petrochemical integrated complex (PRefChem), part of Rapid, started operations in May.
This is with expectations that production would ramp up to 50% capacity in the second half of 2022, and full capacity of 3.4 million tonnes per year in 2023, according to reports. The project's 50% shareholder, Saudi Aramco, holds the rights to 50% of production. Dialog caters for PRefChem via PDT2.
However, looking at Dialog's PDT3, the last long-term storage contract signed by the tank terminal operator was in 2019, with BP Singapore Pte Ltd.
This means that for Dialog to grow its capacity and earnings further, it needs to sign on more long-term clients. This may take longer than expected, RHB Research says in a May 18 note, as "most clients are spending cautiously at present".
In its annual report for the financial year ended June 30, 2021 (FY2021), Dialog says: "The group continues to actively pursue potential customers for Phase 3, which will consist of dedicated petroleum and petrochemical storage terminals for medium- to long-term clients, including refinery and petrochemical plants within the PIPC (Pengerang Integrated Petroleum Complex).
"The ongoing development of PDT into the largest petroleum and petrochemical hub for the Asia-Pacific region will remain our focus," it says in its latest results filing with Bursa Malaysia.
PRefChem is part of the larger PIPC, which is seeking to secure around RM5 billion in investments between 2020 and 2025, according to Minister in the Prime Minister's Department for Economic Affairs Datuk Seri Mustapa Mohamed.
Independent energy research firm Rystad Energy in January said that global midstream and downstream O&G investments will fall 6.7% to US$172 billion (RM756 billion) this year before rebounding in 2023 and 2024.
The waning investor interest in Dialog is reflected in its share price, which excludes the group's long-term growth prospects.
CGS-CIMB Research, which has a target price (TP) of RM2.77, values Dialog's ongoing operations at RM2.31 per share with a reduced valuation of 46 sen per share for future expansions.
"Potential rerating catalysts include new customers at the Pengerang terminal area," it says.
UOB Kay Hian Research, which has a TP of RM3 on Dialog, says in its May 18 note that its share price of RM2.40 "would have been our target price without any expansion potential (27 times PER; within the past 10-year average before Phase 3 expansion potential was priced at end-2017)".
"The resumption of PRefChem, future projects and progressive engineering, procurement, construction and commissioning (EPCC) revenues are expected to support earnings recovery towards the financial year ending June 30, 2023 (FY2023)," it added.
RHB Research's TP of RM2.96 incorporates a higher discount of 50% to the Pengerang Phase 3 valuation, from 20% previously.
Negatives priced in, downside limited
Meanwhile, Dialog has missed earnings forecasts, putting focus on valuations against its peers as well.
The group posted earnings disappointment for its cumulative nine months ended March 31, 2022 (9MFY2022) amid rising costs and lower spot tank terminal earnings, coming off a high base during the Covid-19 pandemic.
Dialog has missed consensus analyst earnings projections by 5% in FY2021, and its earnings in 9MFY2022 amounted to just 68% of the full-year target.
Dialog currently operates over five million cubic metres (cu m) of tank terminals, with upstream and downstream exposures as well.
In the short term, analysts point to how spot rate earnings from Dialog's independent (spot) terminals have reduced from its high base in 2021.
This is as utilisation fell to 80%, from 90% at end-2021, while rates fell to US$5 per cu m, from US$6 per cu m in the same period.
The group, which secured over RM1 billion in EPCC projects from Petroliam Nasional Bhd (Petronas) recently, is also facing higher costs in that segment.
Net profit fell 3.67% to RM389.76 million in 9MFY2022 from RM404.6 million a year ago, despite revenue rising 51% year on year to RM1.64 billion from RM1.09 billion.
Shares in Dialog have fallen 42.97% from their record high of RM3.91 in May 2020. Between 2020 and 2021,  foreign shareholding in Dialog also fell on rising ESG requirements by investors.
Nevertheless, Dialog still has a forward PER of 23.7 times, and a modest dividend yield at 1.4% — it paid out 3.1 sen per share for FY2021 — although the consensus TP of RM3.32 represents a potential upside of 48.9%.
A recent acquisition of a 50% effective stake in the parent of onshore Thai oilfield operator Pan Orient Energy (Siam) Ltd is seen to increase direct benefit from high oil prices, and increase the group's total upstream production by 50%, according to estimates.
To address ESG issues, Maybank Investment Bank Research says Dialog targets the renewables sector to contribute 10% to group earnings over the long run, with its 51%-owned food-grade recycled polyethylene terephthalate (recycled PET) set to operate in 2023.
The group is also installing solar assets to decarbonise, marking initial steps to alleviate its ESG concerns.
Maybank IB Research is bullish on the counter with a TP of RM4.90. Despite an expected "uninspiring" FY2022, it sees the following year's core earnings exceeding FY2020 levels.
"Developing Pengerang to its full potential remains its key agenda," it says.
The head of research says the downside risk for Dialog's stock is minimal as it is priced in. "The underlying earnings are stable."
A fund manager, when contacted, says: "Right now, investors are more interested in companies that are directly benefiting from high oil prices. But this (Dialog) is definitely a long-term view."