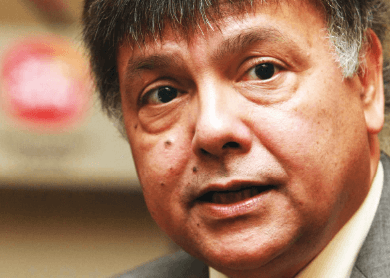 KUALA LUMPUR: Integrax Bhd's co-founder Amin Halim Rasip has urged Perak Corp Bhd's board of directors to reconsider its stance to seek approval from shareholders to vote in favour of disposing of its 15.74% stake in the port operator to Tenaga Nasional Bhd (TNB).
In a statement yesterday, Amin, who owns 24.6% of Integrax shares, said Perak Corp's (fundamental: 1.9; valuation: 1.2) position to accept TNB's offer of RM3.25 per share is "imprudent and lacking care, diligence and judgement".
"It is incumbent upon the board of Perak Corp to seek alternative offers, given the fact that the only independent advice (by M&A Securities) evident in this matter on the valuation of Integrax shares, values the Integrax share at RM3.66 per share," he said.
Amin is of the view that Perak Corp has arbitrarily concluded TNB's offer is "superior", without asking for alternative offers from the open market.
"Such sale of Integrax by Perak Corp will directly affect the strategic assets of Lekir Bulk Terminal, and is not in the best interests of Perak. It would be an abandonment of Perak Corp's duty and purpose to build the state and it will have to bear responsibility for such inability to comprehend the gravity of Perak's economic interests," he said.
Amin had on March 18 offered to buy a 5% stake in Integrax for RM3.50 per share from Perak Corp.
Perak Corp on Monday announced that its board had reaffirmed its position to seek shareholders' approval to vote in favour of TNB's offer at its forthcoming extraordinary general meeting on Friday. TNB (fundamental: 1.3; valuation: 1.8) holds a 24.82% stake in Integrax as at March 19.
Perak Corp shares closed unchanged at RM2.85 yesterday, bringing a market capitalisation of RM284 million, while Integrax's (fundamental: 1.3; valuation: 1.8) share price was the same at RM3.17, with a market cap of RM935.55 million.
TNB's share price, meanwhile, rose 22 sen or 1.55% to close at RM14.46. It has a market cap of RM81.61 billion.
This article first appeared in The Edge Financial Daily, on March 25, 2015.