This article first appeared in The Edge Malaysia Weekly, on April 15, 2019 - April 21, 2019.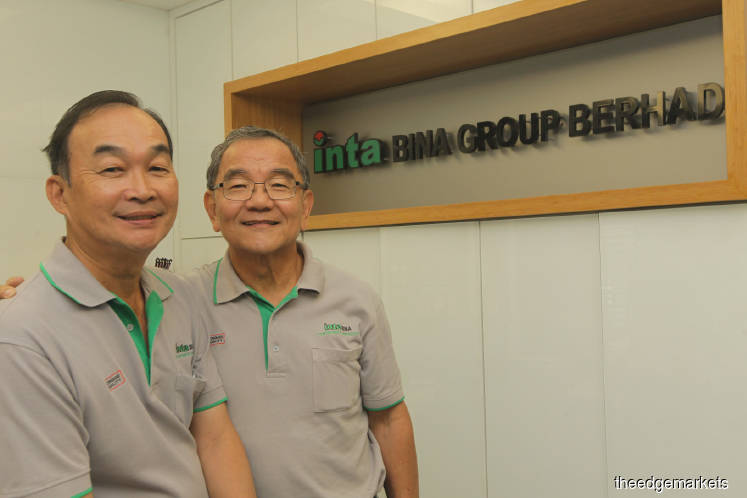 Inta Bina Group Bhd managing director Paul Lim and deputy managing director Teo Hock Choon. Photo By Haris Hassan/ The Edge
BUILDING contractor Inta Bina Group Bhd has come a long way. Formed as a family business in 1987, it became an indirect 60%-owned subsidiary of PJ Development Holdings Bhd in 1997, when the region was hit by the Asian financial crisis.
The company survived the upheaval and in 2000 underwent a management buyout. Seventeen years later, it successfully listed on the ACE Market of Bursa Malaysia before migrating to the Main Market in October last year.
Initially set up to handle residential projects with a contract value of below RM1 million, Inta Bina — spearheaded by group managing director Paul Lim Ooi Joo and deputy managing director Teo Hock Choon — has progressed to large-scale projects worth some RM200 million.
Lim says Inta Bina is now looking to become one of the main contractors for Forest City — the multibillion-ringgit project developed by Country Garden Pacificview Sdn Bhd in Johor.
"Country Garden recently approached us to tender for their bungalow projects in Forest City. If we win the bid, they will be the first international client in our corporate history," he tells The Edge.
It is learnt that the contract to build bungalows and landed villas near the golf course in Forest City is worth over RM300 million in total, which will be divided into three packages. On average, each package is worth about RM100 million.
"Different packages may have different main contractors. We don't know how many bidders there are, and we don't want to speculate about our chances. But obviously, anyone who made a submission before the deadline stands a chance to win," says Lim.
He reveals that Inta Bina submitted a tender last month, and the outcome is expected to be known in the middle of this month.
"Country Garden has had a few rounds of interviews with us. They visited our landed and high-rise projects in Johor and the Klang Valley. So far, they are very impressed with our quality," Lim says confidently.
With over 30 years in the business, the group has completed more than 110 building construction projects with a total contract value of more than RM2 billion, mainly in the Klang Valley and Johor.
Forest City made the headlines in August last year when Prime Minister Tun Dr Mahathir Mohamad said Malaysia would not allow foreigners to buy residential units in the project.
The Prime Minister's Office then clarified that the purchase of a property did not guarantee automatic residency in Malaysia.
Country Garden then decided to engage more with local main contractors rather than the state-owned ones from mainland China, which would subcontract the jobs to Malaysians.
"To me, it is a positive move to localise the main contractors. Previously, there was no level playing field. If you visit Forest City, you would be 'frightened' by them. The amount of money they pour in as well as how fast they build high-rise buildings," Lim remarks.
"We can learn a lot from Country Garden. We want to know why the Chinese firms are so good in the world right now. They are very fast, they are very hardworking, they can see very far, they are the real deal."
Lim adds that if Inta Bina clinches a contract from Country Garden, it will try to take on as many functions as it can, although it is likely to appoint local subcontractors for specialised works, such as mechanical and electrical, plumbing and painting.
Strong job flow
In the financial year ended Dec 31, 2018, Inta Bina's revenue grew a third to RM383.05 million from RM288.59 million a year ago, mainly due to the higher value and number of residential and non-residential projects completed.
Gross prot increased by 23% to RM39.52 million and net profit by 34% to RM21.2 million.
Lim says Inta Bina aims to achieve double-digit revenue and profit growth in FY2019 as it hopes to secure at least RM400 million worth of new job orders this year. "We are optimistic of the company's performance in 2019 as we still had an unbilled order book of about RM650 million as at Dec 31, 2018. Last year alone, we secured about RM470 million of new projects."
Inta Bina's existing clients are largely locally listed developers, such as S P Setia Bhd, Eco World Development Group Bhd, Engtex Group Bhd, Paramount Corp Bhd, Plenitude Bhd, Selangor Dredging Bhd and Tropicana Corp Bhd.
Other notable clients are Perdana ParkCity Sdn Bhd and Mitraland Group Sdn Bhd, as well as Singapore-listed Lum Chang Holdings Ltd.
Inta Bina is trading at a trailing 12-month price-earnings ratio of 7.4 times. Year to date, the counter has risen 5%, closing at 29.5 sen last Wednesday, for a market capitalisation of RM157.9 million.
Deputy managing director Teo Hock Choon says the counter's transfer to the Main Board last year has widened Inta Bina's appeal to the investment community, especially institutional investors.
"Currently, institutional investors own less than 5% of the company. With improved investor relations, we hope to increase this to between 10% and 20%," he says, adding that Inta Bina prefers to have institutional investors who can add value to the company rather than passive investors.
"Let me put it this way. We are looking for strategic partnerships. When they come in, they can provide us with job opportunities. For instance, if they own land, maybe we could derive synergy from the partnerships," he explains.
Currently, the directors,  substantial shareholders and friendly parties control about 60% of Inta Bina. Teo acknowledges that the stock's liquidity would improve if the substantial shareholders pared down their stakes but he says the company is considering a private placement in due course.
"At the moment, it is not worthwhile for us to initiate a private placement because our shares are undervalued due to soft market conditions. If necessary, we don't mind divesting some shares to institutional investors. We are open to both options but we have to wait for the right time."