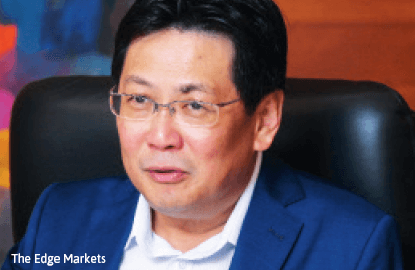 This article first appeared in Personal Wealth, The Edge Malaysia Weekly, on Feb 1 - 7, 2016.
Expanding network
Since the acquisition, Liberty Insurance has been expanding its distribution network. In the last three months, it has opened two branches — in Temerloh, Pahang and Sibu, Sarawak — expanding its network to 25 branches as at the end of last year. The company also distributes some of its products through Pos Malaysia Bhd's 700 branches across the nation.
The 1,800-strong agency force is an important part of Liberty Insurance's distribution channel. Tan says agents account for 60% of the industry and the company is no exception. 
He does not see technology reducing the need for a strong agency force anytime soon. Technology and the internet have disrupted many industries around the globe, but it has not happened yet in the local insurance industry. 
Tan says the industry has been talking about online distribution for five years, but it has not taken off. He does not see it taking off in the near future. This is mainly because the younger generation still relies on "insurance agents from their father's generation" on issues related to motor insurance claims. 
"[That is] because the relationship between the agents and their fathers is good. So, when the children grow up, many of them still have their [motor insurance needs] arranged by their fathers," he says.
Tan says many of the "25-year-olds" today do not know much about motor insurance and in fact, do not know what to do when an accident happens, and depend on their insurance agent. And these are the same youngsters who buy things on the internet.
"They do not buy insurance [online]. This kind of 'syndrome' [relying on insurance agents] is still there and it is strange. I think it will take time. But when it kicks in, the curve is going to be very steep," he says.
How does he see the industry going forward?
Tan says the detariffication of the motor insurance industry is the next big thing. Expectations in the industry are for Bank Negara Malaysia to make an announcement some time this year. 
He opines that it is time for tariffs to be reviewed as they have been around since the day he joined the industry over 30 years ago. Detariffication will help insurance companies come up with better products.
With detariffication, premiums will be decided by rating factors. These are factors that an insurance company looks at when deciding on the amount of premium a person should pay for his insurance policy. In the case of motor insurance, the premium is now solely decided by three factors — No Claims Discount, the sum being insured and the engine capacity.
However, there are many other rating factors that could influence pricing. They include the age of the driver (a 20-year-old compared with a 60-year-old) and where he lives and drives (say, Kelantan instead of Kuala Lumpur).
"A 17-year-old and a 75-year-old have different levels of driving skills. A car driven in a small town like Temerloh, [the risk] is different from that driven in the city. Currently, we have no distinction [in all these rating factors], so there is cross subsidy," says Tan.
Big data will also play a role when detariffication happens. Big data enables the analysis of patterns and trends relating to human behaviour. It is now one of the hottest topics in the insurance industry of developed countries such as the US.
For instance, a device could be installed in a car to detect the number of times a driver has to brake. This will enable the insurer to analyse a person's driving behaviour. And in the case of health and life insurance, wearable technology such as the Apple Watch or Fitbit, could be used to monitor a person's habits to provide an ongoing assessment of their lifestyle and activity levels.
Tan says Liberty Insurance is preparing for detariffication, and one of the things being done is having a strong actuarial team. He is also optimistic the industry will continue to grow. 
"The opportunities are still there. And if we work hard enough, we will grow faster. It depends on the differentiation between you and your competitors. We always adopt a very proactive outlook and we think we make our presence felt in the industry," he says.
Tan explains that the acquisition of Uni.Asia by Liberty Seguro is not because the company was suffering losses. "A standalone local company will not be feasible anymore. Its value will diminish as it cannot compete with the international big boys in the long run.
"Uni.Asia was growing [before being] acquired by Liberty. But going forward, its value will go down. This is not only because of capital but also because it does not have global strength and expertise."