This article first appeared in Personal Wealth, The Edge Malaysia Weekly, on October 15, 2018 - October 21, 2018.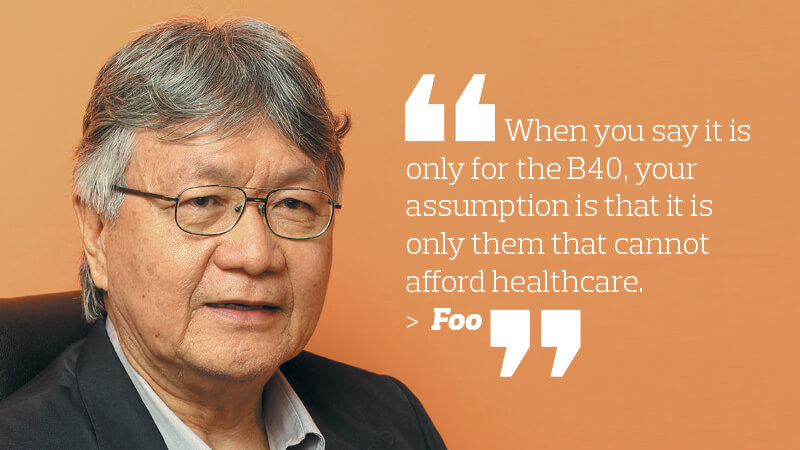 When you say it is only for the B40, your assumption is that it is only them that cannot afford healthcare. > Foo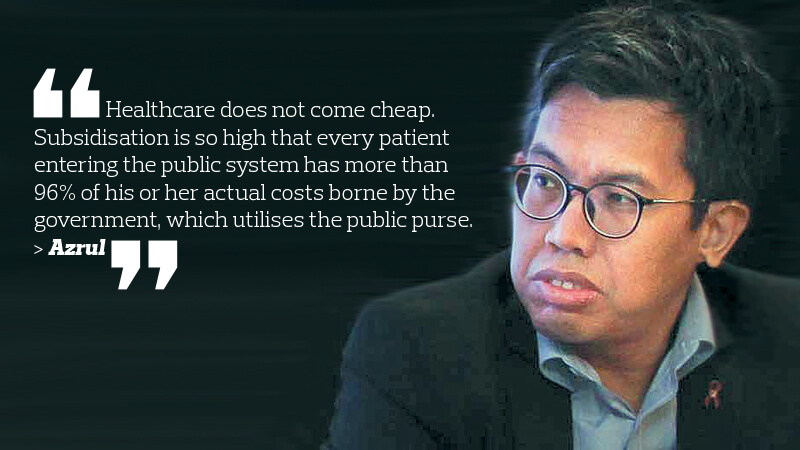 Healthcare does not come cheap. Subsidisation is so high that every patient entering the public system has more than 96% of his or her actual costs borne by the government, which utilises the public purse. > Azrul
The proposal to implement a social health insurance scheme in the country has drawn mixed views from industry experts and financial planners. Some believe an insurance-based system will worsen medical inflation, while others says social health insurance is crucial to curb soaring costs.
While details have yet to be released, the proposed scheme for the B40 group — which the Ministry of Health hopes to roll out by January — will cover the cost of treatment at government and private hospitals, according to reports. The scheme will eventually be open to all Malaysians, and the cost will not be more than 5% of a contributor's salary. According to reports, the deputy health minister says the scheme will not be funded by the federal government but from other sources.
The scheme is expected to be included in Budget 2019, which will be unveiled next month.
However, such insurance-based schemes will inevitably escalate healthcare costs, according to Citizen Health Initiative (CHI) an informal group that seeks to increase community involvement in health policy.
"The combination of fee-for-service and information asymmetry between doctors and patients will drive patient charges through the roof, especially when medical practitioners realise you have pre-paid medical insurance cover," says CHI member Dr Chan Chee Khoon. Chan is a consultant and health policy analyst at the Universiti Malaya.
An insurance-based healthcare system will bring about problems such as unnecessary investigations or over-treatment by doctors who earn from fee-for-service payment models. In the case of profit-driven insurance, it might result in under-treatment or unaffordable premiums for high-risk individuals, Chan says.
Instead, he calls on the government to continue its tax-financed healthcare system but improve the delivery and quality of service.
"The government should beef up the health ministry with additional financial resources and upskill the staff, build and equip additional health facilities where needed to ease bottlenecks, attend to the grouses driving the perennial haemorrhage of senior experienced staff to the private sector and overseas, and strengthen comprehensive primary care with continuity-of-care and referral linkages to deal with the increasing burden of non-communicable diseases," Chan says.
In contrast, Azrul Mohd Khalib, chief executive of the Galen Centre for Health and Social Policy, believes a national health insurance for all will be needed in light of demographic trends.
"Healthcare does not come cheap. Subsidisation is so high that every patient entering the public system has more than 96% of his or her actual costs borne by the government, which utilises the public purse. However, the purse isn't bottomless and the demands on it will get bigger. It is a direct consequence of having people live longer, an increasingly ageing population and more non-communicable diseases. The growing burden of non-communicable diseases is arguably the most significant health and financial threat to the sustainability of the existing healthcare system," Azrul says.
Having a compulsory national health insurance means the government does not have to solely rely on the annual national budget allocations for healthcare, and make it possible for new treatments, drugs and therapies to be introduced into public healthcare systems, he suggests.
"Today, new therapies such as targeted therapies or immunotherapies, which are essential in personalised medicine, remain out of reach for patients in the public healthcare system. Decisions are made based on whether drugs are able to give the best value for money or have the most impact on the largest number of patients. There is also a strategy of waiting for patents of innovative drugs to expire and for generics to be made available," he says.
While Malaysia currently only spends 4.3% of its GDP on healthcare — below the average of upper-middle-income countries — an increase in allocation will not sustain the rising demand for affordable healthcare and the latest treatments, he observes.
"To maintain Malaysia's current two-tier system of public and private hospitals, it would require a multi-payer approach with a monthly contribution to a national pool of funds, similar to what we have under Socso and the Employees Provident Fund. This would be applicable to all workers and be based on a sliding scale, where it is linked to monthly income and age. There would be a collective pooling of both funding and risk," Azrul says.
Those with private health insurance schemes should be able to keep them, he adds, and access both private and public healthcare facilities. Under this system, private insurers might find themselves having to compete with the national health insurance scheme, thus benefiting private insurance policy holders as well.
"As they would cover only the private healthcare sector, they might be encouraged to increase coverage of diseases and medical conditions. Premiums could actually come down due to the competition in order for the insurers to retain their policyholders," he says.
The General Insurance Association of Malaysia (PIAM) expects medical insurance premium rates to rise by 15% per year due to a higher incidence of chronic and lifestyle diseases, as well as the high inflation rate influencing the price of drugs and treatments, according to a press release in February.
Like Azrul, Robert Foo, founder and managing director of MyFP Services Sdn Bhd, believes the national health insurance scheme should not only be limited to the B40. In his view, basic healthcare should be considered a public right and should not be commercialised. Monopolies in healthcare services should also be eliminated to encourage competition, and doctors' fees should be separated from drug commissions, Foo adds.
"When you say it is only for the B40, your assumption is that it is only them that cannot afford healthcare. Many of my clients spend around RM5,000 to RM10,000 per annum in premiums. If you are older, there are critical care costs. If you get a heart attack or diabetes, it could come up to RM300,000 at one go. When we do a financial plan to calculate an estimation of the cost involved, some of the clients can meet it, but many are not able to without cancelling some of their other goals," Foo says.
In the light of the country's debt situation, a contribution scheme for health insurance is a doable plan, he believes. "The question is, how do you allocate the money for the health insurance scheme? My concern is that a lot of the commercial players are waiting to see how they can make money from it. There should be more information [for the public] and it should not involve commercial interests," he says.