This article first appeared in Personal Wealth, The Edge Malaysia Weekly, on September 24, 2018 - September 30, 2018.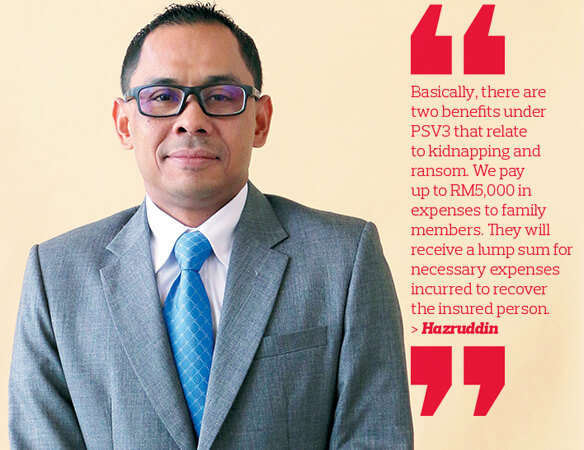 Last year, a troubling statistic was published: four children are kidnapped every day in Malaysia.
According to global risk and strategic consulting firm NYA International's "Kidnap for ransom" data for 2017, Asia saw the highest number of reported kidnappings, accounting for about 43% of all incidents recorded globally. This was followed by Africa, Latin America, the Middle East and Europe. The three countries with the highest number of reported incidents were India, Nigeria and Pakistan.
The report stated that the majority of incidents in India targeted female domestic nationals, with kidnappings for ransom constituting a very small proportion of all incidents reported to the authorities and in media sources. Data compiled from open sources show that India, the Philippines, Afghanistan, Bangladesh and Pakistan remained the regional hot spots last year.
These cases highlight a dire need for individuals and employers to obtain insurance coverage for those at risk of being exposed to dangerous areas and situations in and outside the country. Most insurers in Malaysia provide coverage for kidnapping, but it is usually linked to personal accident or travel insurance policies, not standalone ones.
Zurich General Insurance Malaysia Bhd chief underwriting officer Hazruddin Hassan says the insurer does not provide standalone policies that cover kidnapping and ransom. Rather, the coverage is part of two of its other policies — the personal sentinel 3 (PSV3) launched in December last year and its travel personal accident (Travel PAC) policy.
Under the PSV3, the customer may select one of seven premiums offered, with varying benefits, says Hazruddin. "Basically, there are two benefits under PSV3 that relate to kidnapping and ransom. We pay up to RM5,000 in expenses to family members. They will receive a lump sum for necessary expenses incurred to recover the insured person," he adds.
"The second benefit is basically a lump sum reward for information leading to the recovery of the insured person, provided that the insured person is still alive at the time of recovery. If the person is deceased, then the main benefit will be triggered, where the sum is based on the individual's coverage. If the individual is recovered, it will trigger a payout of RM25,000 to the family of the insured person."
Corporate entities that wish to protect their employees against kidnapping and ransom demands could purchase a group personal accident policy that gives them similar benefits.
The Travel PAC provides slightly different coverage. Hazruddin says it does not only apply to kidnapping. If a person is detained for whatever reason, Zurich will pay RM500 to RM1,000 daily depending on the insured's premium. There is a maximum payout of RM50,000 to RM100,000, depending on the number of days the person is detained.
"Under the Travel PAC, for a hostage crisis, if the insured person is recovered alive, he can take the money and pay whomever he feels has helped in the recovery. The ransom money is not covered in any of our policies," says Hazruddin.
Daniel Bould, Aon's regional director of crisis management for Asia, says the company provides a standalone Kidnap, Ransom & Extortion (KRE) policy, otherwise known as corporate protection/special risk. In addition to covering the perils of KRE, it also covers threats, disappearance and hostage crises as part of its standard traditional coverage.
He says individuals or corporations can purchase this insurance. "There is no eligibility protocol, but we need to ensure that the client has enough money to pay the policy ransom limit as it is an indemnified policy."
Bould states that the premiums depend on the nature of the business, operational geography, travel patterns and security procedures, among others. "If a client has a net worth of, say, US$1 million, we will not sell him a
US$5 million policy as he clearly does not have the ability to raise the funds," he says.
"This process is also to prevent potential fraud. The average policy limit we are seeing bought within Asia is US$5 million. However, we do provide cover that is as low as
US$1 million and lower in some cases."
According to Bould, KRE policies are highly confidential and are void if the existence of the policy becomes widely known. In fact, employees rarely know they are being covered under this policy, he adds.
Under the policy, they will be covered against certain perils with any additional endorsements the company may have added. If employees are covered under the corporate policy and something happens that meets the "peril" criteria, the crisis management team, head of security or head of human resources will make a decision to activate the policy by calling the emergency phone number that is available around the clock.
Bould says a basic policy typically has these components — ransom, loss of ransom in transit /delivery, consultant expenses, judgements, settlements and defence costs, death or dismemberment, loss of earnings and expenses. "It is the expenses that really highlight how broad the policy can be. However, the clients will have to pay the initial ransom and associated expenses (less the responder fees, which are picked up directly by the underwriters) themselves and then claim the amount back from the insurers," he adds.
Bould describes a situation where a telecommunications contractor was kidnapped by a masked gunman in Southeast Asia. The abduction appeared to be opportunistic in nature (meaning, spontaneous and unplanned), although the gang behind it seemed professional. The kidnappers made an initial demand of US$1 million in ransom.
"The victim was held for two months and not treated well. The negotiations were protracted and extremely difficult. The ransom was then dropped off in a remote area and the victim was released for a payment of about US$78,000," says Bould.
In situations like these, the policy responders make a report to the corporate headquarters and establish an incident management team on the ground, he says. The salaries of the victim, as well as the replacement contractor for the victim, will be covered.
Bould says the travel and accommodation expenses of the victim's family, as well as the specialist equipment to communicate with the kidnappers, will also be covered. "Legal fees and expenses associated with the aforementioned ransom were reduced. Medical and trauma assistance on release of the victim was covered and the ransom was reimbursed within seven days," he adds.
"In other scenarios, legal liability, ransom lost in transit, business interruption costs, costs of retraining a victim, the reward for information leading to a resolution, interest on loans, and rest and rehabilitation expenses could also be covered."
Does the policy provide coverage for a licensed private investigator? Bould says it depends on whether the situation requires specialist expertise to be brought in, which will be covered under expenses on the recommendation of the responders and subject to the approval of the underwriter. "I am not aware of instances where licensed private investigators were brought in due to an incident linked to a KRE insurance policy. But in theory, it could happen."
Hazruddin believes it is much easier if family members manage this and make arrangements. "If they require a private investigator, they may use part of the lump sum they receive to hire one," he says.
If an individual falls prey to "tiger kidnapping", where one or more hostages are taken to coerce another person to take part in a crime, Aon provides such coverage as an additional endorsement. Bould says this type of kidnapping is not common in Asia, which is why the company does not see much interest in it.
Hazruddin says tiger kidnapping is not covered under PSV3, but is a benefit of Travel PAC. These crimes normally occur when people are travelling, he adds.