This article first appeared in Personal Wealth, The Edge Malaysia Weekly, on September 11, 2017 - September 17, 2017.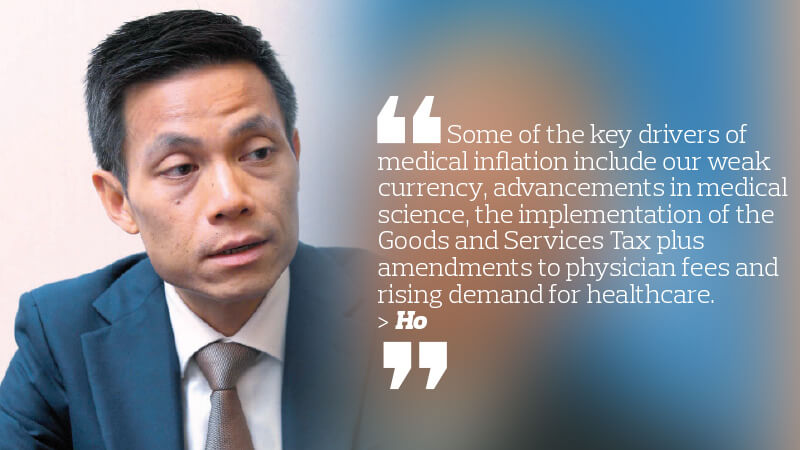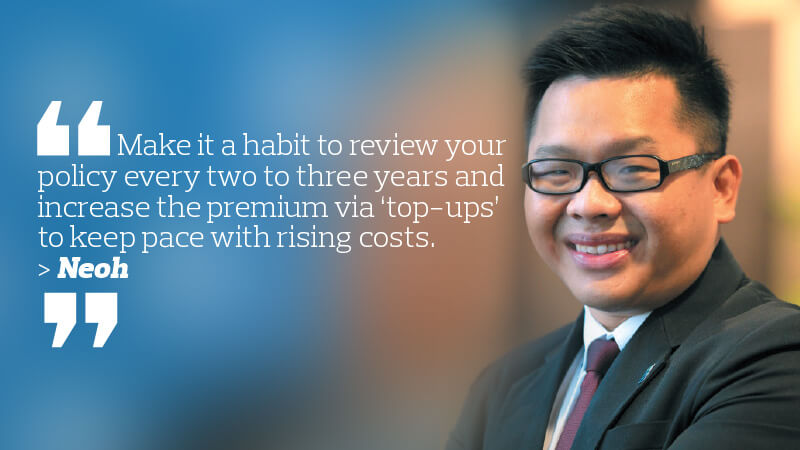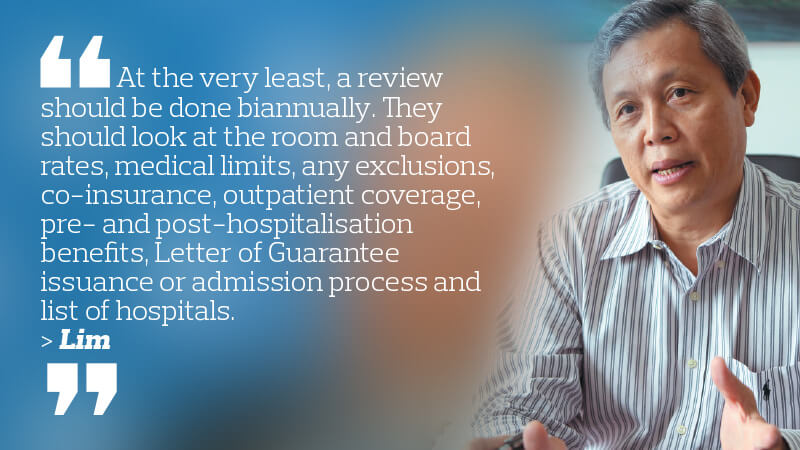 Malaysians — whether they are self-insured or insured by their employers — can expect to pay more out-of-pocket expenses for medical care as healthcare inflation will continue in the coming years, says Marsh Insurance Brokers vice-president and national practice leader Ho Mun Kiat.
According to a recent report by Mercer Marsh Benefits, an affiliate of Marsh Insurance Brokers, healthcare inflation in Malaysia stood at 11.5% last year — the third highest out of the 11 Asian countries surveyed for the annual report. This is projected to rise to 12.7% this year while the healthcare inflation rate in the rest of the region is expected to decline.
Ho says the adjustments to premiums have ranged from 10% to 15% in the last five years as medical premiums increase at a higher rate than before. "Some of the key drivers of medical inflation include our weak currency, advancements in medical science, the implementation of the Goods and Services Tax plus amendments to physician fees and rising demand for healthcare. Malaysia has one of the highest cases of childhood obesity and diabetes in Southeast Asia."
Other factors include a lack of regulation in terms of medical costs. Currently, only the fees charged by medical and dental practitioners in private hospitals are regulated, based on the 13th schedule of the Private Healthcare Facilities and Services Regulations. Other fees, such as those for accommodation, laboratory tests and use of equipment, are not regulated. The fees of public hospitals and clinics are regulated under the Fees (Medical) Order 1982.
Ho says the higher premiums and cost will be an added burden on employers since most Malaysians are insured through their companies. As a result, employers are being pushed to redesign their benefits system and may expect employees to also contribute to healthcare costs in the future.
"If you look at the more developed countries, they have already reached a level where they put in co-payments. So if employees want to use the healthcare programme, they would need to start paying something," he says.
"There is some element of shared responsibility being put into healthcare and we may see more of this in this part of the world. In Hong Kong and Singapore, healthcare programmes are no longer fully sponsored because companies feel that it does not encourage the right behaviour."
By analysing client data, it was observed that employees sometimes took advantage of the benefits offered and even made claims on doctor visits for mild illnesses, in some cases to obtain a medical certificate, especially on Mondays after a long weekend, says Ho. By tweaking the benefits to encourage employees to take charge of their health, employers can cut healthcare costs, he points out.
"Employees are just pushing the entire healthcare cost onto the shoulders of their employers, so this does not motivate people to take care of themselves. We are talking to employers and asking them to tweak their benefits to promote positive behaviours," says Ho.
"Employees need to start subsidising their own healthcare programmes. This will not be a popular thing to implement, but looking at the trend, it will be difficult for employers to sustain their current programmes."
Malaysians may also see more health and wellness programmes being offered by employers as a preventive measure.
In other countries, insurance companies often play a role in managing medical costs. But in Malaysia, the limited number of healthcare providers means that insurers have less negotiating power, says Ho. Also, as medical insurance is a less lucrative business for insurers, there is less motivation for them to focus on this area.
He adds that life insurance companies in the country are often agency-based, so distribution is often limited to upper-middle and high-income households. The products promoted may also be more expensive.
"This is where Bank Negara Malaysia is pushing for direct insurance products, which means getting insurance products that are a lot cheaper by buying them directly from the insurers. When you talk about insurance technology (insurtech), the disruptors that are coming to this part of the world need to start looking at things such as where consumers can start thinking for themselves and access cheaper and relevant products," says Ho.
Insurtech has been touted as an industry disruptor as it fosters price transparency and enables customers to purchase more innovative products directly from insurers.
The push for transparency also extends to medical services. Bank Negara governor Datuk Seri Muhammad Ibrahim recently suggested that some components of private hospital charges be regulated and consumers be allowed to request an itemised bill, including a breakdown of the cost of treatment and medicines provided to them.
Last month, the Life Insurance Association of Malaysia, Persatuan Insurans Am Malaysia and Malaysian Takaful Association proposed that the government regulate and make public the recommended retail prices of pharmaceutical companies, medical fees and cost of treatments so that consumers can make informed decisions. The associations noted that healthcare costs averaged 12% per annum between 2010 and 2014 and projected that it would reach 15% going forward.
Ensuring sufficient coverage
Ho recommends that individuals look at retirement health insurance to add on to any employer-provided insurance plans. He says Marsh Insurance Brokers has reached out to some employers and insurance companies to encourage them to offer such "top-up" products, which have lower premiums and allow individuals to move from a high-deductible health plan to a low-deductible one, which allows individuals to pay less in healthcare costs, upon retirement.
"Medical inflation will continue to be high. We need to start thinking about how to transfer the risk to others, like insurance companies. So, getting insurance products is definitely one of the ways. Looking at prevention and healthy living is another," says Ho.
Kevin Neoh, a licensed financial planner at VKA Wealth Planners Sdn Bhd, says individuals should always request for a product disclosure sheet and review their insurance policies periodically. "Make it a habit to review your policy every two to three years and increase the premium via 'top-ups' to keep pace with rising costs. Bear in mind that medical insurance policies do not cover everything you incur in hospital. Some expenses may not be eligible for claim under your policy," he adds.
Neoh says individuals should only pay premiums that they are comfortable with and utilise the public healthcare system if needed. "Insurance is a good tool to cushion us from financial losses, but we can never have 100% coverage for our needs. So, the real tip is not how much you have to buy for yourself, but to make sure you have a certain level of insurance where you are comfortable taking on the risk.
"For instance, it is perfectly alright to have a medical plan that only has an annual limit of RM75,000 if that is the premium you are comfortable paying. But do not put off this idea and wait for the day you feel confident of committing to a premium that gives you an annual limit of RM1 million before applying for insurance. It may be too late by then. Start early. It can be small, but at least it is a start."
YC Lim, financial coach and managing director of Wings Alliance Sdn Bhd, says individuals insured by employers should still read their policies and decide whether they need to add on to the coverage, especially in view of the rising costs. Many policies may have insufficient coverage for rehabilitation or treatments such as outpatient renal dialysis, he points out.
"At the very least, a review should be done biannually. They should look at the room and board rates, medical limits, any exclusions, co-insurance, outpatient coverage, pre- and post-hospitalisation benefits, Letter of Guarantee issuance or admission process and list of hospitals," says Lim.
"Critical illness policies that pay a lump sum can help provide for rehabilitation. Most hospitalisation policies do not have home nursing care or rehabilitation coverage. The period of post-hospitalisation may help, so read the fine print. If the illness is not too serious, one may be able to take up or top up policies with conditions such as health loading that covers extra risks. If the illness is rather serious, it is best to retain existing programmes, which include both their insurance policies and additional medical benefits offered by insurers or employers."
Lim says many of his clients have decided to forego insurance as they do not want to deal with premiums that go up every year. But those who can afford to should purchase insurance as a safeguard against uncertainties, he adds. "If you have a policy, at least you have a choice of good hospitals, especially in emergency situations."