This article first appeared in Personal Wealth, The Edge Malaysia Weekly, on March 11, 2019 - March 17, 2019.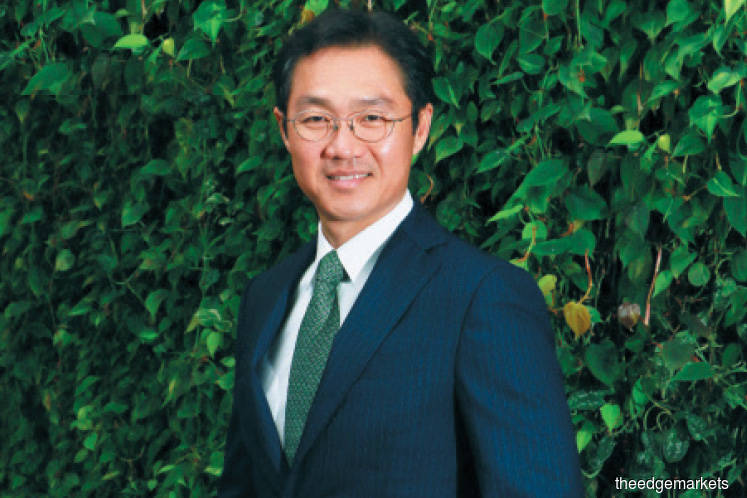 We are pretty small at 2.24% market share, but what we have found is that with the right proposition and right combination of products and services, there are people who would want to work with Manulife. These agents could be experienced insurance agents or completely new to the industry. - Lee
While many insurers are turning their focus to digital distribution, Manulife Holdings Bhd group CEO and Manulife Insurance Bhd CEO Lee Sang Hui has bold plans to grow its market share using a more traditional, offline channel — the agency force.
He not only plans to increase the number of insurance agents from 1,827 to 3,600 in three years but also train and arm them with skills and knowledge that potential customers cannot help but be wowed into signing on the dotted line for an insurance package.
Lee acknowledges that it is an ambitious goal, but he asserts that the target will enable the Canada-headquartered insurance giant to achieve its goal of growing its 2.24% market share to 4% by 2021.
"Manulife has carved out a good place for itself, but we can do so much more. And because of our size, we are nimbler than some of the other players. I expect that in the next two to three years, we will have increased our distribution reach and enhanced our operations, services and product capabilities," says Lee, who took the helm from former CEO Mark O'Dell in November last year.
He hopes to achieve this by focusing on five core pillars: agency, partnerships, operations, products and marketing, and winning culture. "I have named the project 'Next Manulife' and the goal is to increase our market presence. This means we will be widening our distribution reach over the next three years and should be looking at double our market share," he says.
"To do that, we have five core pillars. We are focusing on our distribution, which are the agency force and partnerships. We also want to improve our operations and product offerings."
This strategy will elevate Manulife from its position in the top 10 into the top 5, says Lee. "If we double our market share, we will be in the top 5 because the top 3 — Great Eastern Life Assurance (M) Bhd, Prudential Assurance Malaysia Bhd and AIA Bhd — represent the lion's share with more than 60% market share."
According to industry statistics, the three insurers currently have a market share of 66.7% in terms of gross earned premiums.
The country's insurance penetration rate was hovering at 56% last year, according to the Life Insurance Association of Malaysia. This indicates there is still a lot of room for improvement and an opportunity to advance Manulife's insurance offerings, says Lee.
"Insurance penetration is just over 56%. But if you look closely, the number of unique individuals who have enough insurance coverage is around 32%.
"This is where we have to ask ourselves, for those who already have some form of insurance, where is the gap in the policies that they already have? Are they sufficiently covered? I think that gap could be quite large."
One of the products that Manulife has developed to address this gap is a legacy planning solution for its high-net-worth customers. Its Signature Heirloom (II) product is a US dollar-denominated universal life insurance product domiciled in Labuan.
"Many high-net-worth individuals have very large asset bases, which were accumulated after a number of years running their businesses, but they are not always liquid. When you do legacy planning, or plan to provide an inheritance to your family members or business associates, you can use this product in lieu of dividing up the assets. And since it is denominated in US dollars, it gives you a lot more stability than those denominated in the local currency," says Lee.
That is why he believes aggressively recruiting and training agents is the way to assert Manulife's position. "The idea is to partner agency groups and recruit people who share the same vision," he says.
"We are pretty small at 2.24% market share, but what we have found is that with the right proposition and right combination of products and services, there are people who would want to work with Manulife. These agents could be experienced insurance agents or completely new to the industry."
While a lot of effort is being directed at digitalising insurance offerings, this mostly applies to products that have been commoditised, says Lee. "I wish this was as simple as that. There are products that you can commoditise such as travel insurance, auto insurance and perhaps some form of health insurance.
"Apart from auto insurance, which is pretty much necessary if you have a car, there are products that are definitely needed but not mandatory. In fact, if you choose not to have any health insurance, which I find irresponsible, you could actually go about your life without it.
"When given a choice, with most customers, if buying life insurance was as simple as a click of a button, it is more likely that it does not actually happen. That is because it is still quite difficult to understand the details of certain products. If they are commoditised, it will be pretty easy to understand because it is based on price."
But in the near future, the priority is to grow Manulife's distribution network through offline channels, he says. That is why Lee, who is also in charge of the company's wealth management and retirement solutions business, is looking at leveraging the agents registered with Manulife Asset Management Services Bhd to boost its insurance business.
"If we combine the number of agents we have registered under the asset management and insurance firms, we will have an over 4,000-strong agency force. So, if we look at our insurance presence and asset management business together, we are not that small. And I find that is powerful combination we could utilise to penetrate the market," he says.
Another area that Lee intends to focus on is operational improvements. He hopes to expedite insurance coverage and claims processes by providing distributors, such as agents, with effective and efficient digital tools.
"I think the speed in getting insurance coverage will be a priority for me this year. Some product applications can be resolved in a day, but some depend on the complexity of the product and can take seven to eight days," says Lee.
"For example, an investment-linked product with riders, especially those that require policyholders to be underwritten, take a lot longer to be approved. I hope that we can do this in two or three days, even for the cases that need to be underwritten."
To make this a reality, the change will need to happen at the point of sales and customers will need to be able to provide agents with all the necessary information up front, he says. "You will need to have your actual need analysed and assessed. In getting to know each other, the agent can find out what your needs are, isolate those and set you up with the right product.
"Right now, if it is within certain limits that we do not need underwriting, you can get the answer immediately — sometimes as soon as you submit. For policies that need further underwriting, it can take a day or two, provided that all the documents have been uploaded."
All this is to prepare the company to adopt new technologies to adapt to the rapidly evolving insurance scene, says Lee.
There is no denying that intensifying competition, margin pressures, technological advancements and evolving customer preferences are changing the insurance landscape globally.
Lee recognises that Manulife will have to embrace technology that is able to generate informative insights to raise its game. Once the groundwork for mobilising his ambitious plans has been completed, he hopes to look at how he can leverage wearable technology and other sensor-based devices to better engage with customers and more accurately underwrite risks based on real-time customer data.
"Within the group, we have developed an application called ManulifeMOVE. It is available in Canada (as Manulife Vitality) and some of the Asian markets we operate in. When we are ready to adopt it here, we will roll it out," says Lee.
"With ManulifeMOVE, we hope to work together to help customers. In some countries, the product is linked to the insurance product so customers can get discounts on premiums and offers from our partner vendors, depending on their usage."
From molecular biology to insurance
Lee Sang Hui made his foray into the insurance business in 1992, after completing his Master of Business Administration in the US. But it was not the career he had planned to pursue. In fact, his heart was set on science, having studied molecular biology for his undergraduate degree.
However, the soft job markets in the US and South Korea (his country of origin) pivoted him towards a degree in the field of finance. "In the early 1990s, job opportunities in the US were not that great. But I had the passion to explore the area of international finance and the school [Thunderbird School of Global Management] that I attended was known for sending its graduates overseas and to many developing countries," says Lee.
"So, when I was offered the opportunity to join American International Group (AIG) and given a posting that was very much to my liking — which is Tokyo, Japan — I never really looked back. I have remained in Asia until today."
It was here that he gained experience in investments, finance, marketing and distribution. He eventually became chief investment officer of AIG Korea. He held multiple leadership roles in AIA Korea and AIA Thailand before joining Manulife Holdings Bhd and Manulife Insurance Bhd as group CEO and CEO respectively in November last year.
Lee says that in his 27 years in the insurance industry, his science degree has helped him tailor investment portfolios and health insurance products with much more keenness. "I stayed pretty close to what I studied and liked to do. So, I got into investing in biotechnology. I like electronics and computers because a lot of these investments make a lot of sense to me because of my science background.
"Today, there are a lot of discussions on what I studied in university. For instance, we know that people have a certain predisposition to sicknesses that are either hereditary, because of the make-up of their bodies or their lifestyle choices.
"This is important for someone in the insurance business because we provide coverage for those unforeseen events or illnesses that happen in life. So, I find my degree in molecular biology to be quite relevant. I am interested in seeing how science can help people with diseases or detect them early and use technology to make treatments better."