This article first appeared in Personal Wealth, The Edge Malaysia Weekly, on July 17, 2017 - July 23, 2017.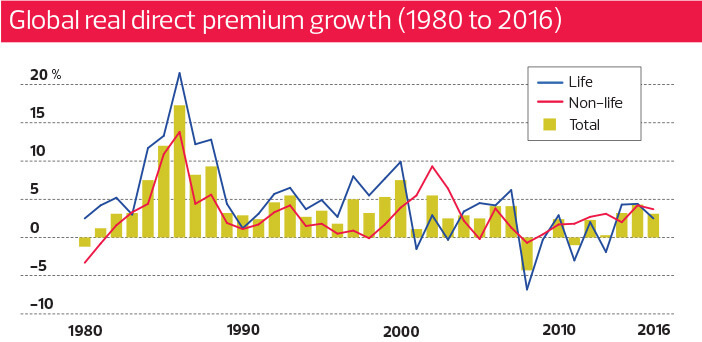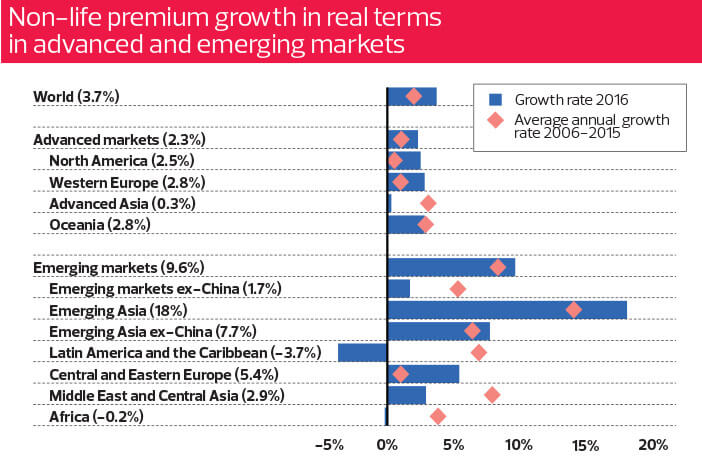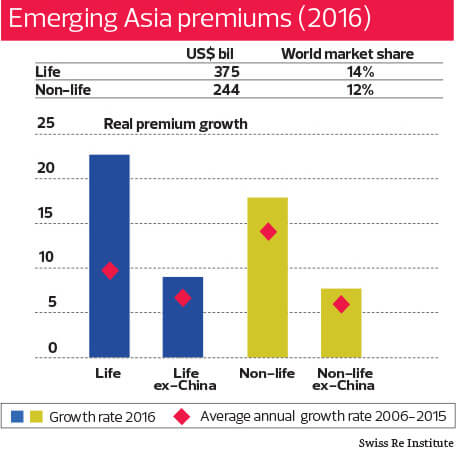 Life insurance premiums in emerging markets (EMs) grew 17% last year, compared with 12% in 2015, driven by the rapid growth in China and supported by the solid performance of EMs in Asia. That is more than double the 10-year average of 8.4%, according to Swiss Re Institute's sigma report World Insurance in 2016 that was released on July 5.
The report says life insurance premiums in emerging Asia increased 23% last year, compared with 16% in 2015, against a backdrop of stabilising economic growth. China — which accounts for about 70% of the region's life insurance market — was the main driving force, having seen a substantial 29% gain in premiums, compared with just 20% the previous year.
The increase was attributed to higher growth in the traditional life and health insurance lines, in addition to a further liberalisation of interest rates and the government's efforts to encourage the growth of protection products. However, the growth of life insurance premiums is expected be lower this year, due to greater regulatory pressure to curtail the sales of short-term wealth management-type products.
The rest of emerging Asia experienced growth of 5.7%, driven by gains in India, Indonesia and Vietnam. In India, life premiums grew 8%, due to surging demand for immediate annuity plans.
Last November, Prime Minister Narendra Modi announced demonetisation of all INR500 and INR1,000 banknotes to curb terror financing, black money and counterfeit currency. This led to greater demand for insurance and mutual fund schemes as cash transactions in other assets, such as real estate and gold, became unattractive.
Life insurance growth was robust in Indonesia (24%) and Vietnam (22%), due to rising insurance awareness and the continued expansion of the bancassurance channel. In the Philippines, growth in premiums fell to an estimated 4.9% , compared with 18% in 2015, from lower sales of single-premium products.
Life insurance premiums in EMs are expected to increase by double digits this year and next, driven by the rise of digital distribution channels, expansion of the bancassurance channel and promotion of protection products.
Meanwhile, non-life insurance premiums continued to grow in emerging Asia. They were up 18% last year compared with 15% in 2015. The report attributes the increase to sustained healthy growth of 20% in China, which accounted for more than 80% of the region's non-life insurance premiums.
Due to rising consumer awareness and the introduction of tax incentives, there was stronger demand for health insurance in China last year. Government incentives for passenger cars also contributed to higher demand for motor coverage as there was a significant rebound in car sales last year.
In India, non-life insurance premium growth was a robust 13%, supported by a pickup in health, agriculture and motor insurance lines. Southeast Asia's performance, however, was mixed — the Philippines and Vietnam experienced significant improvement, but Malaysia and Thailand saw growth stagnate due to weakness in the transport line.
Non-life insurance premium growth in emerging Asia is expected to remain stable this year. Initiatives by the Chinese and Indian governments to develop speciality lines will support agriculture, liability and credit insurance while rising household disposable incomes will likely boost demand for personal insurance products.
The profitability of the non-life sector declined in most EMs last year, due to price competition. In China and Malaysia, the price competition was made more acute detariffication. Meanwhile, high claims inflation in medical insurance is rapidly becoming a concern in Malaysia, Vietnam and the Philippines.
Slower global premium growth
Globally, direct insurance premiums in total grew 3.1% last year, compared with 4.3% in 2015. Life insurance premiums grew 2.5% to US$2.617 trillion, compared with 4.4% in 2015, due to considerably lower growth in advanced markets. According to the report, life insurance premium growth in North America and Western Europe was roughly flat while the modest nominal gains in the US were offset by inflation.
In Western Europe, a positive contribution from the UK was largely offset by Germany, where premiums were down for a second year due to weak sales of traditional savings, pension and annuity products. Japan's performance was notably weak as the enforcement of a negative interest rate policy by the central bank made it difficult for life insurance providers to attract new business.
Meanwhile, non-life insurance premiums also slowed down globally last year. Growth stood at 3.7% (US$2.115 trillion) compared with 4.2% in 2015. In advanced markets, the growth of non-life insurance premiums decreased to 2.3% from 3.3% in 2015 — still well above the 10-year average of 1%. The report attributes the slower growth to softer economic growth and rates in advanced markets.
In North America, premium growth is projected to improve this year, supported by a strengthening economy and higher interest rates in the US. In Western Europe, non-life premium growth is expected to remain subdued with the moderate economic recovery.
With still-low interest rates, profitability in the insurance industry for both life and non-life sectors remained under pressure. In the life sector, moderate premium growth in many markets dragged on profitability while the non-life sector was further impacted by slower underwriting results. However, both sectors are expected to remain well capitalised.
Digital distribution
In the past few years, the number of online insurance distributors has increased significantly. Despite the proliferation of digital technology and consumers' growing comfort levels with e-commerce, traditional intermediaries still dominate insurance distribution globally, with agents, brokers and other intermediaries accounting for a relatively stable share of between 60% and 70% of the premiums in most insurance markets.
One model of digital distribution is direct online sales, which is growing rapidly in some markets. In those markets, sales of standardised products — such as motor and household insurance — have increasingly migrated online. For example, more than half of all personal motor insurance and a quarter of household property insurance policies in the UK are purchased directly by consumers via the insurers' own websites, price comparison portals and over the telephone.
Other countries are following suit. In China, online purchases of motor insurance more than tripled from 2013 to 2015, accounting for more than 10% of the domestic market. In the US, direct auto insurers have progressively gained market share. Even traditional life insurance products, such as term-life policies, are increasingly sold online.
These shifts may be catalysed by regulatory changes. For example, the China Insurance Regulatory Commission has urged insurers to go online, stressing that both traditional and online insurers should explore technology to reach more consumers. Similarly, the Insurance Regulatory and Development Authority of India issued guidelines last year, requiring all insurance policies in the country to be available in the digital format.
Another development in the insurance industry in the past few years is the rapid growth of insurance technology (insurtech) start-ups, which represents the ongoing reconfiguration of the traditional insurance distribution model. According to the report, close to 40% of all insurtech investments between 2014 and 2016 were in the area of distribution. These players often partner traditional insurers to look for ways to enhance the whole customer experience, including using mobile technology to achieve efficiencies in claims and policy management.
Online aggregators, or price comparison portals, have become an integral part of the insurance distribution landscape. These intermediaries allow consumers to compare various insurance products, receive policy quotes immediately and often complete the sale of a selected policy — either on the aggregator's website or the insurer's platform.
The most active users of these price comparison portals are in the UK, but it is an increasingly popular channel for motor and home insurance buyers in Germany, Italy, Spain and France. These websites are starting to play a significant role in Asia, with 21 web aggregators approved by India's Insurance Regulatory and Development Authority.
The growing digitalisation of insurance distribution is set to continue globally, but the pace of change will vary across markets. While there has been accelerated growth in some markets such as China, the share of traditional intermediaries remains dominant in most parts of the world.