This article first appeared in Personal Wealth, The Edge Malaysia Weekly, on November 11, 2019 - November 17, 2019.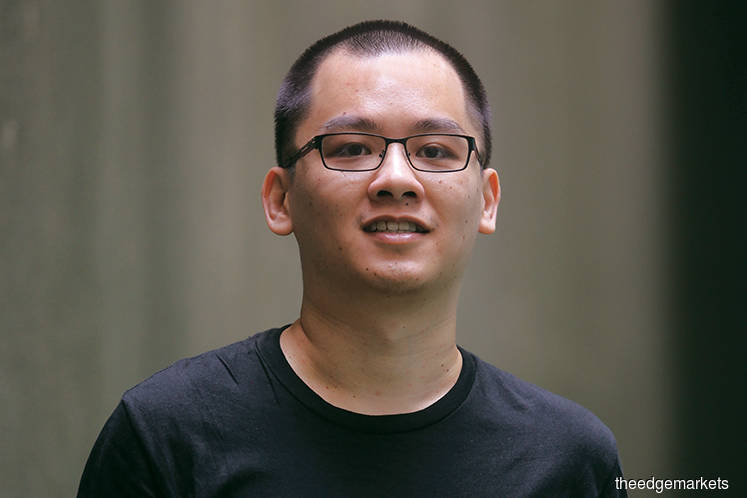 Through digitalisation, we can help policyholders to be more informed of the policies they have purchased. It can also help agents by allowing them to focus on advising clients instead of being overwhelmed by unnecessary paperwork. - Wong
Aloysius Wong entered the insurance industry three years ago while he was working in the IT department of a local telecommunications company. He decided to become a part-time insurance agent when a friend told him that there was a big need for agents in the market.
"He said many people were still not insured and there was an opportunity in the industry. He suggested that I join as a part-time agent. He said that in addition to earning extra income, I would be doing good by providing people with financial protection," says Wong.
So, he did. However, his part-time stint only lasted two years as he could not meet the minimum sales target set by the insurer. He was busy with his full-time job and was not a very good salesman.
"I was probably not convincing or aggressive enough. I would analyse their financial situation and tell them which products they needed. If they were not interested, I did not push them to buy. If they bought a certain policy, I did not ask them to buy another one that was similar because they are my friends," says Wong.
However, he continued to follow the developments in the industry. At one point, he thought he could do something to digitalise how insurance policies are sold. He and some friends then launched a start-up to help insurance agents and policyholders address some issues that they had been facing for some years.
"Through digitalisation, we can help policyholders to be more informed of the policies they have purchased. It can also help agents by allowing them to focus on advising clients instead of being overwhelmed by unnecessary paperwork," says Wong.
So, he founded ChumUp Malaysia Sdn Bhd with the aim of adding value to insurance agents and policyholders by using the internet and technology. "I have the experience of an insurance agent and some technical knowledge to develop such a platform. That is why our solutions are developed internally," he says.
Wong graduated with a first class honours degree in IT and computer science from Sunway University. After graduating, he worked in the IT department of OCBC Bank in Singapore for 1½ years before working with telecommunications firm Openet Telecom Malaysia Sdn Bhd and blockchain company Chaintope Malaysia Sdn Bhd as a software engineer for more than five years.
Digital platforms to solve problems
Wong and his team are developing a mobile application for consumers and a web-based platform for insurance agents to help them solve a common pain point — lengthy insurance policy documents. These documents often comprise hundreds of pages filled with details of the policy.
From the perspective of policyholders, these documents are thick and filled with jargon that many of them do not understand. Policyholders typically keep these documents somewhere in their house without flipping through them for years.
When Wong was an agent, he realised that many policyholders would not know what their policies entailed. "Do these documents include a life insurance plan or medical card? Many of them did not know, [let alone remember] details such as the sum assured or the events or illnesses they were covered for," he says.
These policy documents also create a problem for insurance agents, who need to analyse their clients' needs before recommending suitable policies. They find it time-consuming to read through all the documents to extract key information for further analysis.
"It would take an agent several days to understand a client's needs. What if the client has a family of four and each of them has several policies?" says Wong.
The process could become more challenging if a policyholder has multiple insurance policies from not one but several insurers. "An agent, who is tied to a particular insurer, would need to scan through the policies of other companies — which they may not be familiar with — to consolidate and analyse information," he says.
The mobile app for policyholders will allow them to upload their insurance information online. They will be able to do so by taking snapshots of some of the pages of the policy document that contain key information and upload them online. Alternatively, they can manually type in the key information using a smartphone.
Once the information has been uploaded, the app will analyse it and provide the policyholder with basic and useful insights. "It will help you skip the jargon and provide you with information such as your total sum assured and areas that you are not covered. For instance, if you are not covered for medical expenses or critical illness, the app will prompt you and you may want to do something about it," says Wong.
The app will also allow policyholders to check on simple information that they may have forgotten, such as their monthly or annual premium.
Wong says the app will not provide financial advice or recommend products as the company does not have the licence to do so. "We are not licensed financial advisers and the regulator — Bank Negara Malaysia — has told us clearly that we cannot do so," he adds.
The app will not come with a function that matches them with agents. If users want financial advice and product recommendations, they will need to engage an agent themselves.
Wong says the company does not intend to disrupt the insurance industry, but rather enhance the current ecosystem. He also hopes to increase the public awareness of insurance and digitalise how insurance agents service their clients.
ChumUp's online portal will help agents digitalise their sales and service process. "Upon obtaining the consent of their clients, they can upload their clients' information on the website — including the policy documents — and the portal will help them consolidate and analyse their clients' policies. They will no longer need to do all the work manually," he says.
The information uploaded to the online portal can also be accessed by the policyholders themselves. They can also determine with whom they want to share the information with, says Wong.
ChumUp recently rolled out the beta version of its digital platform for selected insurance agents to test out. More features will be added to the platform when it gains enough traction in the market.
The mobile app for consumers is also in the beta phase. Wong hopes to launch the complete version of both platforms by the first quarter of next year.