This article first appeared in Capital, The Edge Malaysia Weekly, on November 19, 2018 - November 25, 2018.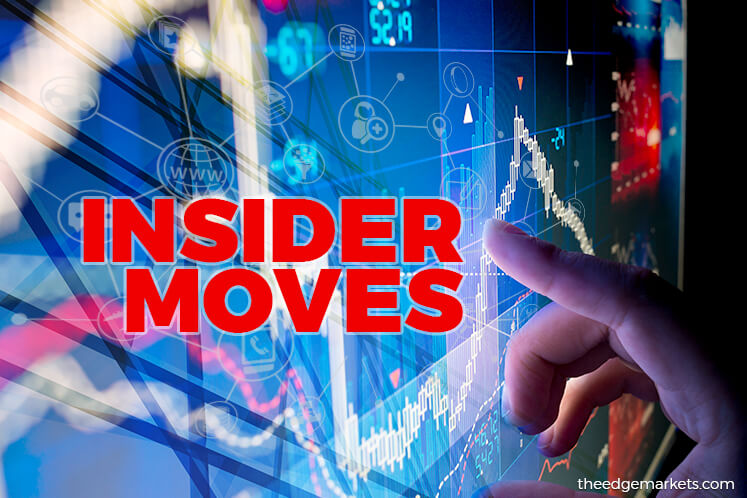 Notable filings
FROM Nov 5 to 9, notable filings include the emergence of a new substantial shareholder at ICT solutions provider MMAG Holdings Bhd after Grandstead Sdn Bhd sold 124.86 million shares, or a 19.67% stake, off market on Nov 8. The price of 23.5 sen apiece was a 9.6% discount to the closing price of 26 sen on that day. Grandstead is a vehicle of MMAG's non-executive director Lim Siew Ping and Lim Siew Eng, who both no longer hold shares after the sale.
The buyer was Cypress Valley Sdn Bhd, a vehicle controlled by Datuk Khan Mohd Akram Khan, who becomes the second largest shareholder behind Chan Swee Ying, who has 31.7%. Khan was appointed chairman of MMAG in September, replacing Datuk Johari Yahya, who is now an independent director. Khan founded AGA Group Sdn Bhd, which entered into big data analytics in 2001, when he was involved in the automotive industry.
At Tiger Synergy Bhd, Goh Ching Mun emerged as a substantial shareholder with the acquisition of 68.3 million shares, or 10.6% equity interest, on Nov 7 and 8.
On Nov 5, Datuk Tan Wei Lian sold 35 million shares, or a 5.4% stake, off market for RM1.75 million or about 5 sen per share, a 28.6% discount to its closing price of 7 sen on that day. Tan still has about eight million shares or a 1.24% stake in the group that is involved in property, construction and wood product manufacturing.
On Nov 13, Tiger Synergy proposed to raise up to RM10.5 million via a private placement to strengthen its capital position and help pay preliminary expenses for its Alam Impian project in Shah Alam, filings show.
At Tatt Giap Group Bhd, Dynaciate Engineering Sdn Bhd emerged as the second largest shareholder after buying a 12.95% stake, of 22.1 million shares, via a direct business transaction. Dynaciate is a vehicle of Khoo Song Heng and Woon Kok Kee, who are executive directors of Tatt Giap, which is involved in trading stainless steel materials. On Oct 31, Tatt Giap was awarded four contracts worth a combined RM67 million by Dynaciate to undertake various subcontracting works.
 
Notable movements
Closing at RM1.35 last Wednesday, shares of 7-Eleven Malaysia Holdings Bhd were down 10.88% from the beginning of the year, slightly more than the broader FBM Emas index's 9.5% decline over the same period. Compared with its recent high of RM1.51 on Sept 21, 7-Eleven's share price has declined 10.6% in about two months.
Filings show that 7-Eleven's second largest shareholder, Sultan Ibrahim Sultan Iskandar of Johor, sold 118 million shares, or 10.45% equity interest, in a direct business transaction, to Classic Union Group Ltd, a British Virgin Islands (BVI) incorporated company, for RM182.9 million or RM1.55 apiece on Nov 5.
The transacted price was a 13% premium to the closing price of RM1.37 on that day. Sultan Ibrahim remains a substantial shareholder with 5.1% equity interest or 57.2 million shares after the deal. BVI-incorporated companies can exist with the confidence of privacy as long as they are law-abiding.
Seacera Group Bhd has lost nearly RM222 million in valuation this year. With the shares closing at 22.5 sen apiece last Wednesday, its market capitalisation is RM93.56 million.
Filings show that Tan Boon Seng, who became a substantial shareholder barely a week earlier, sold 7.7 million shares on Nov 2 and 21 million shares on Nov 5. With only 6.27 million shares, or a 1.5% stake, Tan is no longer a substantial shareholder.
He emerged as the tile maker's single largest shareholder after buying 34.98 million shares, or a 9.2% stake, on Oct 29. This came after the forced selling of shares belonging to non-executive chairman Datuk Seri Mansor Masikon, managing director Zulkarnain Ariffin and Datuk Ismail Osman.
Seacera, which closed at 20.5 sen on Oct 29, rose to 30.5 sen on Nov 2 and ended at 29 sen on Nov 5. Its 52-week high was 92 sen on Jan 4 this year, but it has recovered from as low as 15.5 sen on Oct 26. 
 
Save by subscribing to us for your print and/or digital copy.
P/S: The Edge is also available on Apple's AppStore and Androids' Google Play.