This article first appeared in Capital, The Edge Malaysia Weekly, on June 24, 2019 - June 30, 2019.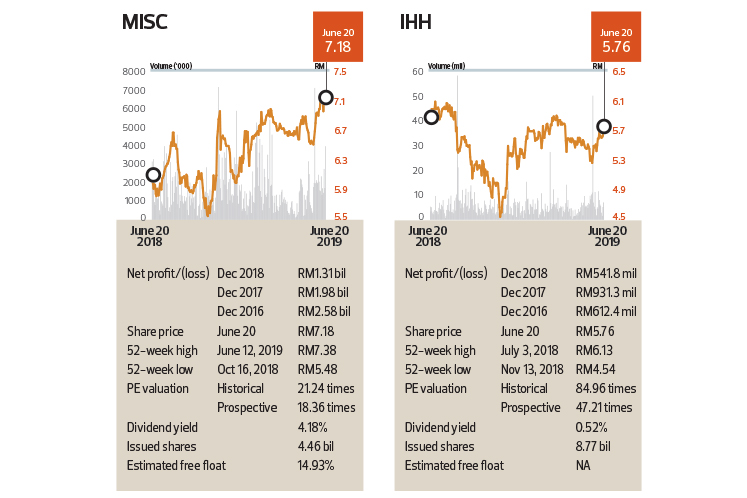 Notable changes
DURING the week of June 10 to 14, one of the more notable changes in shareholding occurred at Reach Energy Bhd.
Its largest shareholder, Reach Energy Holdings Sdn Bhd, hived off 62.8 million shares, or a 4.91% stake, trimming its holding to 127.8 million shares, or 11.66% equity interest, in the oil and gas exploration outfit.
As at end-March, Reach Energy Holdings owned a 23.31% stake, or 255.6 million shares, of Reach Energy.
Reach Energy shares hit a 52-week low of 20 sen apiece on June 18 and ended trading last Wednesday at 20.5 sen, valuing the company at RM262 million.
At financial services business solutions provider Excel Force MSC Bhd, Brahmal Vasudevan ceased to be a substantial shareholder after selling 2.63 million shares in the company. Brahmal — the founder and CEO of private equity firm Creador Sdn Bhd — first surfaced in Excel Force with much fanfare in May 2016 with 13.45 million shares or a 6.5% stake. He had bought into Excel Force in his personal capacity.
Since February, Excel Force has shed more than 25% of its value and closed last Wednesday at 41 sen apiece, translating into a market value of RM171.4 million.
At building automation and security systems company Metronic Global Bhd, Ooi Chieng Sim ceased to be a substantial shareholder after selling 78.98 million shares, or a 6.97% stake.
Ooi first surfaced as a substantial shareholder in Metronic in April with 106.13 million shares, or 11.02% equity interest, after a rights issue that priced the shares at 6.5 sen apiece. On June 7, when Ooi sold his block, Metronic's stock was trading at 7 sen to 8.5 sen.
Last Wednesday, Metronic closed at 7.5 sen, valuing the company at RM84.9 million.
At Barakah Offshore Petroleum Bhd, founder and former president and CEO Nik Hamdan Daud sold 10.59 million shares in the ailing oil and gas company, trimming his stake to 131.23 million shares or 15.7%. In early April, he held a 34.38% stake, or 287.35 million shares.
The Yaw family from Sarawak, who control the Samling plantations group, ceased to be substantial shareholders of Barakah in May. Barakah is in the process of restructuring its debts.
Last Wednesday its shares ended trading at five sen apiece, valuing the company at RM41.8 million.
 
Notable movements
Shares of shipping company MISC Bhd hit a 52-week high of RM7.38 on June 12. Since mid-May its shares have gained more than 10% and closed at RM7.15 last Wednesday.
During the week in review, the Employees Provident Fund (EPF) sold 10.21 million shares of MISC, paring its stake to 282.62 million shares, or 6.33%. As at end-May, the EPF had 292.84 million shares, or a 6.56% stake, in the company.
MISC's stock has been running since the company announced a sterling set of financials at the end of May. At its close last Wednesday, MISC had a market capitalisation of RM31.91 billion.
Since end-May, IHH Healthcare Bhd's shares have gained more than 7% or 37 sen apiece. The counter ended last Wednesday at RM5.64.
The EPF sold 5.28 million IHH shares, trimming its stake to 684.6 million shares, or 7.8%.
The EPF has been aggressively trading IHH's stock over the past few months but it has been a net buyer. At the end of April, it held 677.5 million shares, or 7.73% of IHH.
IHH's largest shareholder as at end-November last year, state-controlled Khazanah Nasional Bhd, sold 16% of its stake in IHH to Mitsui & Co Ltd for RM8.42 billion, after  reducing its stake in IHH to 26.05%, while Mitsui raised its holding to 32.92%.