This article first appeared in Capital, The Edge Malaysia Weekly, on July 16, 2018 - July 22, 2018.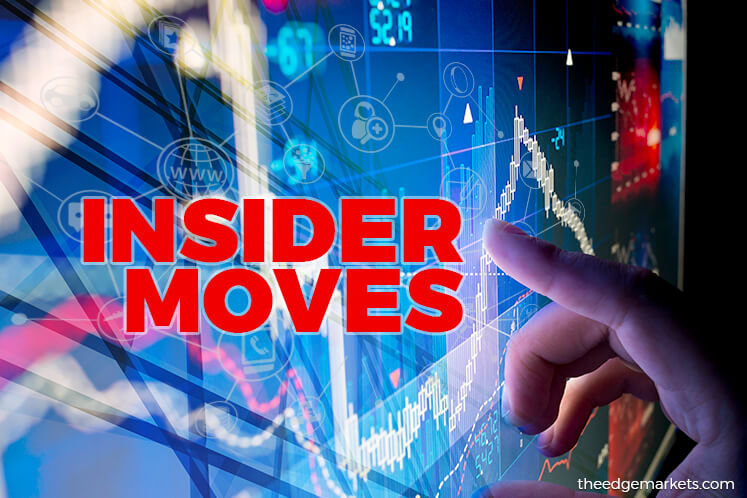 Notable filings
BETWEEN July 2 and 6, notable filings of shareholders' movements in companies listed on Bursa Malaysia included the emergence of the Employees Provident Fund as a substantial shareholder in Gabungan AQRS Bhd after it acquired 22.87 million shares or a 5.03% stake in the construction company on June 29.
During the period under review, Kumpulan Wang Persaraan (Diperbadankan) also raised its stake in Gabungan AQRS by 436,600 shares, bringing its total holding to 26.5 million shares or 5.8% equity interest.
Gabungan AQRS' shares had come under heavy selling pressure post-GE14, plunging 58.64% in less than three weeks to 64 sen on May 31 on worries that a review of mega infrastructure projects would affect the company. Nevertheless, the stock has since rebounded from its 52-week low on May 31. Last Wednesday, it closed at RM1.15 — 25.7% below the closing price on May 8 of RM1.548.
Over at TA Enterprise Bhd, co-founder and non-executive chairman Datuk Tony Tiah increased his stake by 7.57 million shares during the period under review, bringing his total shareholding to 32.62%. This lifted the collective shareholding of Tiah and persons acting in concert with him to 33.08%.
Following this, the seasoned stockbroker launched a mandatory general offer for the remaining 1.15 billion shares or 66.92% stake he does not owned at 66 sen apiece. TA Enterprise closed at 65 sen last Wednesday.
China-based company Xinghe Holdings Bhd saw its substantial shareholder Testa Holdings Ltd dispose of 23.8 million shares through a direct transaction during the period under review. Post-disposal, Testa's stake in the company was reduced to 45.6% or 1.17 billion shares.
The edible vegetable oil manufacturer recently ventured into seafood processing, with operations based in Penang. This represents Xinghe's maiden venture outside China.
 
Notable movements
Kretam Holdings Bhd's share price has been on a downward trend since June 11. Up to July 10, its share price has dropped 42.14%, tumbling from 70 sen to 40.5 sen.
This came at the time when Hap Seng Plantations Holdings Bhd aborted a plan to take up a 55% controlling stake in the company despite getting more time twice to perform due diligence. Hap Seng Plantation has announced to the stock exchange that its due diligence on Kretam yielded "unsatisfactory and unacceptable" results but did not elaborate.
Kretam's single largest shareholder, Datuk Freddy Lim, continued to pare down his stake during the period under review. On July 5, he disposed of 40.5 million shares at 35 sen apiece through an off-market deal, reducing his holding to 47.01%. He is also deemed interested in another 21.52% stake.
Meanwhile, Versatile Creative Bhd's share price rose 70.89% from 39.5 sen to 67.5 sen between June 18 and July 3. Following that, it slid 8.15% to close at 62 sen on July 10.
NSK Trading Sdn Bhd became a substantial shareholder of the company on June 29 after acquiring 17.48 million shares or a 13.54% stake from the open market as well as via direct deals. Since then, filings show that NSK had further raised its holding to 28.61 million shares or 22.17% equity interest as at July 5. Lim Ah Chai, Lim Ah Chuan and Lim Chou Bu are deemed interested in the stake. 
 
Save by subscribing to us for your print and/or digital copy.
P/S: The Edge is also available on Apple's AppStore and Androids' Google Play.