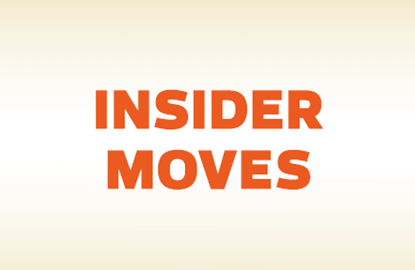 This article first appeared in
Capital, The Edge Malaysia Weekly
, on December 26, 2016 - January 1, 2017.
Notable filings
DURING the holiday-shortened trading week of Dec 13 to 16, substantial shareholder Ang Eng Hooi sold 28 million shares, or 8.97% equity interest, in EKA Noodles Bhd on Dec 14, according to the latest filing with Bursa Malaysia.  
Ang is left with 1.22 million shares after the sale and is no longer a substantial shareholder in the fiancially ailing rice vermicelli manufacturer. He had bought into EKA Noodles not too long ago, surfacing as a substantial shareholder in October, about two months after Bursa had placed EKA Noodles under Practice Note 17 at end-August.
The company's shareholders funds —  which showed a deficit of RM2.03 million as at Sept 30 — are 25% less than its paid-up capital. Its accumulated losses had ballooned to RM66.47 million as at end-September.
Over at Kumpulan Jetson Bhd, a new substantial shareholder, Phoa Boon Ting, has emerged. Phoa bought 10.2 million shares, or a 5.42% stake, on Dec 14. 
Phoa has continued to mop up more shares.  The latest Bursa filing on Dec 16 shows that he bought an additional 1.2 million shares on Dec 15 and 16, raising his total shareholding to 6.065%, or 11.4 million shares. What he paid for his block of shares is not known. 
Kumpulan Jetson's share price shot up to a 14-month high of 34 sen in early November, from 22 sen the month before. The stock closed at 32 sen last Wednesday.
DBE Gurney Resources Bhd's substantial shareholder, Singapore-based  Advance Capital Partners Pte Ltd, trimmed its stake further after it  converted redeemable convertible notes pursuant to a subscription agreement it had entered into with DBE Gurney in April last year. It sold one million shares on Dec 9, leaving it with 60.82 million shares, or a 5.61% stake, in the poultry farmer.
Managing director Datuk Ding Seng Huat bought 10.47 million shares on Dec 8 and 9, raising his shareholding to 118.57 million shares or a 10.95% stake.
At BIMB Holdings Bhd, contrary to market talk, Lembaga Tabung Haji bought an additional 14.2 million shares, or a 0.89% stake, raising its equity interest to 51.7%.
Notable movements
Loss-making Ire-Tex Corp Bhd's share price tumbled to a record low of 18.5 sen last Tuesday, but bounced back to 20 sen on Wednesday. The downward pressure could be due to the share sale by one of its substantial shareholders, Tey Por Chen.
Tey has been on the selling trail since mid-November. In November alone, he sold 10.59 million shares, or 7.89% equity interest. He sold another 9.96 million shares on Dec 2 and 10.04 million on Dec 5, according to the company's filings with Bursa.
In the short span of four weeks, Tey has sold 30.6 million shares, or a 22.8% stake, in the company that provides specialised packaging for aircraft components.
Ire-Tex's share price has been on a downward trend since mid-2014,  after hitting a 10-year high of 77 sen in June that year.
For the nine months ended Sept 30, it posted a net loss of RM9.83 million, compared with RM10.8 million in the previous corresponding period. Revenue grew slightly to RM101.55 million, from RM95.26 million a year ago.
7-Eleven Malaysia Holdings Bhd's share price has also been heading south in the past two months, falling from a record high of RM1.95 on Oct 17 to RM1.45 last Wednesday — the lowest it has closed at since August. 
During the week in review, Berjaya Retail Bhd sold three million shares, while Franklin Resources Inc disposed of 612,800 shares in the convenience store chain operator.
Leveraging the share price weakness, 7-Eleven continued its share buyback scheme, According to Bursa filings, it bought 1.4 million shares on the open market, raising the number of treasury shares held to 121.8 million, equivalent to 10.96% of its total paid-up capital.