This article first appeared in Capital, The Edge Malaysia Weekly, on July 1, 2019 - July 07, 2019.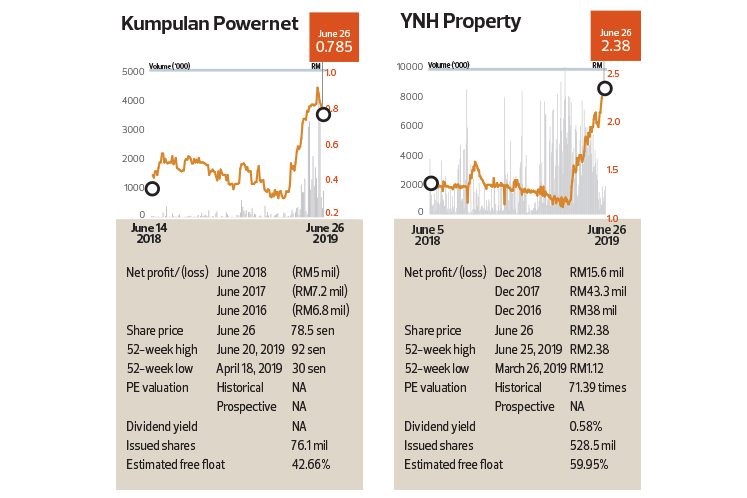 Notable filings
BETWEEN June 17 and 21, notable shareholding changes in companies listed on Bursa Malaysia included that at Chin Hin Group Bhd, which saw Divine Inventions Sdn Bhd acquire 20 million shares via an off-market transaction.
Divine Inventions is linked to Chin Hin group managing director Chiau Haw Choon and his parents — deputy group executive chairman and founder Datuk Seri Chiau Beng Teik and Datin Seri Wong Mee Leng.
According to filings, the seller was Beng Teik. This reduced his direct stake in the company to 22.51% while that of Divine Inventions rose to 38.8%.
In its first quarter ended March 31, Chin Hin's net profit rose 18% year on year to RM4.44 million. This was in spite of a 9% y-o-y decline in revenue to RM242.68 million.
Albizia Asean Opportunities Fund ceased to be a shareholder of Leading Entrepreneur Accelerator Platform Market participant CRG Incorporated Bhd, which distributes women's fashion brand Carlo Rino, after it disposed of its entire holding of 67.18 million shares.
Although Albizia ceased to be a shareholder, CRG managing director Datuk Seri Chiang Fong Yee acquired 2.68 million shares of the company while his wife, Datin Seri Lo Kin Yee, scooped up 33.59 million shares. This increased his direct stake in the company to 13.94% and his indirect stake to 9.13%.
HiiChiiKok Equities Sdn Bhd disposed of 20 million HCK Capital Group Bhd shares during the period in review, reducing its stake in the company to 63.36% or 267.08 million shares.
HiiChiiKok Equities is the private vehicle of HCK Captial chairman Tan Sri Clement Hii.
In its first quarter ended March 31, HCK Capital's net profit fell marginally to RM205,000 from RM224,000 a year ago as revenue shrank 33.8% to RM6.29 million due to a reduction in project management fee charges, according to the company.
Impiana Hotels Bhd executive chairman Datuk Seri Ismail @ Farouk Abdullah acquired 15 million shares in the company during the period in review, raising his direct stake to 17.39%. His indirect stake remains unchanged at 53.23%.
Earlier this year, Farouk launched a mandatory takeover offer for Impiana Hotels, then known as Bio Osmo Bhd. On Feb 21, the offer turned unconditional for Farouk to acquire the remaining shares in the group that he does not already own.
Notable movements
The share price of Kumpulan Powernet Bhd had been on an upward trend, rising nearly a fifth, or 30 sen, between May 3 and June 24 to 88.5 sen, with 8% of the gains recorded during the period in review.
The sharp climb in the share price led to Bursa issuing Kumpulan Powernet with an unusual market activity query on June 10. In its reply, the company revealed that there were negotiations involving a share sale agreement between a certain substantial shareholder and director of the company and a potential buyer.
Subsequently, Bursa filings showed that Serba Dinamik Holdings Bhd founder Datuk Dr Mohd Abdul Karim Abdullah had emerged as a substantial shareholder of the company after acquiring 15.26 million shares, or a 20.04% stake, in an off-market deal.
At the same time, Datuk Lee Choon Hoon and SSF Home Builder Sdn Bhd ceased to be shareholders of Kumpulan Powernet after disposing of 6.82 million and 8.36 million shares in the company respectively.
Over at YNH Property Bhd, its share price skyrocketed 106.96% 
between April 8 and June 25, from RM1.15 to RM2.38. About 22% of the gains were made between June 14 and 25, when its share price rose from RM1.95 to RM2.38.
Filings show that chairman and executive director Datuk Dr Yu Kuan Chon acquired 819,600 shares during the period. Post-transaction, his indirect stake in the company stood at 25.34%, and his direct stake at 4.47%.
Independent director Ding Ming Hea also acquired 480,000 shares in the company during that period, raising his stake to 0.34% or 1.77 million shares.