This article first appeared in Capital, The Edge Malaysia Weekly, on June 18, 2018 - June 24, 2018.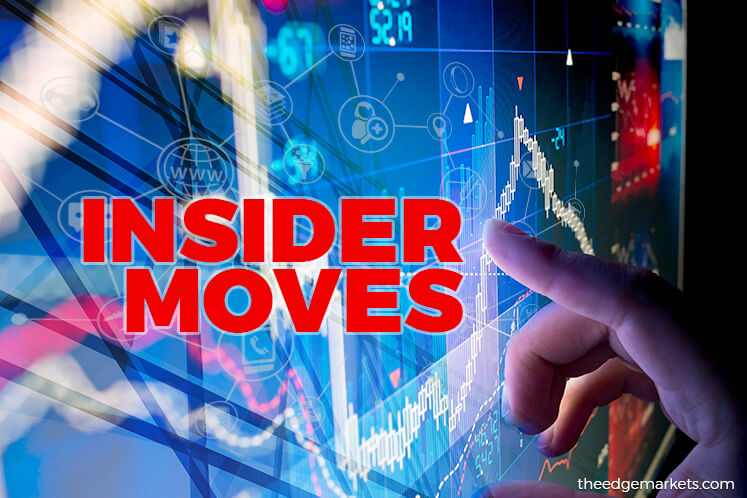 Notable filings
YTL Corp Bhd's controlling shareholder, Yeoh Tiong Lay & Sons Holdings Sdn Bhd, has purchased 12.75 million shares on the open market after its share price nosedived following the general election on May 9. The stock tumbled to 93 sen on May 30 — its lowest level since October 2011 — from RM1.475 on April 30 as a result of the heavy selldown in construction firms.
Over at Ekovest Bhd — another construction company that has experienced fierce selling — substantial shareholder Lim Seong Hai Holdings Sdn Bhd (LSH) has purchased 5.16 million shares, according to filings with Bursa Malaysia in the second week of June. LSH held 146.8 million shares or a 6.86% stake in the infrastructure group as at June 6.
Gadang Holdings Bhd, which has also not been spared from the selldown in the construction sector, saw its controlling shareholder Tan Sri Kok Onn buy 434,000 shares on the open market between May 30 and June 1. In contrast, the Employees Provident Fund (EPF) sold 112,500 shares in early June. The counter has shed one-third of its value year to date.
MyEG Services Bhd's largest shareholder, Asia Internet Holdings Sdn Bhd, sold nine million shares between June 1 and June 4. Meanwhile, the e-government service provider bought back some 11 million shares on the open market on June 4 and June 5.
Elsewhere, Coastal Contracts Bhd saw the emergence of a new substantial shareholder, Samarang UCITS — Samarang Asian Prosperity, which purchased 27.76 million shares or a 5.26% stake between June 1 and June 6.
At Berjaya Assets Bhd, the Sultan of Johor has bought an additional 2.4 million shares on the open market. Sultan Ibrahim Sultan Iskandar emerged as a substantial shareholder in the company in September 2017 with an initial stake of 120 million shares or a 10.09% stake. The latest filing dated June 7 shows that he has a holding of 314 million shares or 12.27%.
The share price of Top Glove Corp Bhd, the world's largest rubber glove maker, climbed to a new peak of RM11.88 on June 11.
It is one of the top-performing FBM KLCI component stocks, having gained nearly 41.2%, or RM3.29, year to date.
The EPF took the opportunity to offload some shares, selling a total of 7.86 million shares between May 30 and June 4, filings with Bursa show. It is left with 71.87 million shares or a 5.62% stake after the sale.
SMRT Holdings Bhd's controlling shareholder, Tan Sri Palaniappan Ramanathan, bought 10 million shares on the open market on June 4. The education group's share price slipped to a more than six-year low of 14 sen last month. Palaniappan held 103.2 million shares or a 25.5% stake as at June 4.
The UK's River and Mercantile Asset Management LLP, on behalf of discretionary clients, acquired 4.33 million shares in Tune Protect Group Bhd on May 31. The insurer's share price has been on an upward trend in the past two weeks, rebounding from a record low of 68.3 sen in early April to 92.6 sen on June 11. The stock gained 30% in four weeks.
Notable movements
Penang-based Ewein Bhd's share price has bucked the current cautious market sentiment. The stock soared to a 14-month high of 83 sen on June 7 from a low of 31.5 sen in early April. It has jumped nearly 82% year to date.
Interestingly, the company released a stellar set of first-quarter results on May 28. Net profit increased several-fold to RM12.05 million in the quarter ended March 31 from RM2.53 million in the previous corresponding period, while revenue more than doubled to RM56.45 million from RM22.75 million.
Ewein's second largest shareholder, Med-Bumikar Mara Sdn Bhd, disposed of six million shares through an off-market transaction on June 5, taking advantage of the share price rally. Meanwhile, its largest shareholder, Hijauwasa Sdn Bhd, bought 167,200 shares on the open market. Hijauwasa and Med-Bumikar hold 36.542% and 16.757% equity interest respectively in the company.
In contrast, Classic Scenic Bhd's share price has been falling for more than 12 months since late April last year. The stock fell to RM1.39 in April this year — the lowest level since August 2016. It has recouped some of its losses recently, closing at RM1.46 last Tuesday.
Despite the falling share price, the company's single largest shareholder Lim Ket Leng Holdings Sdn Bhd (LKL) sold 5.3 million shares on June 1 and June 6. LKL still holds 54.14 million shares or a 42.4% stake after the sale.
For the first quarter ended March 31, the wooden picture frame moulding maker's net profit halved to RM1.57 million from RM3.67 million in the previous corresponding period, although revenue was slightly higher at RM15.95 million compared with RM15.54 million the year before. The company attributed the fall in earnings to the weaker US dollar, higher input costs and operating expenses.
Save by subscribing to us for your print and/or digital copy.
P/S: The Edge is also available on Apple's AppStore and Androids' Google Play.