This article first appeared in Capital, The Edge Malaysia Weekly, on December 16, 2019 - December 22, 2019.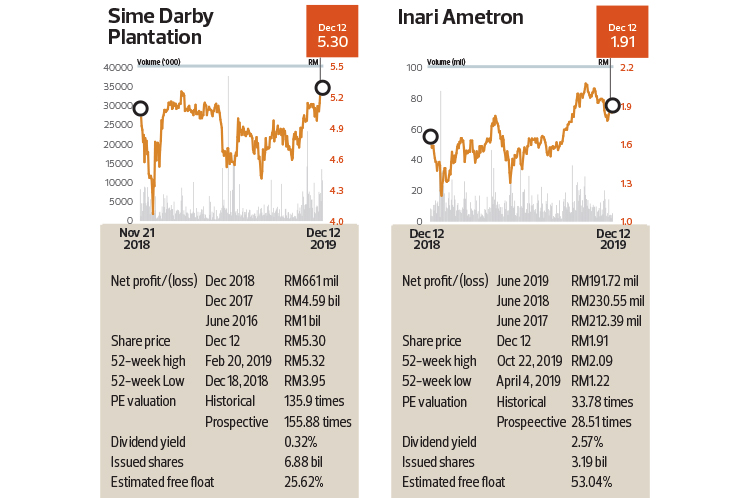 Notable filings
BETWEEN Dec 2 and 6, notable shareholding changes in companies listed on Bursa Malaysia included that at WZ Satu Bhd. Privately held Citaglobal Energy Resources Sdn Bhd, the vehicle of Ikhlas Kamarudin, acquired 41.19 million shares in WZ Satu, nudging up its holding to 56 million shares or 10.94% equity interest.
The shares were sold by its executive chairman, Tengku Datuk Seri Uzir Tengku Datuk Ubaidillah, who after the sale still owns 49.82 million shares or a 9.74% stake in the company.
WZ Satu, which has diverse interests such as civil engineering, construction, oil and gas, mining and manufacturing, closed last Wednesday at 21.5 sen, giving it a market value of RM110 million. Since early February, WZ Satu's stock has shed more than 43% of its value.
At G3 Global Bhd — an apparel company that has ventured into artificial intelligence — Chan Swee Ying ceased to be a substantial shareholder on Dec 4 after selling 42.86 million shares via an off-market deal.
Her shares were likely acquired by Victor Chin Boon Long via his vehicle, Fountainberry Sdn Bhd. After the acquisition, Chin has a 74.48 million shares or 14.54% equity interest in G3 Global.
Chin is known in corporate circles largely because his entry into companies is usually followed by volatile trading patterns. Some of the companies Chin has had a presence in include 1 Utopia Bhd, Lay Hong Bhd, Ingenuity Solutions Bhd, Takaso Resources Bhd and Minetech Resources Bhd to name a few.
G3 Global closed last Wednesday at RM2.61, translating into a market capitalisation of RM1.22 billion.
During the period in review, Kumpulan Wang Persaraan (Diperbadankan) or KWAP acquired 16.81 million shares in Axis Real Estate Investment Trust (Axis REIT), raising its holding to 166.79 million shares or an 11.93% stake. The acquisition was a result of a placement by Axis REIT at RM1.72 per share.
Pilgrim fund Lembaga Tabung Haji has been actively trading Axis REIT's shares and during the period in review, sold 1.22 million shares, trimming its stake to 5.28% or 73.78 million shares.
Axis REIT finished last Wednesday at RM1.77, valuing it at RM2.47 billion.
At Notion VTec Bhd, Japan-based Nikon Corp ceased to be a substantial shareholder in the company after an off-market disposal of 9.33 million shares. Nikon has been a substantial shareholder in Notion VTec since May 2012, when it acquired 24.54 million shares or 9. 08% equity interest.
Notion VTec's shares closed at RM1.01 last Wednesday, giving the company a market capitalisation of RM338 million. The stock hit a two-year high of RM1.02 on Dec 9.
Over the past year, it has gained more than 60%.
Notable movements
Sime Darby Plantation Bhd's shares hit a 52-week high of RM5.32 on Dec 11, before closing at RM5.30. Since early October, the stock has gained nearly 15%. At its close last Wednesday, the company had a market value of RM36.49 billion.
The Employees Provident Fund (EPF) and KWAP have been nibbling at Sime Darby Plantation's shares. During the period in review, the EPF acquired 351,500 shares, pushing up its holding to 975.9 million shares or a 14.17% stake while KWAP increased its holding by 150,000 shares to 388.68 million shares or a 5.64% stake.
Inari Amertron Bhd's stock hit its 52-week high of RM2.09 on Oct 22, but has since tapered off, shedding a little more than 11% in value to close at RM1.85 last Wednesday. At its close on Wednesday, Inari Ametron had a market capitalisation of RM5.91 billion.
During the period in review, the EPF acquired 8.72 million shares, pushing up its holding to 208.09 million shares or 6.52% equity interest while KWAP acquired 200,000 shares, bringing its holding to 447.4 million shares or a 14.03% stake.
Inari Amertron has its mainstay in the electronics manufacturing services industry and provides semiconductor packaging services.