This article first appeared in Capital, The Edge Malaysia Weekly, on September 2, 2019 - September 08, 2019.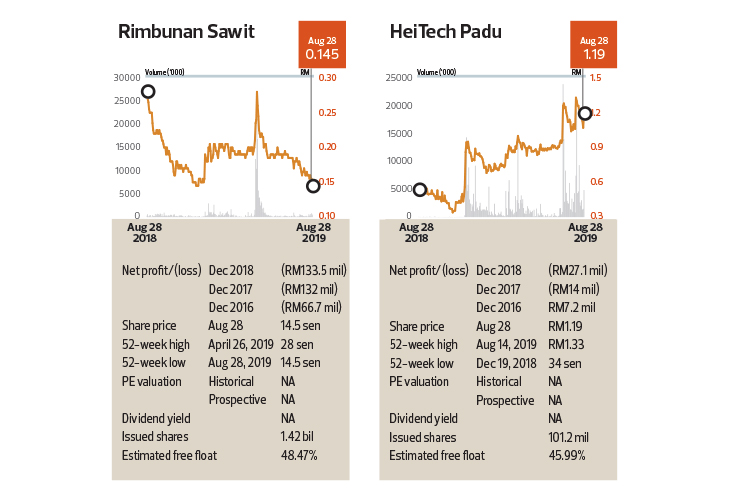 Notable filings
BETWEEN Aug 19 and 23, notable filings with Bursa Malaysia included the sale of 159.64 million shares in oil and gas firm Velesto Energy Bhd by major shareholder Permodalan Nasional Bhd (PNB).
The share disposal was made via multiple transactions, the largest being an off-market deal involving 150 million shares. Following the disposal, PNB retains 1.1 billion shares or a 13.32% stake in the company.
Velesto Energy has traded at around the 30-sen threshold since end-2018. Year to date, the counter has advanced 67%, closing last Wednesday at 30 sen per share. It is currently valued at RM2.47 billion.
At Serba Dinamik Holdings Bhd, multiple filings during the period under review show that Kumpulan Wang Persaraan (Diperbadankan) or KWAP pared its stake by 2.65 million shares while the Employees Provident Fund (EPF) sold 651,800 shares.
Serba Dinamik has swung up and down throughout the year, falling as low as RM3.60, before hitting a one-year high of RM4.40 on Aug 21, following an 11% rally over a two-week period. In the past 12 months, its market value has gained 14.5%.
Following the disposals, KWAP retains 91.91 million shares or a 6.33% stake while the EPF holds 107.29 million shares or 7.31% equity interest.
The EPF also pared its stake in port operator Westports Holdings Bhd by 3.21 million shares during the same period. It retains 199.1 million shares or a 5.84% stake after the disposal.
An Aug 22 filing shows that Westports senior independent non-executive director Tan Sri Nik Ibrahim Kamil had sold his entire 100,000 shares in the company.
Westports had rallied in recent months, surging 20% from a low of RM3.45 in mid-May to a two-year high of RM4.14 last Wednesday. Its market capitalisation has risen to RM14.1 billion after the past year's gain of 12.63%.
Over at education and talent development firm SMRT Holdings Bhd, Teniza Holdings Sdn Bhd acquired 10 million shares or a 2.5% stake during the period under review, to emerge as the third largest shareholder in the company. The purchase bumped its holding to 7.47% or 30.4 million shares.
Teniza is wholly owned by Indian national Kantamneni Keshav Narayan, according to the Companies Commission of Malaysia. In the second quarter ended June 30, 2019 (2QFY2019), SMRT Holdings fell 7.64% year on year deeper in the red with a RM6.31 million net loss despite a 15.1% y-o-y increase in revenue to RM30.04 million.
Last Wednesday, SMRT Holdings closed at 10 sen per share, down 35.48% over the past one year.
Notable movements
Rimbunan Sawit Bhd closed last Wednesday at 14.5 sen a share — a one-year low — for a market capitalisation of RM229.6 million. Over the past 12 months, the counter has fallen 48.21%.
Bursa filings during the period under review show that vice-chairman Tiong Kiong King had sold 1.26 million shares on the open market. As at Aug 27, he retained 13.94 million shares or just under 1% equity interest.
Kiong King is the brother of Tan Sri Tiong Hiew King, who founded the Rimbunan Hijau Group of Companies that controls Rimbunan Sawit. The loss-making planter remained in the red as at the second quarter ended June 30, with cumulative six-month losses amounting to RM28.06 million amid a 28% y-o-y decline in revenue to RM117.7 million.
HeiTech Padu Bhd saw Padujade Corp Sdn Bhd sell 1.17 million shares or a 1.15% stake in the company during the period under review, according to multiple filings from Aug 20 to 22.
Padujade Corp is the vehicle of president-cum-executive deputy chairman Datuk Seri Mohd Hilmey Mohd Taib. After the disposal, it still owns 29.35 million shares or a 29% stake.
Last Wednesday, HeiTech Padu's share price surged 11.21% to close at RM1.19, giving it a market capitalisation of RM120.5 million. Over the past one year, the technology stock has surged 128.85%.