This article first appeared in Capital, The Edge Malaysia Weekly, on June 10, 2019 - June 16, 2019.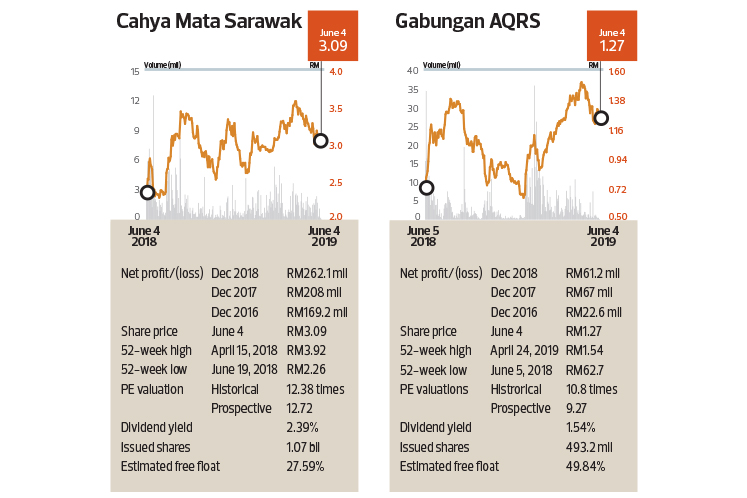 Notable filings
FROM May 27 to 30, notable changes in shareholding included those at plantation counter United Malacca Bhd (UMB). Prosper Palm Oil Mill Sdn Bhd tightened its grip on UMB by accumulating 463,300 shares and nudging its holding to 10.58% or 22.22 million shares.
Prosper first surfaced as a substantial shareholder in UMB in early July last year, controlling 16.51 million shares or a 7.86% stake in the plantation company.
In early March, Cheekah-Kemayan Plantations Sdn Bhd acquired a substantial stake in UMB, surfacing with 12.92 million shares or a 6.16% stake. Since then, it has increased its shareholding to 6.21%
Prosper and Cheekah-Kemayan have almost similar office addresses at Wisma Prosper in Kelana Centre Point, Kelana Jaya. If related, this could make Prosper group the largest shareholder in UMB with 16.79% equity interest.
UMB's stock hit a multiple-year low of RM5.15 on May 30. It has remained largely unchanged since then and closed at RM5.20 last Tuesday, giving the company a market valuation of RM1.09 billion.
At property company Menang Corp Bhd, Datuk Lee Chin Hwa sold off 211,200 shares during the week in review, cutting his stake to 26.87 million shares or 5.58% equity interest.
This is Lee's first sale of Menang shares since he surfaced as a substantial shareholder in early November last year with 24.08 million shares or a 5% stake.
Menang's stock hit a low of 31.5 sen on May 28, its lowest since September 2015. Since then, it has hardly budged, ending at 32.5 sen last Tuesday, which works out to a market capitalisation of RM156.3 million.
At semiconductor and IT services and solutions provider Globetronics Technology Bhd, Kumpulan Wang Amanah Persaraan (KWAP) ceased to be a substantial shareholder after selling two million shares. KWAP had surfaced as a substantial shareholder very recently, on May 23.
Since end-April, Globetronics has shed more than 25% of its value and closed at RM1.52 last Tuesday, giving it a market capitalisation of RM1.02 billion.
During the week in review, the Employees Provident Fund (EPF) disposed of 13 million shares in oil and gas company Bumi Armada Bhd, cutting its stake to 313.86 million shares or a 5.34% stake. The EPF, which held 417.04 million shares or 7.10% in Bumi Armada at end-March, has been aggressively trimming its stake .
The oil and gas company's stock has been volatile over the past month or so, hitting a high of 24 sen on May 7 and a low of 18 sen on May 23. Bumi Armada ended trading last Tuesday at 20 sen, valuing the company at RM1.17 billion.
Notable movements
Since mid-April, diversified Cahya Mata Sarawak Bhd's (CMS) shares have shed some 20% of their value. The counter closed at RM3.09 last Tuesday.
During this period of weakness, substantial shareholder Datuk Seri Sulaiman Abdul Rahman Taib acquired 1.53 million shares in the company, nudging his shareholding to 8.37%.
Sulaiman is the son of Tun Abdul Taib Mahmud, who was chief minister of Sarawak for 33 years and whose family controls 45% of CMS.
Apart from Sulaiman, pilgrim fund Lembaga Tabung Haji acquired 59,700 CMS shares during the week in review, strengthening its holding to 103.82 million shares or 9.67% equity interest.
Gabungan AQRS Bhd's stock hit a 52-week high of RM1.54 on April 24. Since then, however, the counter has shed about 17% to close at RM1.27 last Tuesday.
During the week in review, the EPF surfaced as a substantial shareholder with 25.07 million shares or a 5.08% stake in Gabungan AQRS. KWAP acquired 77,000 shares in the company, pushing its holding to 27.39 million shares or 5.55%.
AQRS has been touted as one of the potential contract winners for some packages of the RM44 billion East Coast Rail Link project.