This article first appeared in Capital, The Edge Malaysia Weekly, on November 18, 2019 - November 24, 2019.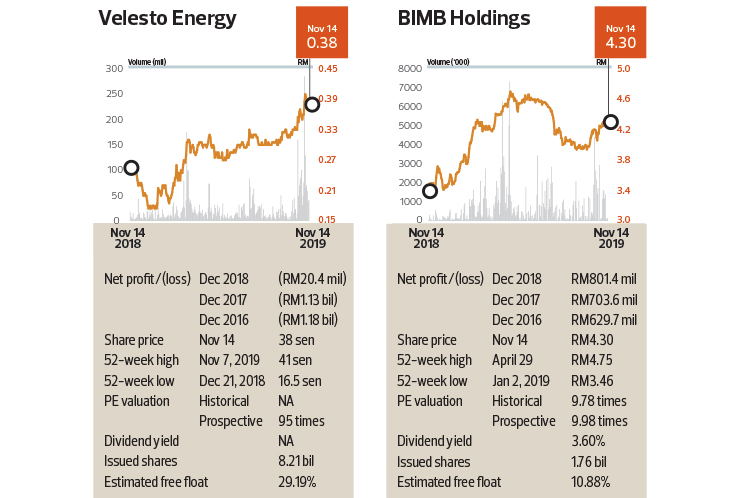 Notable changes
FOR the week of Nov 4 to 8, among the more notable changes in shareholding were those at TH Plantations Bhd. The Employees Provident Fund (EPF) ceased to be a substantial shareholder in the plantation company — which it had been since December 2014 — after it disposed of 7.93 million shares or 0.9% equity interest.
TH Plantations hit 29 sen on Sept 30, its lowest level since its initial public offering in April 2006. Over the past 12 months, the stock has shed more than 45% of its value.
At its close of 34 sen last Wednesday, the company had a market capitalisation of RM296.09 million. It has suffered four consecutive quarters of losses and for the six months ended June, it incurred a net loss of RM27.24 million from RM221.40 million in revenue.
At tile maker Seacera Bhd, Asiabio Capital Sdn Bhd accumulated 60.1 million shares or 12.51% equity interest during the week under review, making it the largest shareholder in the ailing company. For its financial quarter ended June 2019 (which would have been its final quarter had it not changed its year end to December), Seacera suffered a net loss of RM191.18 million from RM25.08 million in revenue.
Asiabio Capital is wholly owned by Fintec Global (formerly known as Asia Bioenergy Technologies Bhd).
At its close of 37 sen last Wednesday, Seacera had a market capitalisation of RM177.83 million. Fintec Global, which ended trading at seven sen on Wednesday, had a market value of RM44.53 million.
Over at APM Automotive Holdings Bhd, the EPF ceased to be a substantial shareholder after it sold 217,700 shares during the week in review. The provident fund started offloading APM shares in October. It surfaced as a substantial shareholder in early October 2016 with a stake of 5.38% and actively traded APM stock until May 2017.
APM hit RM1.99 on Nov 6, its lowest level since 2010, and closed last Wednesday at RM2.01, giving the company a market value of RM407.23 million.
Shapadu Capital Sdn Bhd hived off 14.5 million shares in LFE Corp Bhd, trimming its stake in the electrical and mechanical engineering services and maintenance group to 44.18 million shares or 21.61% equity interest.
Shapadu Capital, a unit of Shapadu Corp Sdn Bhd, is controlled by Datuk Shafiz Shahrani, the son of the late Datuk Shahrani Abdullah, a prominent businessman. Shapadu Capital surfaced as a substantial shareholder in LFE Corp in December 2015.
Shafiz resigned as executive director of LFE Corp in late August to "focus on his commitments to Shapadu group".
LFE Corp ended last Wednesday at 16 sen, translating into a market capitalisation of RM31.68 million.
Notable movements
Velesto Energy Bhd's share price hit a 52-week high of 41 sen in intraday trading on Nov 7. Its shares have gained about 30% from mid-September, buoyed by strong trading volume.
The EPF has been actively trading the shares, acquiring 15.71 million shares during the week under review, bumping its shareholding in the oil and gas company to 602.34 million shares or a 7.33% stake.
In early October, the EPF held 562.58 million shares or a 6.85% stake in Velesto Energy.
BIMB Holdings Bhd's shares have gained more than 9%, or 37 sen, since early October, closing at RM4.31 last Wednesday.
Trading volume has picked up as well. State-controlled unit trust fund Permodalan Nasional Bhd (PNB) acquired 1.65 million shares during the week under review, nudging its shareholding to 96.22 million shares or 5.45% equity interest. PNB has been buying BIMB shares over the past few weeks.