This article first appeared in Capital, The Edge Malaysia Weekly, on September 3, 2018 - September 09, 2018.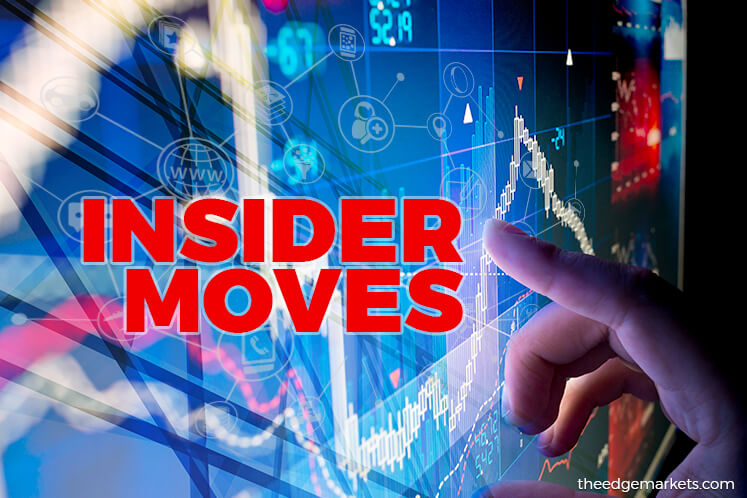 Notable filings
FROM Aug 20 to 24, notable shareholding changes included that at TA Enterprise Bhd. Veteran stockbroker Datuk Tony Tiah Thee Kian acquired just over 1% of the company's shares on the open market for prices just below his takeover offer.
The purchase of 17.69 million shares over three days (Aug 20, 21 and 24) cost a total of RM11.59 million, which works out to 65.5 sen per share — below his 66 sen buyout offer, which is open for acceptance until Sept 12.
Tiah — who is the co-founder and chairman of TA Enterprise — triggered the mandatory general offer on July 2. The collective holding of Tiah and parties aligned to him rose to 33.08% after they purchased shares on the open market at 61 sen to 66 sen each.
Cypark Resources Bhd chairman Tan Sri Razali Ismail continued to pare down his stake in the company, disposing of a total of 3.04 million shares or a 1.01% stake on Aug 21 and 24.
Razali — who was Cypark's largest shareholder with a 17.8% stake or 46.51 million shares as at June 29 last year, according to the company's 2017 annual report — began paring his holding about two months ago. He had 38.33 million shares or a 12.79% stake as at
Aug 24 this year. That makes group CEO Datuk Daud Ahmad — who held a 16.66% stake as at June 28 compared with 15.88% in January — the company's largest shareholder.
Other significant filings include Aabar Investments PJS' disposal of 120.3 million shares or a 3% stake in RHB Bank Bhd on Aug 21. Stock market data showed that a nearly 3% stake changed hands in direct deals off market at RM5.07 per share on Aug 15.
The disposal price was at a sizeable discount to the RM10.80 per share paid by Aabar when it acquired a 24.9% stake in RHB from its sister company, Abu Dhabi Commercial Bank, in June 2011. As at Aug 21 this year, Aabar was still RHB's second largest shareholder with a 14.75% stake, behind the Employees Provident Fund's 40.67% equity interest.
Over at Borneo Oil Bhd, its largest shareholder Victoria Capital Sdn Bhd disposed of 67.78 million shares or a 1.3% stake on the open market on Aug 24.
Following the disposal, Victoria Capital is left with 280.87 million shares or a 5.26% stake in the oil and gas outfit. It made a few significant purchases of Borneo Oil shares last year, with its stake in the company hovering between 6% and 7%, stock exchange filings show.
Notable movements
Construction group Ewein Bhd has seen its share price double since May, surging 105% to 80 sen on Aug 28 from 39 sen on May 8 — a day before the 14th general election.
Med-Bumikar Mara Sdn Bhd ceased to be a significant shareholder following the disposal of 10 million shares via an off-market transaction on Aug 24. As at April 6, it had 22.06% equity interest or 66.54 million Ewein shares.
After staying below the radar for the past three years, Ewein has gained some interest after reporting a profit of RM12.05 million in the first quarter of this year compared with a net loss of RM1.32 million in the fourth quarter of last year. On Aug 27, Ewein said net profit for the first half of the year ended June 30 was RM23.69 million compared with RM5.65 million in the previous corresponding period.
On Aug 21, YNH Property Bhd saw a sharp decline in its share price, which fell nearly 12% to close at RM1.17. On the following market day on Aug 23, the counter saw a sharp rebound to RM1.37, before continuing to climb to RM1.45 on Aug 28.
The rebound in the developer's share price coincided with a round of purchasing by YNH chairman Datuk Dr Yu Kuan Chon, who had trimmed his holding on Aug 15 and 16 before becoming a buyer. Between Aug 17 and 28, he bought just over 16 million shares to raise his stake to 29.395% or 154.43 million shares — of which 22.804% is held directly — as at Aug 28. That is just a shade below the 31.33% he held as at March 30, of which 25.75% was held directly.
Save by subscribing to us for your print and/or digital copy.
P/S: The Edge is also available on Apple's AppStore and Androids' Google Play.