This article first appeared in Capital, The Edge Malaysia Weekly, on April 16, 2018 - April 22, 2018.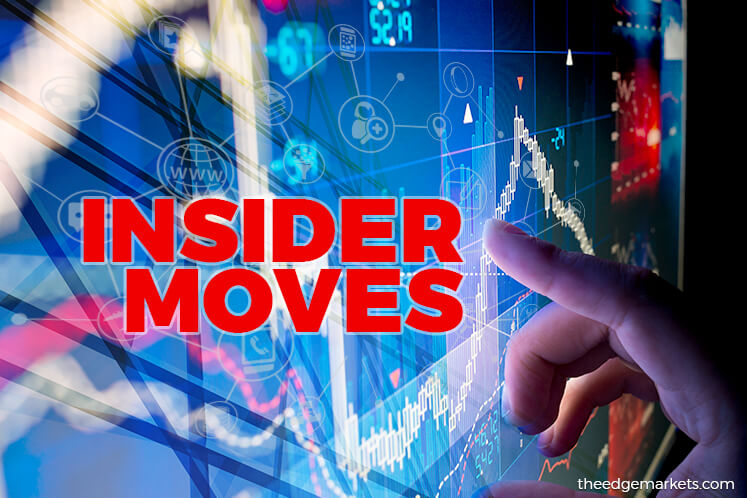 Notable filings
SARAWAK Consolidated Industries Bhd's substantial shareholder Tan Sri Amar Hamid Bugo bought an additional 3.1%, or 2.66 million shares, on April 4, according to an April 5 filing with Bursa Malaysia.
That has raised the total shareholding of Amar, who is also the chairman, to 16.17 million shares, or 18.82%. Sarawak Consolidated slipped into the red in the financial year ended Dec 31, 2017 (FY2017), with a net loss of RM258,000 compared with a net profit of RM1.59 million in the preceding year.
At Press Metal Aluminium Holdings Bhd, founder Tan Sri Koon Poh Keong bought more shares in the company. The controlling shareholder purchased 4.52 million shares between March 30 and April 4, raising his stake in the aluminium smelter to 39.4%.
Over at Penang-based RGB International Bhd, its single largest shareholder Datuk Chuah Kim Seah purchased 10 million shares via off-market transactions on April 2, raising his stake to 29.05%.
Kumpulan Wang Persaraan (Diperbadankan), or KWAP, increased its stake in Felda Global Ventures Holdings Bhd (FGV), purchasing 3.28 million shares on the open market on April 4. The civil servant pension fund now has 288.49 million shares, or a 7.9% stake in FGV, making it the second largest shareholder after Lembaga Kemajuan Tanah Persekutuan (FELDA).
Meanwhile, KWAP bought an additional 2.54 million shares in Serba Dinamik Holdings Bhd on the open market, raising its stake to 9.11%, or 133.7 million shares, making it the fifth biggest shareholder. Serba Dinamik controlling shareholder Datuk Mohd Abdul Karim Abdullah bought 874,000 shares on the open market, increasing his total shareholding to 337.9 million shares or 23.01%.
At Nexgram Holdings Bhd, Menang Harmoni Sdn Bhd disposed of 22.5 million shares on April 5. An April 9 filing shows that Menang sold another block of 20 million shares. It has ceased to be the substantial shareholder of Nexgram.
Notable movements
The share price of hardly traded Shangri-La Hotels (M) Bhd staged a strong rebound early last month. The stock surged from a five-year low of RM4.76 to RM5.69 on April 11 — the highest level since January 2016.
Kuok Brothers Sdn Bhd bought 3.29 million shares via direct business transactions on April 3, according to a filing withBursa.
The additional shares raised Kuok Brothers' stake in the hotel group to 101.55 million or 23.08% as at April 4.
Meanwhile, Aberdeen Asset Management Asia Plc has been trimming its stake. The fund manager has sold some 314,000 shares so far this month after disposing of 455,500 shares in March.
Shangri-La Hotels posted a lower net profit of RM72.19 million for the financial year ended Dec 31, 2017 (FY2017), compared with RM79.24 million the year before. Revenue, however, was higher at RM550.5 million, up 8.25% from RM508.5 million in FY2016.
MY EG Services Bhd's share price has reversed its upward trend, dipping to RM2.60 last Tuesday. Analysts say sentiment has turned cautious for companies heavily dependent on public projects ahead of the general election, citing MyEG as an example.
KWAP, however, seems to have taken advantage of the share price weakness, buying nine million shares on the open market on March 30 and April 4, filings show. KWAP is the second largest shareholder in MyEG with an 8.16% stake in the e-government service provider.
The stock has risen exponentially since the last general election in May 2013. It rallied from a low of 13.6 sen (adjusted price) to an all-time high of RM2.90 early this month.
Save by subscribing to us for your print and/or digital copy.
P/S: The Edge is also available on Apple's AppStore and Androids' Google Play.