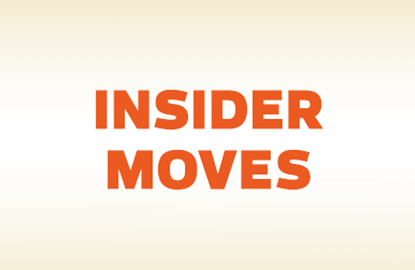 This article first appeared in The Edge Malaysia Weekly, on June 6 - 12, 2016.
Notable filings
BETWEEN May 23 and 27, shareholding changes on Bursa Malaysia included those by low-profile medical doctor-turned-stock market investor Datuk Dr Yu Kuan Chon, who shot to stardom in Corporate Malaysia three years ago for preventing Tan Sri Quek Leng Chan's Hong Leong Financial Group Bhd from taking Hong Leong Capital Bhd (HLCap) private.
YNH Property Bhd's substantial shareholder and executive chairman, Yu sold 1.7 million YNH shares on May 23 and 24 but bought 1.63 million shares on May 25 and 26, reducing his holding — direct and deemed — to 32.45% from 32.48% on May 20. A year ago, his holding (including deemed interest with his brother Datuk Yu Kuan Huat) was lower at 31.29%.
Separate filings also show that Yu bought 1.1 million shares of Imaspro Corp Bhd, a pesticide and fertiliser manufacturer, as well as 665,500 shares of Rapid Synergy Bhd, an investment holding company that has a 0.9% stake in HLCap, whose shares have been suspended.
Meanwhile, June 11 is the extended cut-off date for the fulfilment of the condition precedent of Yu's proposed acquisition of a controlling stake in Pan Malaysia Holdings Bhd, which is involved in the hospitality industry and has a 35% stake in loss-making PM Securities Sdn Bhd.
Over at Gadang Holdings Bhd, US-listed asset management company Franklin Resources Inc emerged as a new substantial shareholder on May 20 with a 5.04% stake after acquiring 13.04 million shares from the open market.
On April 28, Gadang posted a 55.3% jump in 3QFY2016 net profit, mainly due to improved profit margins. With an outstanding construction order book of RM889.5 million and unbilled property sales of RM243.5 million, the company expects FY2016 to be another record year.
WCT Holdings Bhd also drew interest from funds. During the week in review, Lembaga Tabung Haji bought 1.1 million shares while the Employees Provident Fund and Kumpulan Wang Persaraan acquired 334,500 shares and 298,100 shares respectively.
Notable movements
On May 30, Raya International Bhd and Mexter Technology Bhd were queried by the stock exchange for unusual market activity after their shares saw sharply higher volumes. Both companies said they were unaware of any reasons for the occurrence but Mexter pointed to the emergence of a new major shareholder.
Mexter's shares rose sharply on May 27, the same day two substantial shareholders sold stakes at above market prices. Its managing director Ivan Sia Teck Fatt sold some 10 million shares or a 5.1% stake in two direct deals off market, paring his holding to 11.2 million shares or a 5.7% stake. On the same day, Mexter's non-executive director Kuan Khian Leng ceased to be a substantial shareholder after disposing of 51.6 million shares or a 26.2% stake at 15 sen apiece, which was significantly above the 7 sen to 13.5 sen the shares were fetching on the open market before closing at 12.5 sen.
On May 27, Lim Yin Chow emerged as a new substantial shareholder with a 28.4% stake held through LYC Capital Sdn Bhd, a May 30 filing shows. Lim was a non-executive director of Stemlife Bhd, Signature International Bhd and Rev Asia Bhd.
Meanwhile, Raya International's substantial shareholder Water Beaute World Bhd, which is an investment vehicle for Lee Chee Hoon, Lui Leong Eng and Gan Siew Eng, acquired one million shares, raising its stake to 12.2% from 8% on April 14. The loss-making air and water filter manufacturer proposed to issue up to 20.5 million special bumiputera shares to fund its diversification into a new core business, oil bunkering.
Last December, its subsidiary Selatan Bunker (M) Sdn Bhd signed a collaboration agreement with oil bunkering services provider Tumpuan Megah Development Sdn Bhd, which is 97%-owned by Phoenix International Ltd. Tumpuan Megah's directors are Datuk Seri Ahmad Said Hamdan, Raja Ismail Raja Mohamed and Tengku Baharuddin Sultan Mahmud.