This article first appeared in Capital, The Edge Malaysia Weekly, on August 20, 2018 - August 26, 2018.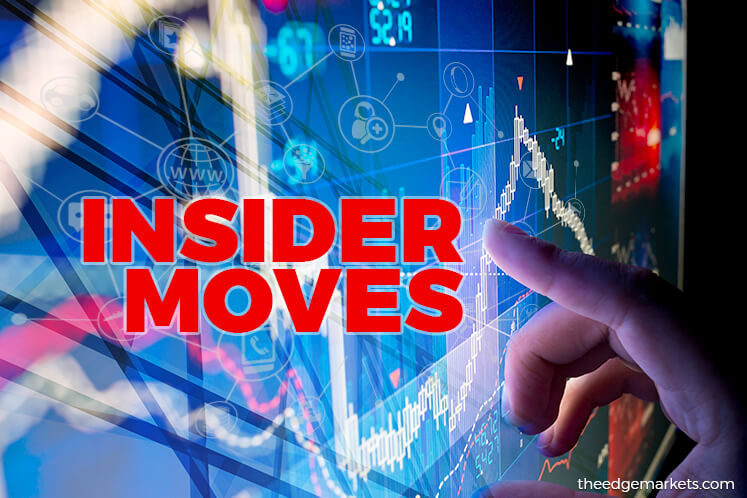 Notable filings
BETWEEN Aug 6 and 10, notable shareholding changes in companies listed on Bursa Malaysia included that at Pimpinan Ehsan Bhd, which assumed the listing status of TRIplc Bhd.
According to filings, PED Holdings (M) Sdn Bhd acquired 15.27 million Pimpinan Ehsan shares or a 22.08% stake off market on Aug 8 and 9, making it a substantial shareholder. Following the acquisition, Yahaya Shukor and Udzer Abdul Karim, who own 60% and 40% equity interest in PED respectively, also emerged as substantial shareholders of Pimpinan Ehsan.
Meanwhile, Pembinaan Era Dinamik Sdn Bhd — owned by Mohamad Yazi Ramlan and Yahaya — ceased to be a substantial shareholder of Pimpinan Ehsan after it disposed of its entire 22.08% stake. For perspective, Yahaya is changing his business partner from Mohamad Yazi to Udzer, and is holding the shares of Pimpinan Ehsan indirectly through PED, instead of Pembinaan Era Dinamik.
A Practice Note 16 company, Pimpinan Ehsan has yet to identify a core business after disposing of TRIplc to Puncak Niaga Holdings Bhd for RM210 million cash.
Over at Handal Resources Bhd, group managing director Sunil-deep Singh Dhaliwal, Tengku Munawir Islahuddin Tengku Noone Aziz and Mohamad Ismail have increased their stake in the offshore crane service company to 11.12%.
The trio, through their Sabah-based private vehicle, Borneo Seaoffshore Sdn Bhd, acquired six million shares or a 3.76% stake in a direct transaction on Aug 9. According to filings, Borneo Seaoffshore bought the stake from Handal chief operating officer Zahari Hamzah, whose equity interest has been reduced to 5.92%, or 9.45 million shares.
Renowned investor Koon Yew Yin continued to pare down his stake in JAKS Resources Bhd, which has been embroiled in a court case with Star Media Group Bhd.
Koon, a retired civil engineer, who co-founded IJM Corp Bhd and Gamuda Bhd, disposed of a 1.1% stake between July 20 and 25, bringing his holding in the company to 20%. He continued to reduce his stake to 17.9% in end-July, subsequently to 14.7% early this month and then, down to 13% as at last Monday.
At Jiankun International Bhd, managing director Datuk Lee Kian Seng mopped up 5.36 million shares or a 3.2% stake on Aug 7 and 8. To date, he owns 33.23 million shares or 19.92% equity interest in the property firm.
Notable movements
Frontken Corp Bhd — a service provider of surface engineering in Asia-Pacific — saw its share price jump to its 52-week high of 76 sen last Wednesday, giving it a market capitalisation of RM796 million.
German firm CP Asia Holding GmbH disposed of 290.99 million Frontken shares or a 27.76% stake on Aug 8 and ceased to be a substantial shareholder. Bloom-berg data shows the shares were sold between 38 sen and 65.5 sen apiece.
According to filings, Dazzle Clean Ltd emerged as a substantial shareholder of Frontken after acquiring 290.99 million shares or a 27.76% stake on Aug 3. Dazzle Clean is a Cayman Islands-incorporated firm, in which Frontken chairman and CEO Ng Wai Pin and Singaporeans Yong Ming Chong and Tan Keng Soon are deemed to have an interest.
Pesticide manufacturer Imaspro Corp Bhd saw its share price rebound 22% from RM1.87 on July 4 to close at RM2.29 last Wednesday, giving it a market capitalisation of RM183 million.
According to filings, YNH Property Bhd chairman Datuk Dr Yu Kuan Chon divested 2.43 million shares or a 3% stake in Imaspro between Aug 6 and 10. After the disposal, he is left with 15.627 million shares or a 19.5% stake.
Save by subscribing to us for your print and/or digital copy.
P/S: The Edge is also available on Apple's AppStore and Androids' Google Play.