This article first appeared in Capital, The Edge Malaysia Weekly, on April 29, 2019 - May 05, 2019.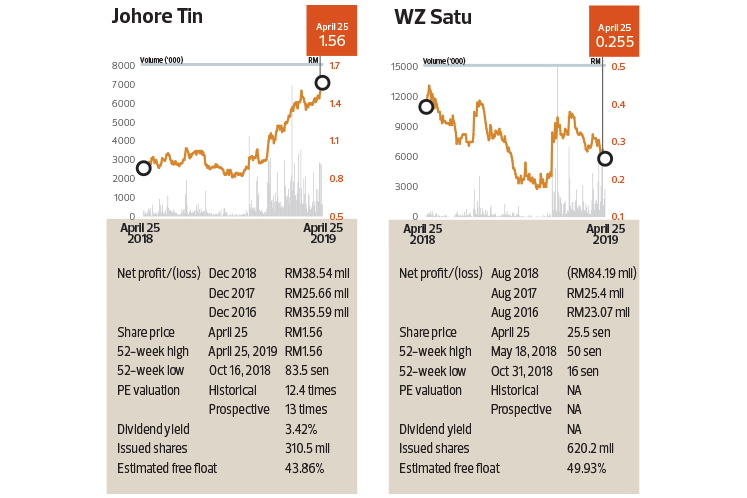 Notable filings
DURING the week of April 15 to 19, notable changes in shareholdings of companies listed on Bursa Malaysia included the disposal of 25.64 million shares, or a 4.23% stake, in Orion IXL Bhd by non-independent, non-executive director Yahya Razali at 17.2 sen per share.
Following the disposal on April 17, he ceased to be a substantial shareholder of the group. The following day, he sold off the remainder of his shares at 17.9 sen per share. It is not known if Yahya has resigned from the board.
The group is in the midst of placing out up to 30% of its shares at 16.5 sen apiece in a bid to raise about RM29 million. Of this, RM10 million will be utilised for the acquisition of a 10% stake in Sukaniaga Sdn Bhd from THO Travel & Tours Sdn Bhd.
Sukaniaga, together with Orion IXL's subsidiary Ganda Integrasi Sdn Bhd, is developing an online loan application and processing system for MyAngkasa Holdings Sdn Bhd, a wholly-owned subsidiary of Angkatan Koperasi Kebangsaan Malaysia Bhd.
On April 11, Reach Energy Bhd's largest shareholder Shahul Hamid Mohd Ismail disposed of 25 million shares of the former special purpose acquisition company off market. The shares were held by Reach Energy Holdings Sdn Bhd.
The sale comes on the heels of Bursa Malaysia's approval for the upliftment of 127.81 million shares of Reach Energy, or 50% of the 255.6 million moratorium shares held by the promoters of the company on Nov 27, 2018. The disposal trims Shahul's stake in Reach Energy to 21.1%.
In the shareholder tussle at Seacera Group Bhd, Datuk Tan Wei Lian increased his stake in the ceramic products manufacturer to 16.36% after acquiring a total of 12.5 million shares on April 15 and 17.
On April 15, Seacera said it had received notice for an extraordinary general meeting (EGM) to be held on May 15, issued by Tan, Datin Sek Chian Nee, Jeannie Ooi Chin Nee and Liu Zhen.
However, on April 19, Seacera announced that the EGM notice was unlawful, null and void, as Tan and the other parties, as at April 15, did not hold 10% of the issued share capital of the company in aggregate.
On April 19, Seacera sought to stop the EGM, which it deems as illegal, from being held by filing an originating summons against Tan and the other parties. The company's application for an injunction was heard on April 25.
Notable movements
The share price of Johore Tin Bhd has been on an upward trend. Year to date, it has rallied by 61.5% to close at RM1.55 last Wednesday.
On April 15, group CEO Edward Goh Swee Wang acquired two million shares or 0.65% of its issued shares at RM1.56 per share. Edward is the son of Goh Mia Kwong, the largest shareholder of the group, who owns 16.96% of the tin can and container manufacturer.
On the same day, Lim Hun Swee disposed of a similar number of Johore Tin shares at RM1.56 per share. On April 22, he sold eight million shares to Ng Keng Hoe at the same price, paring down his stake to 8.13%. Ng has become the second largest shareholder with a 13.09% stake.
At WZ Satu Bhd, Tan Jing Xin ceased to be a substantial shareholder of the civil engineering and infrastructure construction group after disposing of three million shares in an off-market trade on April 15, and transferring 10 million shares to her sister Tan Jing Jia on April 16.
During the period under review, the counter shed 16.4% of its value to 25.5 sen per share. However, it is still up 39.5% year to date.