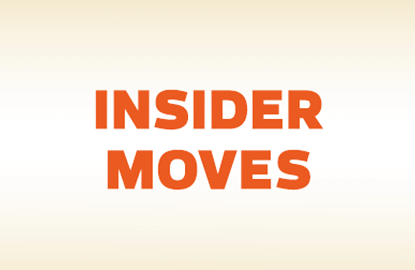 This article first appeared in Capital, The Edge Malaysia Weekly, on January 18- January 24, 2015.
Notable filings
From Jan 4 to 8, notable shareholding changes in companies listed on Bursa Malaysia included those involving companies linked to Tan Sri Ong Leong Huat, group managing director and CEO of OSK Holdings Bhd.
At mTouche Techology Bhd, filings show OSK Technology Ventures Sdn Bhd emerging as a substantial shareholder. The latter acquired a 17.8% stake or 38.3 million shares from its sister company, OSK Capital Partners Sdn Bhd, on Dec 14 through an off-market direct business transaction. The shares crossed at 13 sen apiece.
Both buyer and seller are linked to Ong. OSK Capital Partners is OSK group's capital financing arm and a licensed moneylender. By virtue of his interest in OSK Technology Ventures, Ong is mTouche's second largest shareholder after YM Raja Hizad Raja Kamarulzaman, whose interest is held through a private company called Homegrown Media Sdn Bhd.
Separately, OSK Capital Partners disposed of a 3.2% stake or 6.9 million shares in Willowglen MSC Bhd, a computer-based control systems developer, to OSK Technology Ventures. The shares changed hands at 69 sen apiece on Dec 15. A day later, OSK Capital Partners sold another 12 million shares — also at 69 sen apiece — in Willowglen MSC off market to the same sister company and ceased being a substantial shareholder. As at press time, OSK Capital Partners still holds 12 million shares or 4.9% equity interest in Willowglen MSC.
Elsewhere, Testa Holdings Ltd, the largest shareholder of XingHe Holdings Bhd, sold 35.3 million shares or a 1.5% stake in the edible vegetable oil producer in the last trading day of 2015, paring its holdings to 55.4%.
Notable movements
Shares of oil and gas special purpose acquisition company (SPAC) Sona Petroleum Bhd closed as high as 45.5 sen on Nov 2 last year but has since eased to close at 44.5 sen last Wednesday. Before mid-September last year, the stock largely stayed below the 43 sen level.
Incidentally, filings show that Sona's second largest shareholder, Credit Suisse Securities (Europe) Ltd UK, has been selling its shares since mid-September. On Jan 6, Credit Suisse Securities sold 26.2 million shares or 1.87% equity interest, leaving it with a 9.13% stake or 128.8 million shares in the SPAC. It had as much as 10.97% equity interest or 154.73 million shares as at Sept 9, 2015.
Sona, which has until July 29 this year to make a qualifying acquisition (QA), last month submitted an application to the Securities Commission Malaysia to purchase a 100% stake in the Stag oilfield in Western Australia for US$50 million (RM219.1 million) — to be used as its QA — from Quadrant Northwest Pty Ltd and Santos Offshore Pty Ltd. Should Sona Petroleum fail to acquire a QA by the deadline, 90% of its IPO funds, which have been placed in a trust account, would be returned to shareholders with interest. Cash of around 45 sen to 48 sen per share will also be returned to shareholders who are opposed to the QA.
Meanwhile, according to a Jan 4 filing, Lembaga Tabung Haji briefly ceased being a substantial shareholder of Borneo Aqua Harvest Bhd after disposing of 21 million shares or a 4.9% stake in the Sabah-based marine aquaculture firm on Dec 29. Stock market data shows that 21 million shares were swapped in direct deals on Dec 29 at RM1.16 apiece — the closing price that day for the stock, which has begun retracing its gains after hitting a 52-week high of RM1.26 on Nov 27, 2015. The buyer was not immediately known but Tabung Haji is again a substantial shareholder after acquiring 105,000 shares on Jan 6.
It is worth noting that Borneo Aqua had, in November 2015, proposed to diversify from its existing core business of fish breeding to include the mining of minerals. This came after the company paid its managing director Datuk Lo Fui Ming and two others RM131 million for Wullersdorf Resources Sdn Bhd. Wullersdorf will lease 317.7ha in Bukit Mantri in Tawau, Sabah, to mine gold, silver and copper from Lo's Southsea Gold Sdn Bhd, which has a 35-year concession to mine a 1,000ha tract. The purchase will be satisfied with 104.5 million new shares and 34.8 million irredeemable convertible preference shares at 94 sen apiece.