This article first appeared in Capital, The Edge Malaysia Weekly, on February 3, 2020 - February 09, 2020.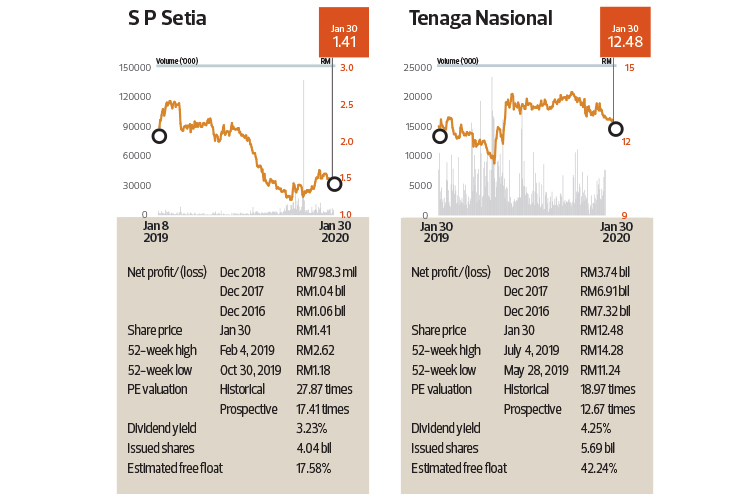 Notable filings
BETWEEN Jan 20 and 23, among the more notable changes in shareholding occurred at diversified MMC Corp Bhd.
According to a Jan 20 filing with Bursa Malaysia, the Employees Provident Fund (EPF) ceased to be a substantial shareholder of MMC on Jan 15 after selling four million shares. The last time the EPF's shareholding in MMC fell below 5% was in February 2017.
MMC's stock hit 79.4 sen — its lowest since 2009 — in early February last year. Since then, it has gained about 15%, closing at 91.5 sen last Wednesday. This gave the company a market value of RM2.79 billion, trading at price-earnings multiples of about nine times and an indicated gross dividend yield of 4.35%.
On Jan 23, Datuk Kasi KL Palianappan sold 3.77 million shares in property developer MK Land Holdings Bhd, trimming his stake to 189.4 million shares or 15.72% equity interest.
Kasi, one of the founders of MK Land, ceased to be a director of the company in December 2017, as he was not re-elected at the company's 38th annual general meeting.
MK Land's stock hit a 10-year low of 15 sen on Jan 28. At its close of 15 sen last Wednesday, the company had a market capitalisation of RM181 million.
On Jan 20, Ho Hup Construction Co Bhd announced that businessman Datuk Mah Siew Kwok ceased to be a substantial shareholder on Jan 17 due to changes and amendments in the Companies Act, 2016.
Based on section 8(4) of the act, Mah is no longer a substantial shareholder in Ho Hup as he is a non-executive vice chairman of Omesti Bhd not having executive authority, and holding 19.992% equity interest in Omesti---as opposed to the 20% threshold.
According to Bloomberg data, Omesti had 12.08% in Ho Hup as at Dec 21, 2018.
Rex Industry Bhd sold 600,000 shares in Hwa Tai Industries Bhd and ceased to be a substantial shareholder in the company on Jan 22. While Hwa Tai is a biscuit manufacturer, Rex is involved in the manufacturing of canned food, beverages and confectionery.
Rex first surfaced as a substantial shareholder in Hwa Tai in June 2016 when it acquired 4.2 million shares or 5.61% of the biscuit manufacturer.
In June 2016, Hwa Tai's share price averaged 53.5 sen but it averaged 30.1 sen in January this year. It is also noteworthy that the company has suffered seven consecutive financial quarters of losses. Last Wednesday, it closed at 33.5 sen, translating into a market value of RM25 million for the company.
Notable movements
S P Setia Bhd's stock hit a multiple year low of RM1.18 on Oct 30 last year due to the slump in the property sector. Its stock has since gained more than 20% and it closed at RM1.42 last Wednesday.
In this period of weakness, both the EPF and Kumpulan Wang Persaraan (Diperbadankan), or KWAP, have been nibbling at S P Setia's stock. During the period in review, the EPF acquired 1.51 million shares, pushing its holding to 493.34 million or 12.2%, while KWAP purchased 8.47 million shares, increasing its stake to 379.73 million shares or 9.39%.
Both the EPF and KWAP have also been buying shares in utility outfit Tenaga Nasional Bhd. TNB's stock fell 10.28% from RM14 last November to close at RM12.56 last Wednesday.
During the period in review, the EPF picked up 1.97 million shares in TNB, nudging up its holding to 890.3 million or 15.66%. KWAP meanwhile bought 5.75 million shares in TNB, strengthening its holding to 331.67 million or 5.11%.
Note: The print version of this article stated that Mah had ceased to be a substantial shareholder in Ho Hup due to a share sale. The error is regretted.