This article first appeared in Capital, The Edge Malaysia Weekly, on December 23, 2019 - December 29, 2019.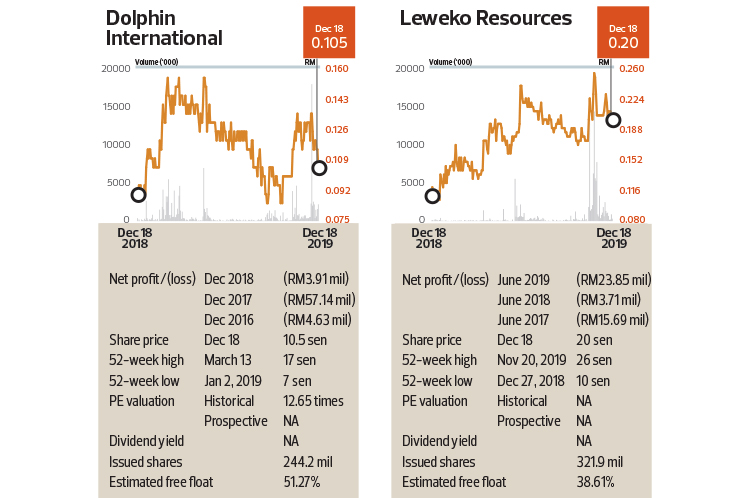 Notable filings
BETWEEN Dec 9 and 13, notable shareholding changes in companies listed on Bursa Malaysia included that at Petroliam Nasional Bhd (Petronas) and other government-linked investment companies (GLICs). The national oil and gas (O&G) company disposed of about RM6 billion worth of shares in three of its public-listed subsidiaries.
On Dec 9, Petronas disposed of 228.28 million shares, or a 5.11% stake, in its shipping arm MISC Bhd, according to the latter's filing with the
exchange. After the disposal, Petronas has a 57.6% equity interest in the liquefied natural gas carrier.
On the same day, Petronas also sold 59 million shares or a 5.94% stake in its marketing arm, Petronas Dagangan Bhd (PetDag), and 191.15 million shares or a 9.66% stake in its gas business arm, Petronas Gas Bhd (PetGas). The disposals reduced Petronas' stake in the two subsidiaries to 64% and 51% respectively.
Petronas issued a statement explaining that the disposals were part of its portfolio management strategy. It noted that the disposals also allowed for more local participation and ownership in PetDag and PetGas, which are two of 30 constituent stocks of the FBM KLCI.
Meanwhile, the Employees Provident Fund acquired 88.75 million shares, or a 2% stake, in MISC on Dec 6, 9 and 10. The pension fund also acquired a small block of 223,400 shares in PetDag on Dec 4.
On Dec 11 and 12, Kumpulan Wang Persaraan (Diperbadankan) (KWAP) acquired 115.16 million shares or 5.82% equity interest in PetGas. The acquisitions made KWAP a substantial shareholder of PetGas after it almost doubled its stake to 10.55%.
Another GLIC that made its presence felt in the stock market was AmanahRaya Trustees Bhd through its Skim Amanah Saham Bumiputra (ASB).
The trust fund acquired 50 million shares or a 0.73% stake in Sime Darby Plantation Bhd on Dec 10, while Sime Darby Bhd announced on Dec 9 that the trust fund had acquired 79.42 million shares or a 1.17% stake.
The trust fund was the largest shareholder of both Sime Darby and Sime Darby Plantation, with 41.52% and 44.7% stakes respectively, as at Dec 17.
On Dec 12 and 13, Velesto Energy Bhd announced to Bursa that ASB had disposed of 169 million shares, reducing its stake in the upstream O&G engineering services by 2.06% to 34.67%.
At Caring Pharmacy Group Bhd, Tan Sri Dr Lim Wee Chai, founder and executive chairman of Top Glove Corp Bhd, emerged as substantial shareholder on Dec 9 after acquiring 12 million shares or a 5.5% stake.
Notable movements
Dolphin International Bhd's share price dropped 11.1% to 12 sen per share during the week under review as the palm oil mill system integrator announced that a substantial shareholder Chua Seong Seng had disposed of 1.43 million shares or a 0.6% stake in the company.
Chua sold the shares on Dec 6, trimming his shareholding to 6.7% on Dec 9. On Dec 6, Dolphin was trading between 13.5 sen and 15.5 sen per share. Year to date, the counter appreciated 64.3% to close at 11.5 sen last Tuesday, valuing the company at RM28 million.
The loss-making company is in the midst of placing new shares representing not more than 10% of its share base to third party investors, seeking to raise maximum gross proceeds of RM3.6 million.
At Leweko Resources Bhd, Lambang Insan Sdn Bhd ceased to be a substantial shareholder after disposing of 10 million shares or a 3.1% stake on Dec 12. The counter was trading at between 20.5 sen and 21.5 sen that day.
Lambang Insan is owned by Ramelle Ashram Ramli and Putri Azalea Ashram Ramli. Prior to the disposal, Lambang Insan held a 6.2% stake in the Perak-based timber logging and precast concrete company.
During the period under review, the counter lost 8.9% to 20.5 sen per share last Tuesday. Year to date, the loss-making group's market value, however, appreciated 78.3% to RM66 million, based on the 20.5 sen per share the counter was trading at last Tuesday.