This article first appeared in Capital, The Edge Malaysia Weekly, on May 14, 2018 - May 20, 2018.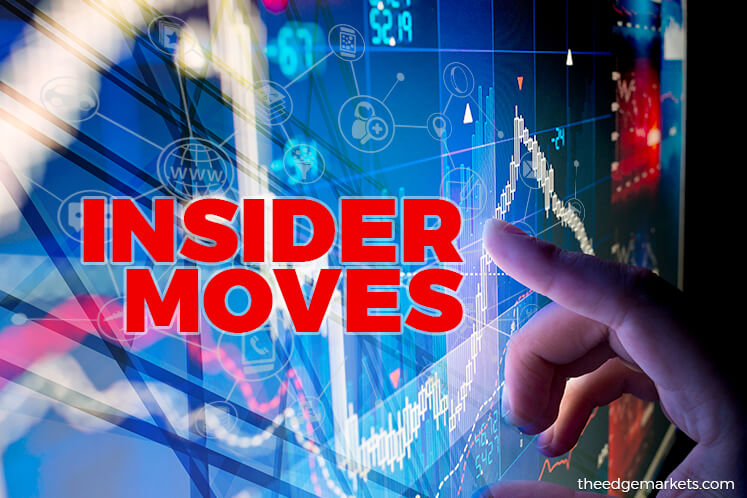 Notable filings
MINETECH Resources Bhd saw the emergence of a new substantial shareholder, Bertam Roadbase Sdn Bhd, which bought 120 million shares, or 13.6% equity interest, on April 27. Bertam is now the second largest shareholder in Minetech after Choy Sen, who holds a 19.61% stake.
Multi-Usage Holdings Bhd's substantial shareholder, Topazvest Temasek Sdn Bhd, sold its entire 27.1% stake on April 30 by virtue of a Penang High Court order, according to a May 2 filing with Bursa Malaysia. The block of shares was sold to Interasia Bluechip Sdn Bhd.
Over at Unisem (M) Bhd, controlling shareholder John Chia has been buying shares on the open market. While the share price was under heavy selling pressure, the chairman and managing director bought 492,100 shares on April 27 and 30 and, as at May 2, he held 58.9% equity interest or 119.5 million shares.
Tiong Nam Logistics Holdings Bhd also saw its substantial shareholder, TNTT Realty Sdn Bhd, buy more shares on the open market as its share price headed south. TNTT Realty acquired 2.5 million shares, or a 0.5% stake, on April 27, according to a May 2 filing. TNTT currently holds 116.85 million shares or 25.6% equity interest.
Special Flagship Sdn Bhd bought an additional 3.35 million shares in SMRT Holdings Bhd between April 26 and 30. The purchases bumped up its holding to 70.9 million shares or a 17.5% stake. Special Flagship is the largest shareholder of SMRT Holdings.
Notable movements
Excel Force MSC Bhd's share price has lost its footing since the beginning of the year. The counter had fallen from a peak of RM1.61 in January to a one-year low of 98 sen last Tuesday.
However, substantial shareholder Wong Thean Soon, or T S Wong, appears to be taking advantage of the share price weakness, accumulating Excel Force shares over the past few weeks to raise his direct holding.
Wong, who is also a substantial shareholder of My E.G. Services Bhd, bought 550,000 Excel Force shares on the open market on May 3.
The latest filings with Bursa show that he has continued to mop up shares. Wong bought two million shares on May 7 and an additional 500,000 on May 8. His direct stake in Excel Force has risen to 1.82% or 7.55 million shares. He holds an indirect stake of 21.77%, or 97.77 million shares, through Asia Internet Sdn Bhd, making him the largest shareholder.
Berjaya Assets Bhd's (BAsset) share price has been drifting lower in the past 12 months from a high of 70 sen in late May last year to a low of 39.5 sen. The stock has rebounded of late, closing at 47 sen last Tuesday. The share price weakness seems to have prompted Johor royalty to accumulate more shares on the open market.
Filings with Bursa show that Sultan Ibrahim Sultan Iskandar of Johor bought an additional 2.31 million shares, or 0.9% equity interest, in BAsset from April 24 to 27. The sultan bought an additional 2.5 million shares from April 30 to May 7, raising his stake to 11.98%, or 306.5 million shares.
Save by subscribing to us for your print and/or digital copy.
P/S: The Edge is also available on Apple's AppStore and Androids' Google Play.