This article first appeared in Capital, The Edge Malaysia Weekly, on July 8, 2019 - July 14, 2019.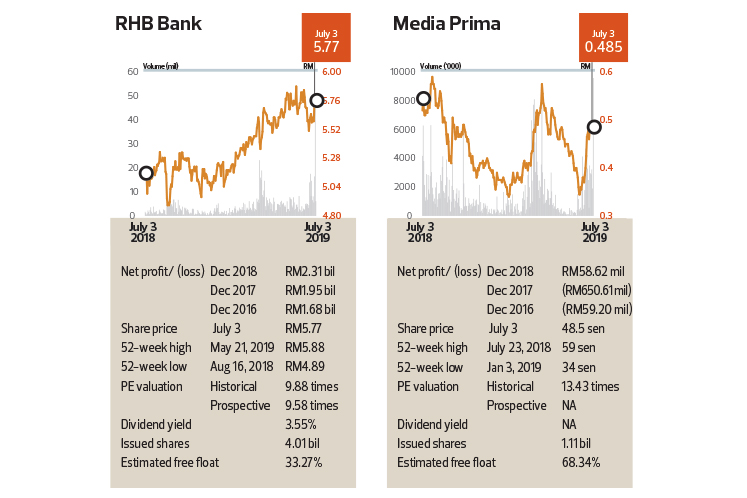 Notable filings
BETWEEN June 24 and 28, notable filings of shareholding changes included those at Metronic Global Bhd. A June 24 filing shows that Tan Sri Lee Kim Yew, founder and executive chairman of Country Heights Holdings Bhd, had raised his holding in the provider of building management engineering solutions.
Lee bought 20 million Metronic shares on June 21, increasing his direct stake to 224 million shares or 19.78%. He likely paid seven sen each based on off-market data. He first emerged as a substantial shareholder on May 24 after acquiring 200 million shares that represented a 20.77% stake, likely at 7.5 sen each, based on off-market data.
On May 24, filings show that Ooi Chieng Sim had sold 24.2 million shares and 27.7 million shares through Hock Lok Siew Realty Sdn Bhd and Skylitech Resources Sdn Bhd respectively, paring his holding to 106.13 million shares or 11.02%.
Metronic shareholders, Lagenda Perdana Sdn Bhd and Ng Wai Yuan, have called for an extra­ordinary general meeting on July 15 to appoint Loh Chye Teik, Seah Soo Chang, Kok Chee Hong and Choo Chung Tiong to replace the company's existing directors.
On May 9, Metronic filed a suit against 11 shareholders — including Ooi, Lagenda Perdana and Ng — claiming that they are parties acting in concert that control around 39% of the company but have not undertaken a mandatory general offer. Metronic closed at 7.5 sen last Wednesday.
Notable movements
Closing at RM5.77 last Wednesday, shares of RHB Bank Bhd were up 48 sen or just over 9% year to date, despite easing 4.9% from an intra­day high of RM6.07 on April 30. Analysts polled on Bloomberg are overwhelmingly bullish on the Employees Provident Fund-controlled banking group, with only one "hold" recommendation versus 16 "buy" calls. The consensus target price was RM6.40 at the time of writing.
RHB's share price has held firm following news that Aabar Investments PJS is no longer a substantial shareholder after placing out shares at a discount to open market prices. A unit of Abu Dhabi sovereign wealth fund Mubadala Investment Co, Aabar sold 231 million RHB shares via a block trade agreement with JPMorgan Securities (M) Sdn Bhd and CIMB Investment Bank Bhd on June 19.
While the transacted price was not disclosed in the filing, the 231 million shares would have fetched RM1.26 billion at RM5.45 apiece, which was the price some 251.98 million shares had changed hands at in 30 direct deals on June 20.
Aabar will need to wait until late August to sell its remaining 169.5 million shares or 4.23% stake as there is a 60-day lock-up period post-placement. Aabar, which pared its holding to 14.75% after selling 120.3 million RHB shares in August last year, further trimmed its stake by 191 million shares to 9.988% on March 11. Stock market data shows that 110.2 million shares were transacted in direct deals at RM5.45 each on March 6.
The EPF, which sold 1.47 million RHB shares on March 11, merely took up 25 million shares on June 20, raising its stake to 41.18%, filings show. It had 40.62% equity interest in the bank as at mid-February.
Meanwhile, closing at 48.5 sen last Wednesday, shares of Media Prima Bhd were up 14 sen or 40.6% year to date. However, the counter is still about 18.5% shy of its highest close this year of 57.5 sen on March 15.
On July 2, a total of 123.02 million shares or a 11.09% stake changed hands in a single direct deal for RM73.8 million or 60 sen per share — a 23.7% premium to the open market price of 48.5 sen that day but below its unaudited net asset per share of 66.63 sen as at March 31.
The 11.09% stake matches that held by Gabungan Kesturi Sdn Bhd. Citing sources, The Edge Financial Daily reported on July 3 that Umno sold its 11.09% stake to Tan Sri Syed Mokhtar Albukhary, who already owns equity in Utusan Melayu (M) Bhd and TMR Media Sdn Bhd, which owns The Malaysian Reserve. Through Altima Inc, Umno still has a 7.96% stake in Media Prima.