This article first appeared in Capital, The Edge Malaysia Weekly, on December 3, 2018 - December 09, 2018.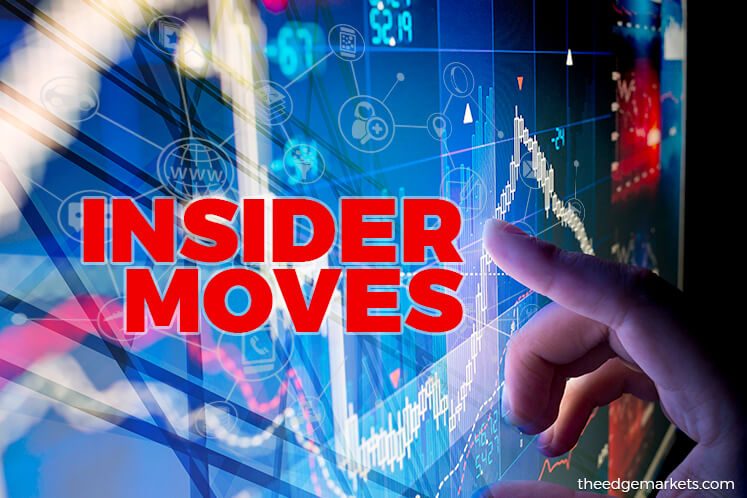 Notable filings
BETWEEN Nov 19 and 23, notable filings with Bursa Malaysia included the shareholding changes at Magni-Tech Industries Bhd. On Nov 21, Siyasi Sdn Bhd emerged as the third-largest shareholder with 10.81 million shares or a 6.64% stake after buying Datuk Kamarudin Jaafar's entire holding at undisclosed prices.
As at Aug 13, managing director Tan Poay Seng was Magni-Tech's largest shareholder with a 21.44% stake, followed by executive chairman Tan Sri Tan Kok Ping with 18.67%.
There were no direct or crossed trades off market on Nov 21, which saw an open-market volume of only 29,200 shares. The RM4.60 closing price that day valued the 6.64% stake at RM49.74 million. The stake would only be worth RM45.2 million at RM4.18 apiece, the price at which two million shares changed hands in three direct deals on Nov 16. Filings show that Poay Seng and Kok Ping bought two million shares on that day.
Magni-Tech manufactures and sells garments as well as a wide range of corrugated and flexible plastic packaging products. Closing at RM4.45 last Wednesday, the stock was down 20.84% year to date.
Meanwhile, businessman Datuk Seri Goh Choon Kim upped his stake in undergarments manufacturer Caely Holdings Bhd to 25.93 million shares or a 32% stake after buying eight million shares, or roughly 10% equity interest, from Ni Hsin Resources Bhd. Goh first emerged in Caely Holdings in late August with a 6.6% stake.
Ni Hsin, which said it will use the RM1.5 million gain on disposal for working capital, had 6.79 million shares or 8.39% after the sale.
Over at TA Enterprise Bhd, filings show that major shareholder Datuk Tony Tiah Thee Kian picked up 2.36 million shares on the open market between Nov 19 and 23, bumping up his holding to 676.21 million shares. Up until Nov 28, Tiah had 677.23 million shares or a 39.56% stake.
Recall that Tiah had launched a mandatory general offer (MGO) of 66 sen per share in July after his overall interest in the company crossed the 33% threshold. The bid, which was deemed "not fair and not reasonable" by independent advisor BDO Capital Consultants Sdn Bhd, failed to push Tiah's stake over 50% and therefore did not meet acceptance conditions on Sept 12.
Tiger Synergy Bhd's new substantial shareholder Goh Ching Mun continued to increase his stake. During the period under review, he bought 45.91 million shares to end the week with 134.41 million shares or 19.1%. Goh first surfaced in Tiger Synergy in a Nov 8 filing with 55.5 million shares or 8.57%. As at Nov 28, Goh was the largest single shareholder in the company with 22.52%.
Notable movements
Dufu Technology Corp Bhd, which makes precision machining components, among others, has had a good run this year. Between July 13 and Nov 19, its share price rose from 65 sen to a multi-year high of RM2.67 — a 310% increase in about four months.
On Nov 22, substantial shareholder Evli Emerging Frontier Fund pared down its stake by 1.5 million shares, according to available data. The fund, managed by Finnish private bank Evli, is left with 9.72 million shares or a 5.97% stake. It first emerged in Dufu in September 2016.
During the period in review, Dufu's share price declined from its Nov 19 peak to a low of RM2.32 on Nov 26. Last Wednesday, the stock closed at RM2.35 per share.
Meanwhile, D'nonce Technology Bhd surged 131.25% in just over two months, going from 32 sen on Sept 12 to a multi-year high of 74 sen on Nov 22.
The surge coincided with the entry of Singapore-based Blackstream Investments Pte Ltd, which first emerged with an 11.38% stake on Nov 1. Between Nov 19 and 23, Blackstream added 9.89 million shares to bump up its holding to 46.5 million shares or 21.68%.
The share price of the contract manufacturer of electronic components has since shed some of its gains, losing 27% from Nov 22 to close at 54 sen on Nov 28.
Save by subscribing to us for your print and/or digital copy.
P/S: The Edge is also available on Apple's AppStore and Androids' Google Play.