This article first appeared in The Edge Malaysia Weekly, on January 14, 2019 - January 20, 2019.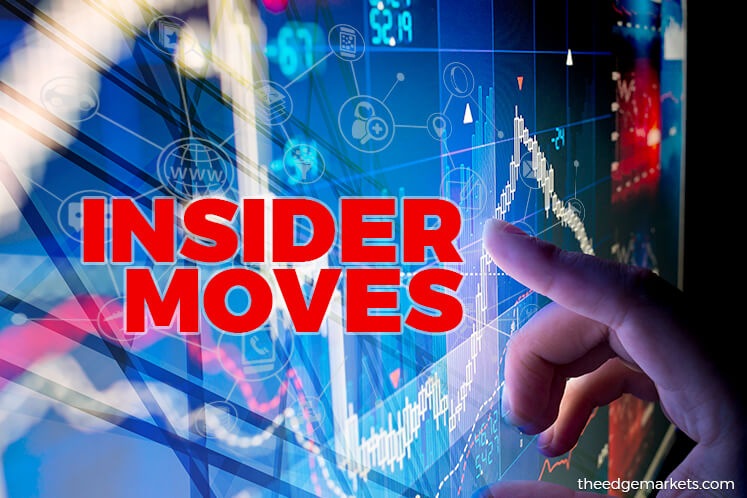 Notable filings
FROM Dec 31 to Jan 4, notable filings on shareholding changes in companies listed on Bursa Malaysia include those from companies that counted Lembaga Tabung Haji (TH) as a substantial shareholder. The pilgrim fund has transferred its underperforming equities to a special purpose vehicle (SPV) under the Ministry of Finance.
The companies where Urusharta Jamaah Sdn Bhd replaced TH as a substantial shareholder include Brahims' Holdings Bhd, FGV Holdings Bhd, Datasonic Group Bhd and Uzma Bhd.
TH group managing director and CEO Datuk Seri Zukri Samat had reportedly said the RM19.9 billion worth of underperforming assets transferred to the SPV included a mix of properties with a yield of less than 2% and equities with impairment of more than 20%.
Over at Country Heights Holdings Bhd, a Dec 31 filing shows that deputy chairman Dianna Lee Cheng Wen ceased to be a substantial shareholder after selling 1.6 million shares, or a 0.59% stake for RM1.141 to RM1.25 apiece from Dec 26 to 28. That reduced her shareholding to 4.53% as at Dec 28. Lee is a daughter of executive chairman and major shareholder Tan Sri Lee Kim Yew.
CIMB Group Holdings Bhd group CEO Tengku Zafrul Aziz sold 100,000 shares in the banking group for RM5.77 apiece on Dec 28, paring down his stake to 1.02 million shares, or 0.01%.
Semiconductor player Inari Amertron Bhd also saw disposals by the Employees Provident Fund (EPF) board and Kumpulan Wang Persaraan (Diperbadankan) (KWAP). The EPF disposed of 1.36 million Inari Amertron shares (net) from Dec 27 to 31, paring its direct shareholding to 6.8% as at Dec 31. KWAP's net disposal amounted to 607,300 Inari Amertron shares from Dec 31 to Jan 3, reducing its indirect holding to 1.36% as at Jan 3. It still holds 12.1% directly.
Notable movements
Among the companies that were transferred from TH to Urusharta Jamaah, Uzma Bhd is one of those that saw a sharp gain in its share price. Since the announcement of the transfer on Dec 31, the counter has jumped 27% to close at 73 sen on Jan 9. The company — which is involved in the provision of oil and gas operational services and solutions such as drilling as well as production optimisation — has contracts worth RM1.8 billion that are expected to last for the next three years. It is worth noting that RM1.4 billion of the jobs are firm-order contracts while the remaining are umbrella-based contracts.
CB Industrial Product Holding Bhd announced a share buyback on Jan 2 and 3, when its share price was hovering at RM1. CBIP's share price has climbed 18% to RM1.18 on Jan 9 from its Dec 31 close.
It is also worth noting that Yacktman Asset Management LP, a US-based boutique investment advisory firm, emerged as a substantial shareholder of CBIP on Dec 24 following the acquisition of 16.8 million shares, which increased its stake to 25.8 million shares, or 5.04%.
My EG Services Bhd's share price jumped 7.7% to RM1.05 on Jan 5, from its closing price on Dec 31. The group has been buying back shares following the sharp decline of its share price this year over concerns of a possible axing or non-renewal of its projects with the government. During the week under review, buybacks amounted to 4.2 million shares for 94 sen to 95.5 senapiece. On Nov 23, the cumulative net outstanding Treasury shares stood at 76 million, but they increased 45.9% to 110.9 million shares as at Jan 3.
Save by subscribing to us for your print and/or digital copy.
P/S: The Edge is also available on Apple's AppStore and Androids' Google Play.