This article first appeared in Capital, The Edge Malaysia Weekly, on October 21, 2019 - October 27, 2019.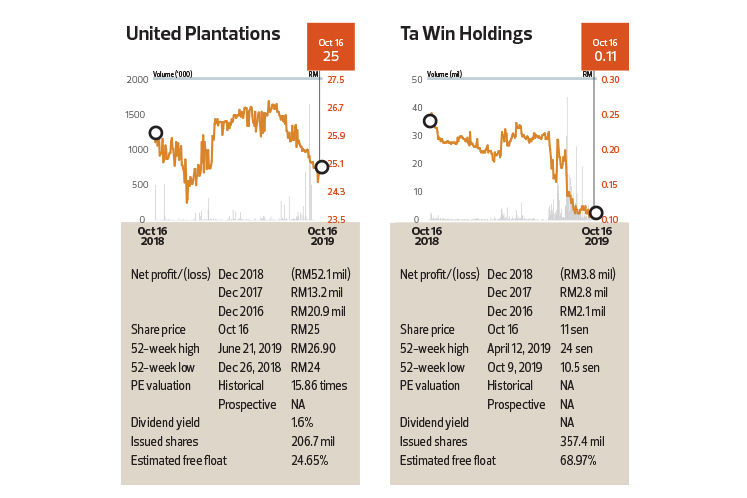 Notable filings
BETWEEN Oct 7 and 11, notable shareholding changes filed with Bursa Malaysia included direct share acquisitions at Kumpulan Powernet Bhd by the offerors of the current mandatory general offer (MGO). In the period under review, Datuk Dr Mohd Abdul Karim Abdullah bought 1.05 million shares while Grand Deal Vision Sdn Bhd purchased 1.25 million shares.
Post-acquisition, Mohd Abdul Karim holds 28.76 million shares or a 37.77% stake while Grand Deal Vision has nine million shares (11.82%). Both are among parties acting in concert to extend the MGO after Mohd Abdul Karim raised his stake above the 33% threshold on Oct 2.
The MGO values Kumpulan Powernet shares at RM1 apiece. The offerors intend to maintain the listing status of the firm, which makes wrap-knitted fabrics and is also involved in property development.
Last Wednesday, Kumpulan Powernet closed at RM1. It has risen 132% over the past 12 months.
Over at Serba Dinamik Holdings Bhd, co-founder Mohd Abdul Karim added a million shares to his stake on Oct 7, raising it to 364.78 million shares or 23.61%. Last Wednesday, the stock closed at RM4.40, having gained 17.33% year to date.
In contrast, fellow co-founder Datuk Awang Daud Awang Putera pared his holding in Serba Dinamik by 4.5 million shares to 142.01 million shares or a 9.67% stake across two transactions, including one on Oct 7 involving a million shares.
It is worth noting that the Employees Provident Fund (EPF) also pared its stake in Serba Dinamik across multiple transactions in the period under review, selling a net 2.12 million shares. The pension fund retains 93.12 million shares in the company.
Kuala Lumpur Kepong Bhd (KLK) saw the EPF acquire a net 3.55 million shares across multiple transactions in the period under review, increasing its stake to 157.86 million shares or 14.82%, while Amanah Saham Bumiputera purchased five million shares via a single deal on Oct 4 to raise its holding to 67 million shares (6.29%).
The purchases came after an unidentified institutional shareholder sold a total of 30.88 million KLK shares on Oct 4. According to Bloomberg, the sale arranged by JP Morgan saw the shares transacted at RM21, or 7.8% below its previous closing price.
Last Wednesday, KLK closed at RM21.68 per share, having recovered slightly from its multiyear low of RM21.18 on Oct 7. This month alone, KLK has lost about 6% of its market value, with year-to-date regression at 12.23%.
Notable movements
Since its last peak of RM27.76 in April, United Plantations Bhd's share price has declined 9.94% to end at RM25 last Wednesday. The palm oil planter's market capitalisation was RM5.17 billion.
An Oct 10 filing shows that vice-chairman and chief executive director Datuk Carl Bek-Nielsen acquired 100,000 shares on Oct 9, raising his direct stake to 2.53 million shares or 1.22%.
Bek-Nielsen is also deemed interested in the shares acquired by Maximum Vista Sdn Bhd on Oct 9. A separate filing shows that Maximum Vista bought a total of one million shares that day.
Shares of copper wire and rod manufacturer Ta Win Holdings Bhd have declined by a total of 49.5% over the past 12 months. Most of the decline came between Aug 7 and Oct 16, when the counter lost nine sen or 45% in market value. It closed at 11 sen last Wednesday.
An Oct 7 filing indicates that a 9.99% shareholding block, comprising 35.7 million shares, was sold by Tenggara Kapital Sdn Bhd.
Following the sale, Tenggara Kapital — the vehicle of Ta Win non-executive chairman Datuk Yeo Boon Leong — ceased to be a substantial shareholder in Ta Win.
The purchaser of the block is Triad Capital Sdn Bhd, a vehicle of Ta Win executive director Datuk Seri Ngu Tieng Ung. The stake acquisition means Triad Capital is now the largest shareholder in Ta Win with a 9.99% stake. Yeo is deemed interested in Triad Capital's stake.