This article first appeared in Personal Wealth, The Edge Malaysia Weekly, on April 15, 2019 - April 21, 2019.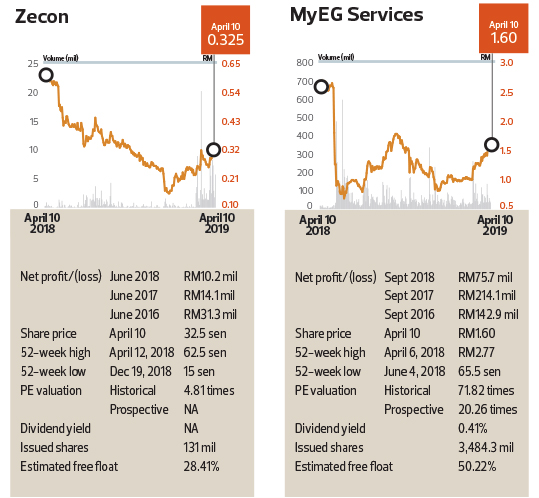 Notable filings
BETWEEN April 1 and 5, notable shareholding changes in companies listed on Bursa Malaysia included the emergence of Chia Weng Lock as the new largest shareholder of Kuantan Flour Mills Bhd (KFM), replacing Dennis Tow Jun Fye.
Filings by KFM on April 5 show that Chia, via his investment holding company, CWL Ventures Sdn Bhd, acquired 9.6 million shares or a 14% stake from Tow on April 3. The stake represents the entire shareholding of Tow.
KFM has been a Practice Note 17 company since Dec 28, 2015. On Jan 11, its regularisation proposal was approved by Bursa. The group has until May 31 to regularise its financial position. It had a shareholders' fund deficit of RM25.97 million as at Sept 30, 2018.
In the financial year ended Sept 30, 2018 (FY2018), KFM narrowed its net loss to RM2.9 million from RM12.3 million in FY2017 as its revenue jumped more than 400% year on year to RM31.5 million.
The surge in revenue was attributed to KFM resuming its flour milling business in May 2017 and re-introducing its premix flour into the market early last year as well as its strong performance in the tapioca starch business.
Over at Gets Global Bhd, formerly known as KBES Bhd, Datuk Leong Kin Mun, a non-independent, non-executive director, disposed of 4.96 million shares or a 3.94% stake in the stage and express bus company on March 29 and April 1 on the open market.
The disposal left Leong with a 0.94% stake in Gets as at April 1.
Gets came under the spotlight recently after Mirzan Mahathir, the son of Prime Minister Tun Dr Mahathir Mohamad, was appointed as an independent, non-executive director of the group on March 28. Mirzan also sits on the board of Philippine-based Petron Corp and SBI Offshore Ltd.
Besides providing stage and express bus services, Gets is also a manufacturer and assembler of buses. Starting this year, the group is venturing into the development of electric buses, with commercialisation expected next year.
At MQ Technology Bhd, Wong Ken Hong ceased to be a substantial shareholder of the group after disposing of 20 million shares or a 3.34% stake on April 3 via off-market trades. The disposal reduced his holding in the industrial mould manufacturing company to 1.92%.
The next day, Tong Sian Shyen ceased to be a substantial shareholder of MQ Technology after disposing of his entire 71 million shares or an 11.88% stake. The buyer was Heng Yong Kang @ Wang Yong Kang, as announced by MQ Technology on the same day.
The acquisition of the shares from Tong made Heng the new largest shareholder in the company with a 15.22% stake.
Notable movements
The share price of Zecon Bhd rose 10.34% during the period under review to 32 sen, giving the group a market capitalisation of RM41.9 million. The construction and property development group's share price has risen 97% year to date. The stock closed last Wednesday at 32.5 sen.
On April 4, Datuk Bolhassan Di disposed of his last shares in Zecon on the open market. He has been paring down his stake since last October, when he owned an 8.56% stake.
He disposed of one million shares or a 0.76% stake on March 29, April 1 and 2, and 423,800 shares on April 3 and 4. Bolhassan is an independent director of Zecon.
On April 4, Asia Internet Holdings Sdn Bhd, the largest shareholder of MyEG Services Bhd, disposed of 75 million shares or a 2.17% stake in the e-government provider. This brings its stake in MyEG to 27.7%.
During the period under review, MyEG's share price rose 4.8% to RM1.53. Year to date, the stock has increased 63.3% to last Wednesday's closing price of RM1.60, giving the company a market capitalisation of RM5.55 billion.