This article first appeared in Capital, The Edge Malaysia Weekly, on August 19, 2019 - August 25, 2019.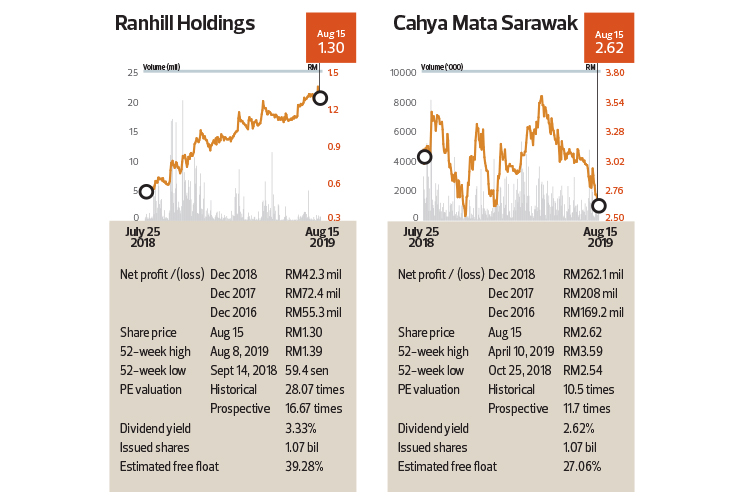 Notable filings
BETWEEN Aug 5 and 8, notable chan­ges in shareholding included that at KIP Real Estate Investment Trust, where Forum Technics Sdn Bhd disposed of 4.16 million units via a married deal on Aug 8. Filings with Bursa Malaysia on that day revealed that the exchange took place between Forum Technics and KIP managing director Datuk Chew Lak Seong as well as non-independent executive director Datuk Ong Kook Liong. Chew and Ong each acquired 2.08 million shares. Post transaction, Chew's shareholding in the REIT increased to 13.12% while Ong's stake increased to 13.93%. Forum Technics' equity interest dropped to 5.24%.
For the fourth quarter ended June 30, KIP's net profit fell 7% year on year to RM11.53 million. Revenue increased to RM16.2 million from RM16.13 million previously.
Over at Media Prima Bhd, Aug 8 filings show that Aurora Mulia Sdn Bhd scooped up another 50 million shares or 4.5% equity interest in the company. The deal was done via a direct business transaction but the other party was unknown at the time of writing.
This is the third time in slightly over a month that Aurora Mulia has raised its stake in the company. Post-acquisition, Aurora Mulia's holds 20.56% equity interest.
It is worth noting that Aurora Mulia is believed to be linked to tycoon Tan Sri Syed Mokhtar Albukhary. His son, Syed Daniel Syed Mokhtar Shah, is a board member of Aurora Mulia.
According to filings on Aug 7 and 8, Netx Holdings Bhd saw its single largest shareholder, Asiabio Capital Sdn Bhd, increase its stake by 20 million shares to 6.9%.
For the third quarter ended March 31, Netx reported a smaller net loss of RM3.27 million from RM6.04 million previously. Revenue shrank to RM422,000 from RM3.7 million a year earlier.
Niche Capital Emas Holdings Bhd CEO Julian Foo Kuan Lin sold four million shares in the company, according to filings on Aug 8. Post-­disposal, he holds 32.16% equity interest. Foo is the single largest shareholder of the company.
Priceworth International Bhd saw shareholder Puan Sri Emilahani Yang Mohd Yatim dispose of 33 million shares on the open market during the week in review. Emilahani is the wife of RHB Group founder Tan Sri Abdul Rashid Hussain. Post-disposal, Emilahani's direct stake in the company fell to 0.62%.
Notable movements
Ranhill Holdings Bhd's share price rose 6.92% to RM1.39 between Aug 5 and 8. Hamdan (L) Foundation, the foundation of Ranhill CEO Tan Sri Hamdan Mohamad disposed of 7.6 million shares via a direct business transaction on Aug 7. Post-disposal, the foundation's equity interest in the company stood at 16.03%.
Lembaga Tabung Haji also disposed of 99,500 shares during the period in review. The pilgrim fund holds 5.64% equity interest post-disposal.
For the first quarter ended March 31, Ranhill's net profit increased 17.8% y-o-y to RM21.36 million. This comes on the back of a 12.4% y-o-y rise in revenue to RM405.05 million.
Cahya Mata Sarawak Bhd's share price has been on the decline this month. Between Aug 1 and 13, it shed 10.14% to RM2.66 apiece. During the period under review, it dropped 3.53% to RM2.73.
Datuk Seri Sulaiman Abdul Rahman Taib acquired 1.48 million shares on the open market on Aug 7 and 8. Post-acquisition, Sulaiman's stake in Cahya Mata Sarawak increased to 97.16 million shares or 9.1% equity interest.
The Employees Provident Fund Board, meanwhile, acquired 1.3 million shares in the company, increasing its stake to 11.7%.